We're so happy to have Fuzz home from camp. Now she can help us shop for washing machines, line shelves and pack. "Welcome home, little buddy! Sorry you missed sealing the grout."
Poor Fuzz.  She's tired of moving, so I have to try to make the next few weeks interesting for her. To start, I'm putting sprinkles on everything!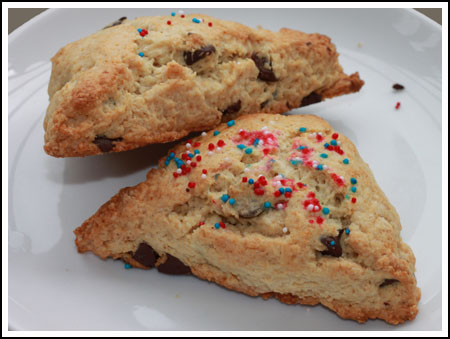 Just kidding about the sprinkles, but they did look kind of cute on the chocolate chip scones. The recipe is adapted from one of Pam Anderson's, but I incorporated brown sugar, a little vanilla and added chocolate chips. Also, Pam Anderson uses frozen butter and grates it into the flour mixture. I couldn't find my grater and didn't have time to freeze the butter, so I used cold butter and still got scones with crusty outsides and very tender, soft, insides. The sour cream really did the job!
One final note. You can make a half batch of these by cutting all ingredients in half (that means 2 T. of egg), using the same technique and shaping into a rectangle before cutting into triangles.
Some Thoughts on Chocolate Chip Scones
This is a pretty solid Chocolate Chip Scones recipe, and frozen blueberries or any kind of frozen berries make a good substitute if you're not in the mood for chocolate at breakfast.   After making so many scones over the years, I've learned it really does take practice.  It's simple, but as a baker you may need to adjust the amounts of flour and liquid.  This scone dough shouldn't be too sticky.  If it feels too sticky to you, add a little flour.  If it feels too dry, add some more sour cream or a little milk.
You don't want to overwork scone or biscuit dough, but that doesn't mean you can't play with it a bit.  I sometimes work biscuit dough like laminated dough by pressing it gently into a rectangle and folding into thirds (like an envelope), then gently doing this again before shaping into a circle.  It's not required, but it will help you get that layered look.  This particular recipe makes a fluffier, moist, scone so you won't get quite as much flakiness (or layered look) as you would in more ultra-buttery scone recipes.  It just depends on what kind of texture you are going for.
Recipe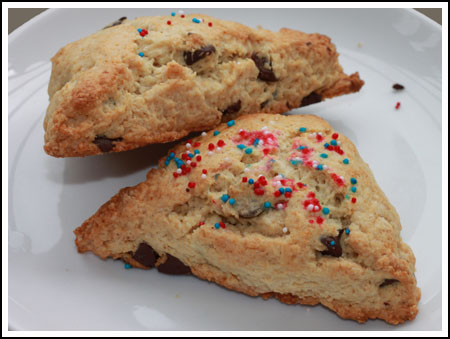 Sour Cream Chocolate Chip Scones
Sour Cream Chocolate Chip Scones
Ingredients 
2

cups

all-purpose flour

(260 grams)

2

tablespoons

granulated sugar

(25 grams)

3

tablespoons

packed brown sugar

(36 grams)

1

teaspoon

baking powder

¼

teaspoon

baking soda

½

teaspoon

salt

8

tablespoons

unsalted butter, cold and cut into bits

(114 grams)

1

large egg

½

cup

sour cream

(114 grams)

¼

teaspoon

vanilla

½

cup

chocolate chips

(85 grams)
Instructions 
Preheat oven to 400 degrees F.

Mix flour, both sugars, baking powder, baking soda and salt together in a mixing bowl.

Scatter the cut up butter over flour mixture and using your fingers or a pastry cutter or fork, work the butter into the flour until flour mixture is very coarse.

In a small bowl, whisk egg, sour cream and vanilla until smooth. Stir sour cream mixture into flour mixture until large dough clumps form. Add the chips. When dough just starts to come together, turn it onto a clean surface and shape it into a 7 inch circle. If you prefer, you can make 2 rectangles. Slice the circle into 8 triangles or slice each rectangle into 4 triangles. Arrange triangles a few inches apart on a cookie sheet.

Bake until golden, about 15 to 17 minutes. Cool for 5 minutes and serve warm or at room temperature. This recipe makes 6 to 8 scones. I made 8, so if you make 6 they will be larger and might need extra time in the oven.