The Original Fudge Brownies recipe is adapted from something I saw on a Paula Deen video. The recipe is scratch, but the brownies are supposed to mimic the flavor and texture of Betty Crocker brownies. So why would you want to make something homemade that tastes like it's out of the box? I don't know, but maybe it has to do with wanting flavors we grew up with. If your family always made scratch brownies, you may have no interest whatsoever in box brownies.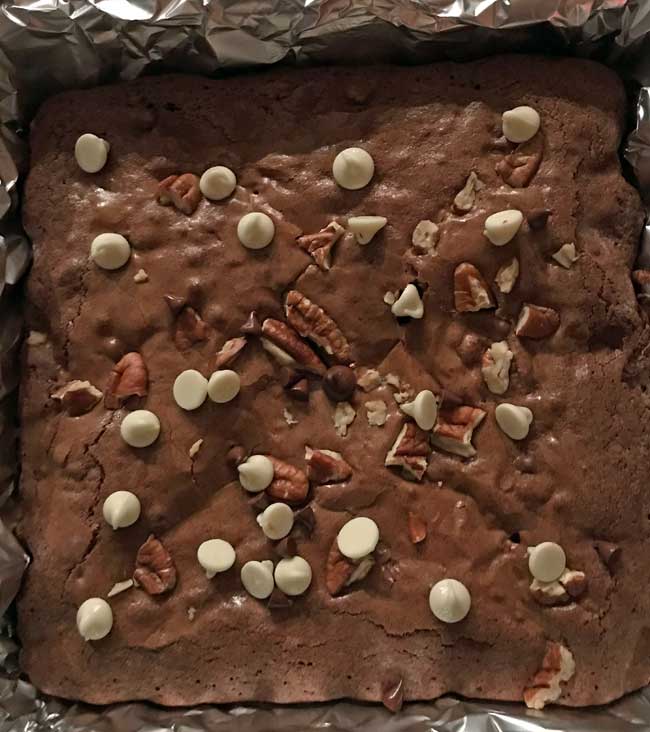 8-Inch Pan Brownies
If you stumble across this recipe and happen to try the brownies, let me know what you think!  Original Fudge Brownies are baked in an 8 inch square pan, call for unsweetened chocolate, plus a mixture of butter and oil which makes them chewy. In addition to the butter and oil combo, they're made with cake flour rather than all-purpose, so that changes the texture a bit as well. It is similar to boxed brownies, but the flavor is definitely better.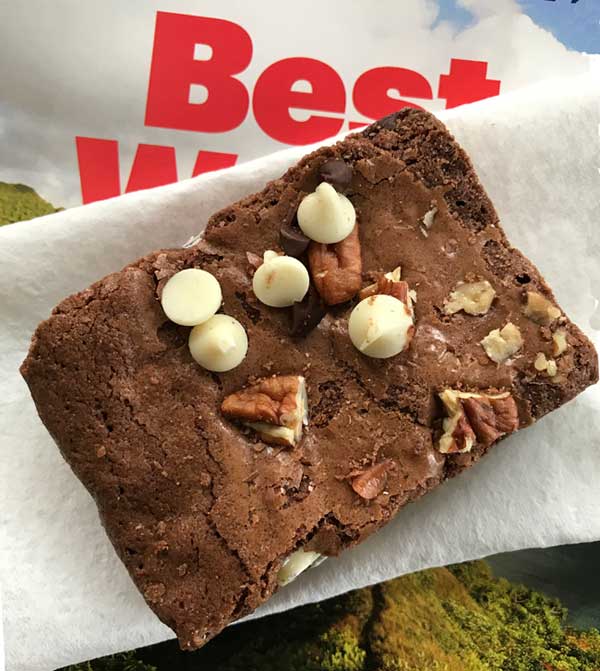 Fudge Brownie Ingredient Notes
Coconut oil works, but you can use any oil. The butter and oil combo helps make the brownies chewy. For the chocolate, stick with any brand of unsweetened. Using anything else (bittersweet, etc.) will affect the texture. You might as well use a different recipe if you need to use semi or bittersweet. Cake flour is what the recipe calls for, but you can use 85 grams all-purpose which should be around ½ cup and 1 tablespoon if you haven't bought your kitchen scale yet. Nudge, nudge.
Recipe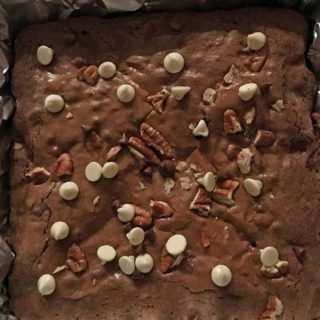 Original Fudge Brownies
Original Fudge Brownies are fudge-y, but not overly so. I use a combination of butter and coconut oil plus cake flour to get softer brownies. They taste better on the second day and they also freeze well.
Ingredients 
5

tablespoons

unsalted butter

(70 grams)

2

tablespoons

coconut oil or another oil

(25)

3 ½

oz

unsweetened chocolate, chopped

100 grams

¾

cup

cake flour or use 85 grams AP

85 grams

½

teaspoon

baking powder

⅜

teaspoon

salt

2

large eggs

1

cup

plus 6 tablespoons sugar

(270 grams)

1

teaspoon

vanilla

⅓

cup

toasted nuts

walnuts or pecans
Instructions 
Preheat oven to 350 degrees F. Line an 8-inch square metal baking pan with foil and grease the bottom (or use nonstick foil).

In a microwave-safe bowl or 2 cup glass measure, melt the chocolate and butter together at 50% power stirring every 30 to 60 seconds or so. Alternatively, you may do this in a double boiler. Set aside.

In a second bowl, whisk together the flour, baking powder and salt.

In a standing mixer with the whisk attachment (or you can use a handheld mixer), beat eggs. With the mixer going, pour in the sugar and continue beating for 3-5 minutes or until thick and yellow. Beat in the vanilla.

Remove mixer from stand and with a scraper or a big spoon, stir in the melted chocolate mixture, then add flour mixture and stir until blended.

Spread batter in pan and bake for 30 minutes or until brownies appear set and internal temperature registers around 209. Let cool completely, then cover and chill overnight. Lift from pan and cut into 6 large brownies. For medium size brownies, cut to make 12 brownies. For small brownies, cut again to make 24.