I love trying new white cake recipes, but this one isn't exactly new. In fact, it's so old it's often referred to as"silver cake" which is the name given to white cakes back when cakes made with yolks were called gold cakes. So gold cakes had yolks, silver cakes had whites. From what I've read, the terms yellow cake and white cake came later, when butter became a more prominent cake ingredient. But this isn't about the history of cake, it's about the Betty Crocker Silver White Cake.
Jump to Recipe
White Cake With Shortening
This is a big fluffy true white cake made with shortening and egg whites. The recipe calls for both vanilla and almond extract. Vanilla is the main flavor, but the almond extract adds "that little something". It doesn't necessarily make it taste almond-y. Frosting choices are many, but ignore the pink frosting in the photo. It's a strawberry frosting made with freeze dried strawberries, and I was not impressed. I still think the best strawberry frostings are the ones with cream cheese, fresh strawberry puree and maybe a little jam, but that's a whole 'nother story.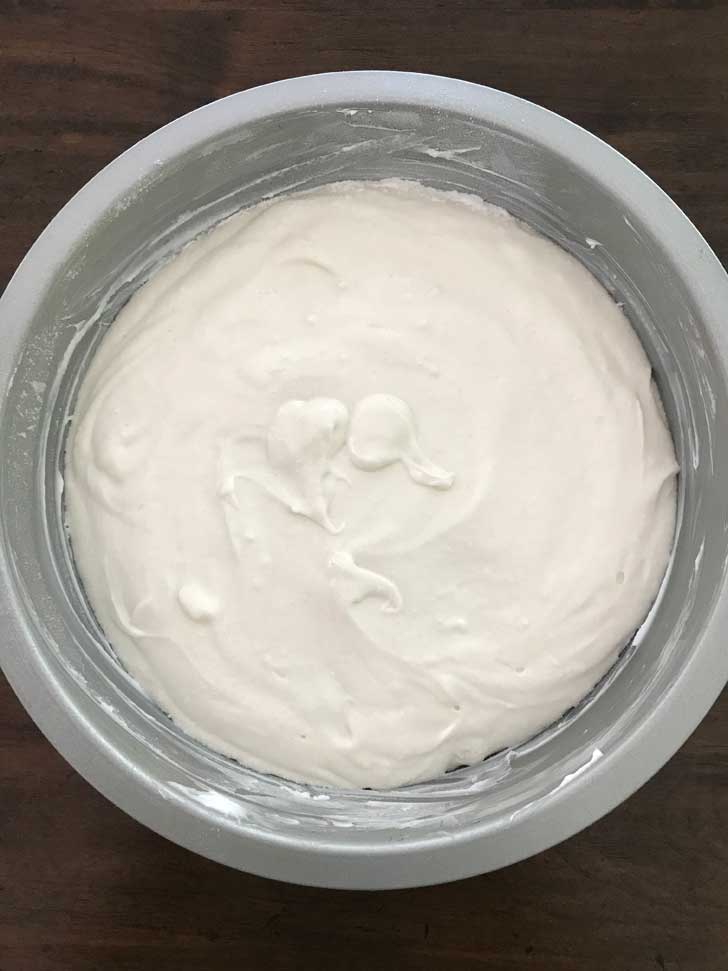 Cake Flour
For Betty Crocker Silver White Cake, I think it's important to use cake flour. Having made the cake with and without it, it's much more like a bakery cake when made with cake flour. Also, cake flour has less gluten so you can beat the batter longer without toughening up gluten-strands. It matters in this recipe because egg whites are beaten in at the end and not folded in separately. So when using cake flour you can worry less about beating the batter and toughening up the cake.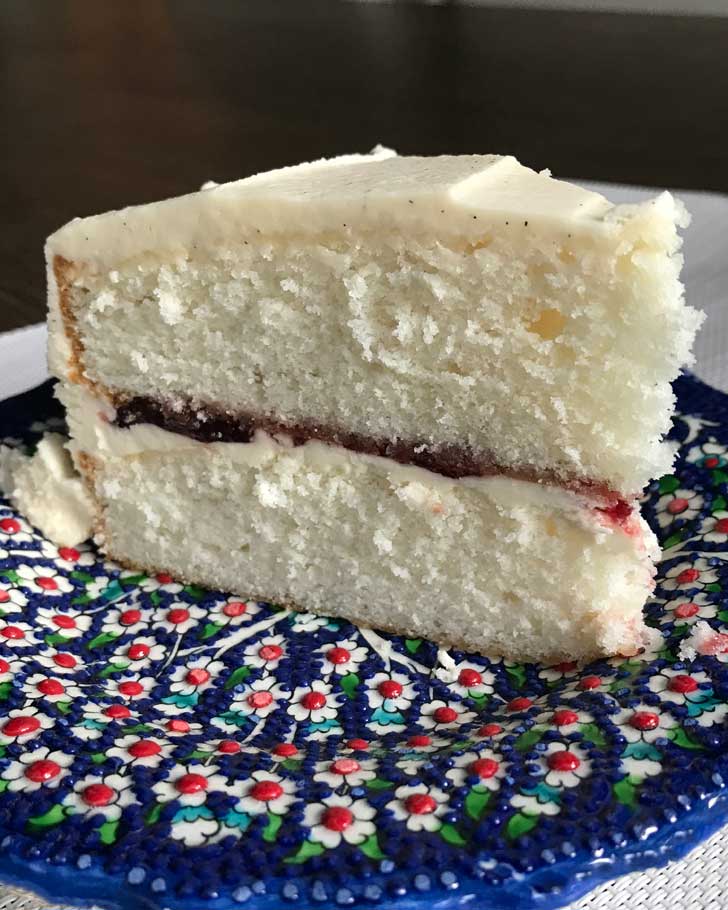 Shortening vs. Butter
As for the shortening vs. butter, shortening gives you a whiter, fluffier cake. You don't get the butter flavor, but you still get the flavor that some people associate with birthday cakes. I'm not sure how much the butter flavor is actually missed here given the other flavors, but I totally understand not wanting to use shortening and will post a butter version soon. But I loved how this one works with Crisco, and I say "Crisco" because I tried it with another brand (starts with Wal and ends with Mart) and didn't care for the flavor. So in that case the shortening did affect the flavor. So use Crisco if you can. Spectrum might work as well, but I haven't tested it.
Use a Scale
For best results, use a digital kitchen scale. This is especially important for getting the amount of cake flour right because the volume measurements can vary by brand and how it's stored. What I do is set the bowl on the scale, set the tare to zero, add 280 grams of cake flour. I then set tare to zero again, add 300 grams sugar and baking powder (measured by volume), then stir well. Once the dry ingredients are blended, I put the bowl back on the scale and just scatter spoonfuls of shortening over it until I get a weight of 96 grams. Then comes the paddle. You get the idea. Using a scale is more accurate and will save you so many measuring cups!
Two-Stage Mixing Method
This recipe uses the two-stage mixing method, which is where you mix the dry ingredients, stir the fat into the dry ingredients to coat, then gradually add liquid and eggs. I always make the cake using a stand mixer and paddle, but a handheld mixer should work too. I think one of the reasons I like this recipe so much is it doesn't involve softening butter.
Frosting
White cake is good with all kinds of frosting, and takes well to fruit fillings. The cake in the photo is frosted with a recipe I named Favorite Vanilla Frosting. I'm not sure it's my absolute favorite anymore, but it's a basic American style buttercream with a lot of vanilla. And it's very good! I've also frosted it with Seven Minute Frosting, but that always seems more appropriate for an Angel Food Cake. This cake needs a frosting with some butter.
Other White and Yellow Cakes
Right now this is one of my favorite white cakes because it is actually white, it's not terribly expensive and doesn't involve creaming any butter and sugar. But I have a butter version and will post that soon. If you prefer yellow cakes, I recommend Shirley Corriher's Magnificent Moist Cake or the old Cook's Illustrated Yellow Cake, which also uses the two-stage method. This post has a photo of it, but for that particular cake I used some butternut (now cake batter flavored) extract, which give it an even yellower hue.
Recipe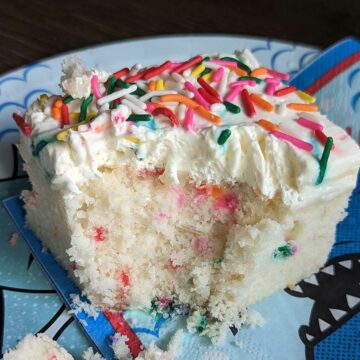 Square White Cake
A white cake recipe that fitst perfectly into an 8 inch square pan.
Ingredients 
1 ½

cups

cake flour

(170 grams)

1

teaspoon

baking powder

¾

teaspoon

salt (Morton kosher)

3

tablespoons

nonfat plain Greek yogurt**

1

tablespoon

whole milk

(14 grams)

1 ½

teaspoon

vanilla plus ¼ teaspoon almond extract

4

tablespoons

unsalted butter, softened but still fairly cool

(56 grams)

3 ½

tablespoons

shortening

(40 grams)

1

cup

granulated sugar

(200 grams)

½

cup

egg whites, room temperature (3 large eggs)

¼

cup

plus 2 tablespoons heavy whipping cream

2-3

tablespoons

sprinkles (optional)
Instructions 
Preheat oven to 350°F. Grease an 8-inch square metal baking pan.

Sift the cake flour once, then sift it or whisk it together with the baking powder and salt. Sometimes salt won't go through the sifter, so just stir it in if there's salt left in the sifter.

Also, mix together the yogurt, milk and extracts in a little bowl and set aside.

In the bowl of a stand mixer fitted with a paddle, beat the butter, shortening and sugar until creamy. Continue beating, scraping bowl often, for about 5 minutes.

With the mixer going, gradually add the egg whites in about 4 to 6 additions, scraping the bowl between additions and beating for 20-30 seconds.

With the mixer on medium low speed or by hand, add the flour mixture and the yogurt mixture in three additions, scraping the side of the bowl. If using a stand mixer, you may find it easier to just remove the mixing bowl from the stand and do this with a heavy duty scraper. If you are not messy with flour, you can dump it in with the mixer going.

Whip the cream in a separate bowl using a handheld mixer. Fold it into the batter with a heavy duty scraper. Make it a party and fold in some sprinkles! Or skip them. They look pretty in this cake.

Pour the cake in the pan and drop it on the counter from about ½ inch high (do it twice) to release air bubbles.

Bake for about 30 minutes or until the cake appears done. It will appear slightly brown on the edges and not be quite as pale in the middle. Let it cool completely in the pan. Frost it in the pan. Alternatively, you can let it cool in the pan for about 10 minutes and turn it out to cool.
Notes
The yogurt mixed with milk was my stand-in for ¼ cup of buttermilk. If you have buttermilk you can use ¼ cup of buttermilk and omit the yogurt and whole milk.