Sour cream banana bread is probably my favorite, but the one I usually end up making (because I don't always have sour cream) is this old Betty Crocker Cookbook recipe. Betty Crocker makes a good benchmark banana bread.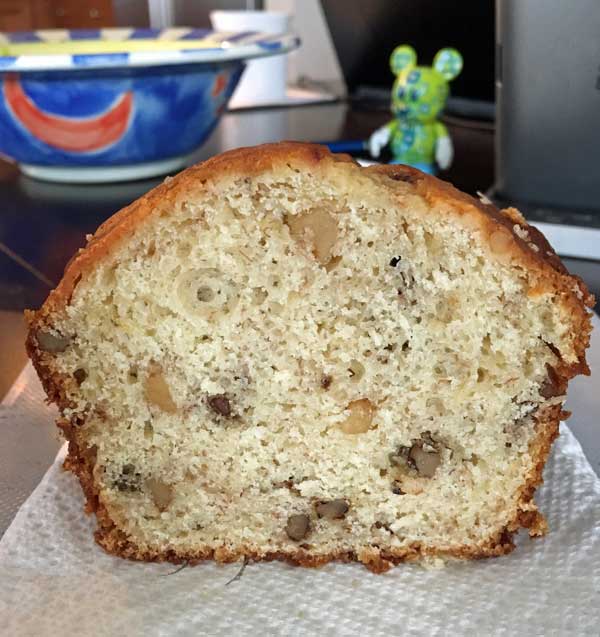 Betty Crocker Cookbook 1972 Banana Bread
Recently, I found a new Betty Crocker banana bread that came highly recommended. Okay, so it's not so new. It's from 1972, and it's recognizable in that it only calls for 3 tablespoons of "salad oil". Or at least that's what makes it recognizable to me, since a) nobody calls it "salad oil" anymore and b) so many modern banana breads are richer and more like cake.
Crumbly and Less Rich
Betty Crocker Cookbook Banana Bread (aka 1972 Banana Bread) rises up nicely and is slightly crumblier than the others.  It's perfect for adding toasted walnuts or pecans, and is light enough to where you might want to add a small pat of butter.  All in all, I'd say it's less like banana cake than a lot of other recipes. I probably wouldn't recommend it to someone who'd never made banana bread, but for those who like less sweet, less rich loaves, this is a good one.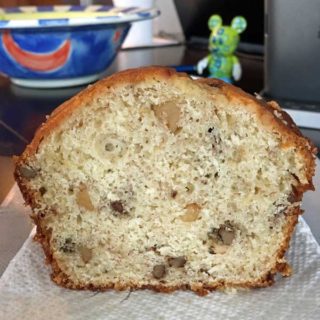 Betty Crocker Cookbook Banana Bread 1972
Betty Crocker Cookbook Banana Bread
Ingredients 
2 1/2

cups

all-purpose flour

(336 grams)

1

cup

granulated sugar

(195 grams)

3 1/2

teaspoons

baking powder

1

teaspoon

salt

3

tablespoons

salad oil (that means, canola, corn, sunflower, but you could also try coconut)

3/4

cup

milk, whole milk

1

large

or extra-large egg

A cup finely chopped nuts

1

cup

mashed very ripe bananas
Instructions 
Preheat oven to 350 degrees F. Grease and flour 9×5 inch loaf pan or two 8×4 inch loaf pans (NOT 8 1/2 by 4 /2).

Put all the ingredients in a large mixing bowl and beat on medium speed, scraping side and bottom of bowl often, until well blended. Pour into the pan (or pans).

Bake the large loaf for 55 to 65 minutes or until wooden pick inserted in center comes out clean. For smaller loaves, start checking at 45 minutes.

Let cool in the pan for about 30 minutes, then carefully remove from pan. Let the bread cool before slicing.