I'm trapped at home without a car, so here's another cookie for you. This is an old Southern recipe for Ribbon Cookies. Unlike some ribbon cookie recipes, these spread a little. Their texture is more sugar cookie-ish than shortbread-ish. I made these with ingredients I had around the house…..like the cherries leftover from the Sundae Cookies.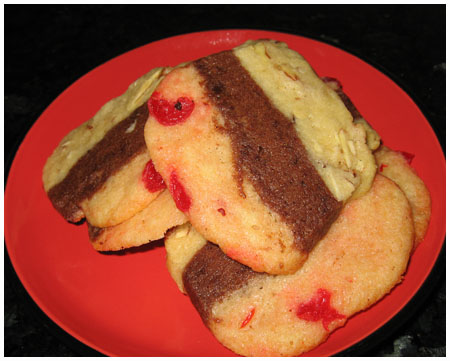 Ribbon Cookies
1 cup butter (8 ounces), softened
1 ½ cups granulated sugar
1 large egg, lightly beaten
¼ teaspoon almond extract
½ teaspoon vanilla extract
2 ½ cups all purpose flour
½ teaspoon salt
1 ½ teaspoons baking powder
¼ cup chopped maraschino cherries
¼ to ½ cup chopped pecans
1 ounce unsweetened chocolate, melted
Line inside of a 9x5 inch loaf pan with foil.
Cream butter and sugar in a large mixing bowl. Add egg and flavorings.
Stir together flour, salt and baking powder, then add to butter mixture and stir until well combined. Divide dough into three parts and place each part in a separate bowl.
Add chopped cherries to one part, chopped nuts to second part and melted chocolate to last part so that you have 3 different types dough.
Pat cherry dough into bottom of pan. Pat chocolate dough over cherry dough. Pat nut dough over chocolate dough. Cover pan and chill for at least 4 hours or overnight. This is important. If you don't chill it, the dough doesn't slice neatly.
To assemble, lift from pan, remove foil and slice the "loaf" of stacked dough lengthwise into thirds or, for larger cookies, halves (I like to trim the edges, then slice lengthwise into two halves). Slice each segment cross-wise into ¼ inch thick cookies. Lay on a parchment lined cookie sheet and bake for 10-12 minutes at 350 degrees F.
The yield is different, depending on how big you make the cookies and how much you trim, but you should get at least 60 cookies