I don't know where I first tried Chocolate Fudge Pie, but I remember thinking it tasted like a brownie disguised as pie and feeling mildly irritated because it was not chocolate cream.  From that point, I never bothered with fudge pie recipes, but then last week I found a version handwritten by my mother.  Feeling nostalgic (and like I needed to get rid of an extra frozen pie crust leftover from Thanksgiving), I decided to try my mom's recipe.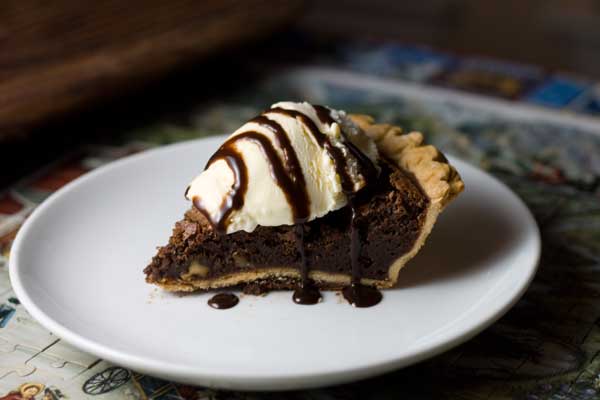 This fudge pie calls for  for ½ cup butter, 2 ounces unsweetened chocolate, 1 cup sugar, 2 eggs, some vanilla and about ⅓ cup flour.  Because it is designed to fill an 8 inch pie crust and my crust was a deep dish 9 inch, I looked for a similar recipe with a slightly higher yield.  The Old Farmer's Almanac had one which was almost identical but with more filling and an extra egg yolk.  It called for a 10 inch crust, so I opted to just stick with the 9 inch and use only as much filling as needed.  I also added some walnuts.
The pie was pretty much exactly as I remembered it, but softer and less like a brownie than I imagined.   Todd loved it, but I probably wouldn't serve it often because it is extremely rich.  It's good for when you're in the mood for something a little over the top (in which case ice cream is a requirement) or you have to pull some kind of pie together for an event.  It's easy, doesn't have to be refrigerated, and will be enjoyed by all chocolate lovers.  In short, it's a good recipe to keep around, but if you have a better one, let me know.  I've seen a few versions made with cocoa powder, and one made with biscuit mix.  Paula Deen has one that's almost exactly like my mom's, and Ina Garten has one made with semisweet chocolate chips.  Maybe I'll try them all.
Recipe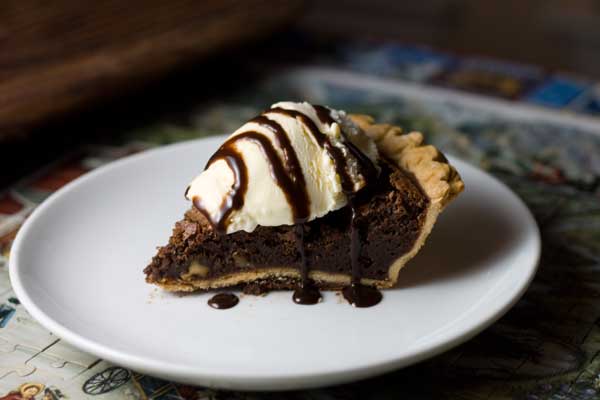 Chocolate Fudge Pie
An easy pie with a brownie-like filling
Ingredients 
9

inch

deep dish pie shell

unbaked or partially baked if you like a crisper crust

¾

cup

1 ½ sticks unsalted butter

3

ounces

unsweetened chocolate

chopped

3

large eggs and 1 egg yolk

1 ½

cups

granulated sugar

¼

teaspoon

salt

2

teaspoons

vanilla

6

tablespoons

all-purpose flour

⅓

cup

toasted and chopped walnuts
Instructions 
Preheat the oven to 325 degrees F. and set the pie shell on a baking sheet.

In a saucepan, melt the butter over medium heat. Reduce heat to low and add chocolate. Stir until chocolate is melted. Let cool slightly.

In a mixing bowl, using an electric mixer, beat the eggs and egg yolk for about 2 minutes. Gradually add sugar and continue beating for another minute or so. Beat in the salt and vanilla, then scrape in the melted chocolate. By hand, stir in the flour.

Sprinkle the toasted walnuts across bottom of your pie crust, then pour filling over the nuts. If you used a 9 inch deep dish pie shell, you'll have a little more filling than you need, so pour just enough filling into the pie crust so that it comes almost to the top rim.

Bake for 40-45 minutes or until the pie appears set and a knife inserted in the center comes out clean. Let cool completely.

Serve the pie with ice cream and chocolate syrup.