Today's recipe is a brownie which I adapted from an old cookbook called One Pot Cookies by Andrew Schloss and Ken Bookman. What's interesting about this recipe is that it calls for dark corn syrup. Like other brownies made with various syrups, these brownies have a firmness to them that I like. They're nice and sturdy and perfect for wrapping individually.
Below is the full-batch 15x10 inch pan recipe but you can also cut the recipe in half and bake the brownies in a 9 inch square metal pan. In the original recipe, whole toasted almonds were chopped and stirred into the batter along with a little almond extract. I opted for a more subtle almond approach and scattered sliced almonds over the top then brushed (okay, doused) them with amaretto.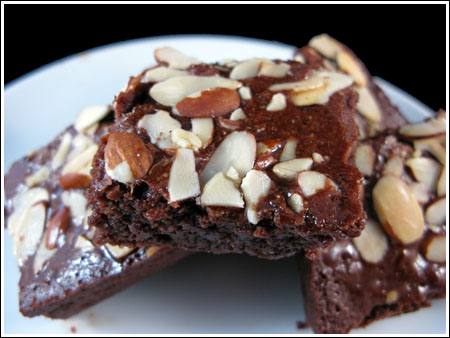 Amaretto Brownies
8 oz unsalted butter
6 ounces really good unsweetened chocolate, chopped
1 ⅔ cups granulated sugar
⅔ cup light or dark brown sugar, lightly packed
½ cup dark corn syrup
1 teaspoon vanilla extract
5 large eggs
¼ scant teaspoon salt
2 cups all purpose flour (9 oz)
¾ cup sliced almonds (more or less)
3-4 tablespoons Amaretto
Preheat oven to 350 degrees F. Line a 15x10 inch pan with foil and spray foil with cooking spray. Alternatively, can use nonstick foil and skip the spray.
Melt the butter in a large saucepan over medium heat. When butter is partially melted, stir in the chocolate. Melt the chocolate and butter over low heat, stirring until chocolate is melted and mixture is smooth. Remove from heat and stir in sugars, corn syrup and vanilla. If mixture is still very hot (it shouldn't be), let it cool for another 5 minutes, then stir in the eggs and salt. When salt is thoroughly mixed in, add the flour and stir just until it disappears.
Pour mixture into pan and scatter almonds over the top. Bake for 25 to 30 minutes and let cool to room temperature. Chill for about an hour. Brush Amaretto across top with a pastry brush. Lift brownies from pan and cut. Makes about 3 dozen.