These cupcakes were inspired by the ones I saw in New York, where cupcakes are not only tasty, they're big! Being a home baker, I really don't get out and buy enough bakery cupcakes, but when I do I appreciate that bakeries make them in jumbo muffin tins. You get more for your money and it gives you a better ratio of cake to frosting . Plus, the cupcakes seem to be moister due to there being more inside area and less surface area to potentially dry out.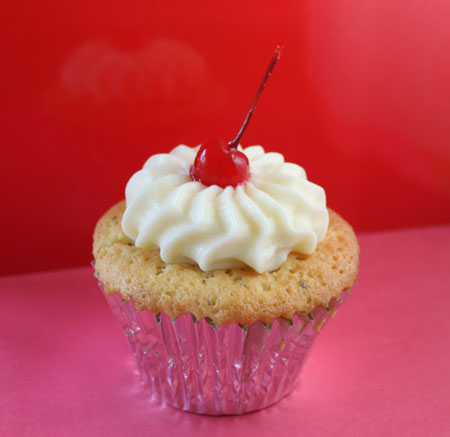 In the past I've always made cupcakes in standard home baker size muffin tins, but I think from now on I'll start making cupcakes larger. I'll use my Nonstick 6-Cup Texas Muffin Pan
or just but Reynolds jumbo cupcake cups. The baking cups have foil liners and can be used without a muffin tin.  I tried this and didn't like the way the sides spread, but you could probably just set them into the standard size muffin tin for a little support.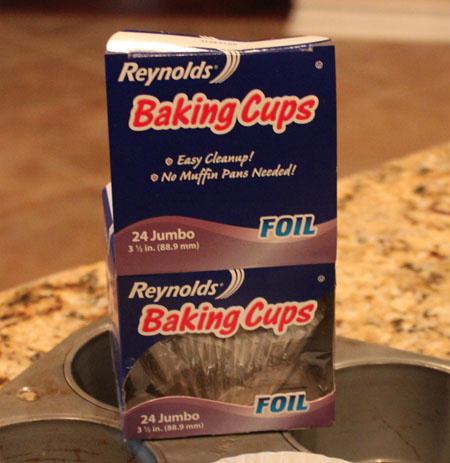 By the way, I have a new favorite decorating tip. It's called the Ateco #867 and it's the easiest tip for frosting cupcakes because all you do is give one squeeze and you've got a beautiful, pointy, star topping. I stuck a cherry in the center because I like the way stemmed cherries look, but you could stick an almond or something else there instead.
Jumbo Amaretto Chip Cupcakes

4 large eggs, room temperature
½ cup whole milk**
1 teaspoon vanilla extract
2 tablespoons Amaretto Disaronno
1 ¾ cups cake flour (7 oz)
1 ½ cups granulated sugar
2 teaspoons baking powder
¾ teaspoon salt
8 oz unsalted butter (16 tablespoons), room temperature, cut into chunks
½ cup (you can use more if you like) of miniature chocolate chips or cinnamon chips

Amaretto Cream Cheese Frosting
5 oz softened cream cheese
8 tablespoons (4 oz) butter, softened
2 cup confectioners' sugar, sift after measuring
4 teaspoons Amaretto Disaronno

Preheat oven to 350 degrees F. and line 10 jumbo muffin cups with jumbo liners.

Whisk the eggs, milk, vanilla and Amaretto together in a large liquid measuring cup.

In bowl of a stand mixer, mix the cake flour, sugar, baking powder and salt. With mixer on low, add the butter one tablespoon at a time until you get pea size lumps. Add half of the milk mixture and increase speed to medium high. Beat until light and fluffy. Reduce speed again and add remaining milk. Increase speed and beat for another minute. Stir in mini chocolate chips (or cinnamon chips).

Divide batter equally among cups and bake for 25 minutes on center rack. Let cool completely. Frost with Amaretto Cream Cheese frosting.

Beat the butter and cream cheese until smooth. Beat in vanilla. Add confectioner's sugar slowly, beating until smooth. Beat in the creamer
**If you don't have whole milk but you do have cream and reduced fat milk, measure out 4 oz minus about 2 teaspoons of milk, then add 2 teaspoons of cream to make 4 oz.
Note:  The cake part of this recipe was adapted from Cooks Illustrated's Cook's Country and uses the reverse creaming technique.