It must have something to do with "back-to-school", but for some reason I'm obsessed with cupcakes. I'll post an actual cookie recipe soon, but here's a recipe for the banana cupcakes I made yesterday. I ate one and gave the rest to some friends down the street hoping that at least one person in the family would like them. Our new street has big families, which is a plus since there's always someone willing to taste test.
The base is one of my favorite banana cakes to which I added a tiny bit of Amaretto, and for the frosting I used a recipe that originally went with an old Amaretto Italian Cream Cake recipe from the Austin Statesman. I'm still anxious to try that cream cake, but I figured cupcakes would be easier to share and they were.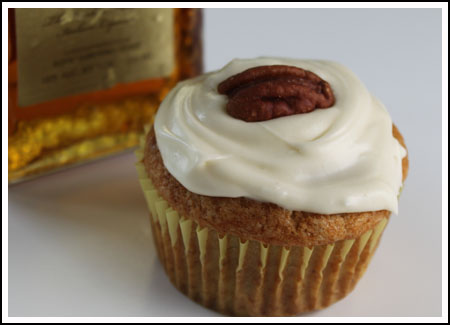 Banana Cupcakes with Amaretto Cream Cheese Frosting
4 oz unsalted butter or ½ cup shortening
1 cup granulated sugar
2 large eggs
1 cup mashed bananas, about 2 large
½ teaspoon vanilla extract
1 ½ tablespoons Amaretto
½ cup sour cream, room temperature
2 cups all-purpose flour ( 9 oz)
1 teaspoon baking powder
1 teaspoon baking soda
¼ teaspoon salt
Amaretto Cream Cheese Frosting:
6 tablespoons butter, softened
6 ounces cream cheese, room temperature
¾ teaspoon vanilla
2 ½ cups powdered sugar
2 tablespoons Amaretto
Preheat oven to 350 degrees F. Grease and flour 20 muffin cups or line with paper liners.
Beat butter and sugar with an electric mixer until creamy. Beat in eggs one at a time. Beat in bananas, vanilla and Amaretto. Stir in sour cream. Thoroughly mix together flour, baking soda, baking powder and salt, then add to creamed mixture and stir until it's mixed in.
Spoon batter into cupcake pans and bake at 350 degrees for 22-25 minutes or until cakes tests done. Cool cakes in pan on a wire rack then frost with Amaretto cream cheese icing.
Frosting: Beat the butter, cream cheese and vanilla. Gradually add powdered sugar and amaretto and beat until frosting is light and creamy. Spoon over cupcakes.
Decorate cupcakes with almonds or pecans.
Makes 20