Epicurious hasn't posted the March 2009 Bon Appetit Palmer House Brownies recipe yet, but I'll keep checking so I can link. Until then, here's my re-worked version of their re-worked version of the Palmer House brownies. All I did here was rearrange ingredients, add vanilla and use almonds instead of walnuts, but it's close enough to the original recipe to call it that.
As you can guess from the 9 oz of chocolate and half pound of butter, the brownies were intensely fudgy. Mine also happened to be a little too sweet, but I think it's because I had to use semi-sweet chocolate chips in place of the bittersweet chocolate. Next time I will use 70 or 85% chocolate or maybe even use a combination of 70% and unsweetened. I don't want to cut the sugar in the recipe because that might ruin the texture which was excellent. Along the being dense and fudgy, the brownies had kind of a crust on top and bottom. That might be due to beating the eggs with a mixer rather than gingerly whisking them into the batter, but in any case I liked the crust! So I want to give these another try with a less sweet chocolate…..and walnuts. The almonds were pretty, but the walnuts would be more true to the original.
One final note. When I pulled these out of the oven, they looked horrible. The brownies looked gritty, the edges were raised quite a bit and the middle seemed jiggly. I knew they were cooked, though. I'd baked them the full 45 minutes and they smelled done. After the brownies cooled and chilled, the texture was excellent.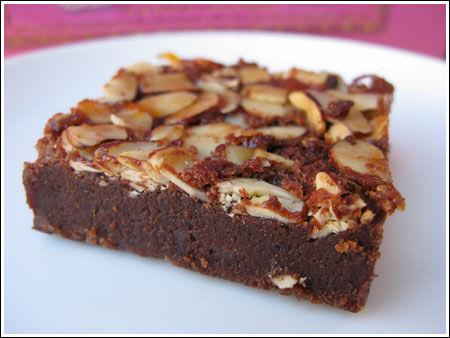 Old Hotel Brownies
1 cup cake flour (4 oz)
1 teaspoon baking powder
1/4 teaspoon salt
9 ounces bittersweet chocolate (70% or a less sweet)
8 oz unsalted butter
1 cup plus 6 tablespoons granulated sugar
2 large eggs
1/2 teaspoon vanilla extract
1 cup coarsely chopped walnuts, pecans or sliced almonds
2 T. apricot preserves for brushing over top
Preheat oven to 350 degrees F. Line an 8 inch square metal pan with non-stick foil or line with foil and spray foil with cooking spray.
Sift together cake flour, baking powder and salt; set aside.
Melt chocolate and butter together in a metal bowl set over barely simmering water or in microwave. Allow chocolate to cool slightly.
Beat eggs and sugar together in a mixing bowl using high speed of an electric mixer. Stir or whisk in the melted chocolate and vanilla. Sprinkle the flour mixture over the chocolate batter and gently fold it in. Pour batter into prepared pan and sprinkle walnuts over the top.
Bake brownies for 40-45 minutes or until edges are raised and have begun to pull away from pan.
Microwave apricot preserves for 20 seconds and strain out any chunks. Brush over brownies. Cool at room temperature for an hour then transfer to refrigerator to chill.