Auntie Em's Oatmeal Cookies are big, flat, bakery style cookies made with a recipe originally from the LA Times and Auntie Em's.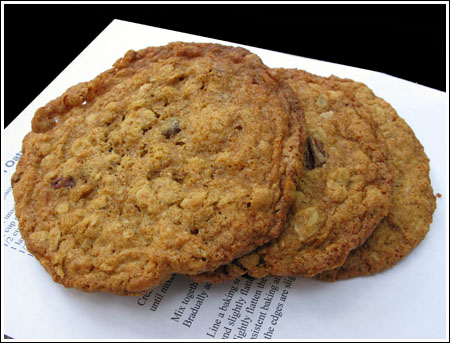 Boy, are they ever great, and I think they'd sell like crazy at a bake sale because they're big and homey looking and sturdy enough to be wrapped and individually. Just make sure your oven temperature is correct because if it runs hot, the edges may cook much faster than the center. My cookies were done in exactly 15 minutes, but at 12 minutes the middle looked raw. So keep a close eye the cookies as they bake.
Small Batch Giant Oatmeal Cookies
If you'd like to do a test batch before committing to a full batch, here's a scaled down recipe. This makes 8 gigantic cookies. You can make them with regular AP flour or white whole wheat.
Auntie Em's Oatmeal Cookies Small Batch
Servings: 8 giant cookies
4 oz unsalted butter at cool room temp
½ cup minus 2 teaspoons granulated sugar (3.4 oz granulated)
½ cup minus 1 teaspoon firmly packed brown sugar (3.4 oz brown)
1 large egg
½ teaspoon vanilla
1 cup oats
⅔ cups plus 2 teaspoons (2.8 ounces) flour (white whole wheat)
1 /4 cup wheat germ
½ teaspoon baking soda
½ teaspoons baking powder
¼ teaspoon ground cinnamon
¼ teaspoon salt
⅓ cups seedless raisins
⅓ cup toasted pecans or walnuts, chopped
Heat the oven to 350 degrees
Cream together the butter and sugars until fluffy. Stir in the egg and vanilla just until mixed.
Mix together the oats, flour, wheat germ, baking soda, baking powder, cinnamon and salt. Gradually add the dry ingredients until just combined. Stir in raisins and nuts.
Divide dough into 4 sections. Divide those sections in half to make 8 equal sections. Shape into neat balls. At this point, I chilled the dough. Not sure if it was necessary. If you started with overly soft butter, it may help.
Line two baking sheets with parchment paper. Place 4 dough balls on a baking sheet and space about 3 or 4 inches apart. Press down slightly so cookies bake more evenly. Bake one sheet at a time for 12 to 15 minutes on center rack. Let cool on cookie sheet for a few minutes then transfer to a wire rack to cool completely.
Makes 8 large cookies