This morning I did some experimenting with Banana Chocolate Chunk Bars. I like the idea of banana bars, but most recipes come out cakey. My goal was to make a banana bar with a slightly crispy shell and a soft but tight-crumbed and very dense texture -- a stiff banana bar that you could pick up and swing around. This is what I came up with. One step in getting the texture right was to eliminate the eggs. This is good news if you are vegan, because it means you can easily veganize these by by swapping out the butter for some vegan butter and using a vegan chocolate bar cut into chunks.
The bars are interesting, but I'm the only one around here who will eat anything with bananas baked into it, so I need a second opinion. If you try them, let me know what you think. All you need to make these is a bowl and a spoon. I mashed my banana with a fork.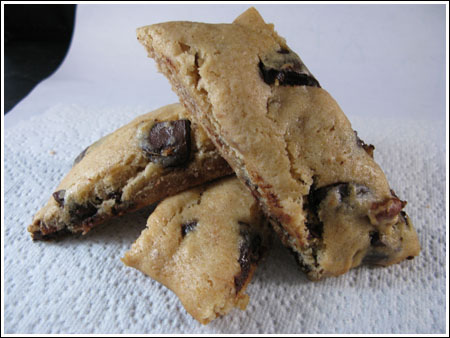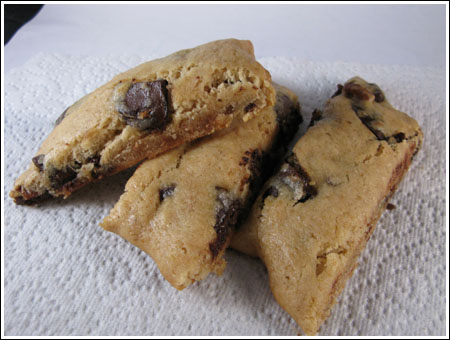 Banana Chocolate Chunk Bars
½ cup all-purpose flour (2 .25 oz)
2 ½ tablespoons light brown sugar
¼ teaspoon baking powder
⅛ teaspoon cinnamon
⅛ teaspoon salt
1 ½ oz banana, mashed (a little less than ¼ cup if you don't have a scale)
2 tablespoons corn syrup
1 ½ tablespoons melted butter (cooled) – I used salted
½ teaspoon vanilla
⅓ cup pecans, toasted and chopped**
⅓ cup chocolate chips or chunks (use more if you want)
Preheat oven to 350 degrees F. Line cookie sheet with parchment paper.
Sir flour, brown sugar, baking powder, cinnamon and salt together in a bowl.
Stir mashed banana, syrup, melted butter and vanilla in a second bowl. Pour flour mixture into banana mixture and stir until well mixed. Stir in pecans and chocolate. Mixture should be goopy, but not too runny. If it's runny, chill it for an hour.
Empty the goopy banana mixture onto the parchment lined sheet and shape into a rectangle about 9x2 inches. The best way to do this is with damp hands.
Bake on center rack for 15 minutes. Pull from oven and quickly score the long bar into 1 ½ to 2 inch wide bars, but don't separate. Quickly return to oven and bake for another 5 minutes. Remove from oven and let cool for 10 minutes on tray, then carefully separate the bars and let them sit on a cooling rack to finish cooling. They should develop kind of a crispy shell.
Makes 6