Golden Cinnamon-Pumpkin Bars are perfect for Fall, but I like pumpkin year round and made them anyway. What's great about these pumpkin bars is not only are they made with whole wheat flour, they are dense and moist rather than cakey. They're like brownies, but with pumpkin flavor. I used cinnamon chips, but chocolate chips would be great as well. This is adapted from the King Arthur Whole Grain Baking Book.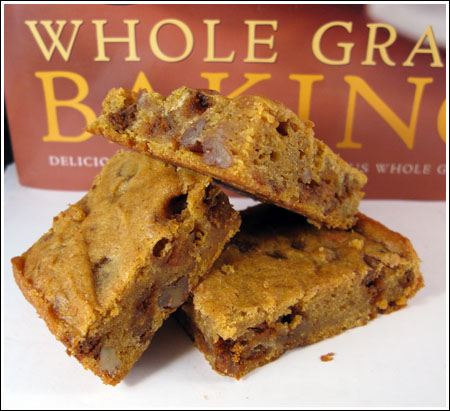 Golden Cinnamon-Pumpkin Bars
6 oz unsalted butter (168 grams)
1 ⅓ cups packed light or dark brown sugar (280 grams)
1 teaspoon vanilla (5 ml)
¾ teaspoon baking powder (3 ml)
½ teaspoon salt (2 ml)
1 teaspoon cinnamon (3 ml)
1 teaspoon pumpkin pie spice (see substitution)
1 egg
1 cup canned pumpkin (9.5 oz)
1 ½ cups whole wheat flour (170 grams) -- (or weigh out 170 grams white whole wheat)
1 cup cinnamon chips (170 gram)
¾ cups chopped pecans
Preheat oven to 350 degrees F. Spray a 13x9 inch metal pan with cooking spray or line with foil and spray foil.
Melt the butter in a microwave-safe bowl. Stir in the sugar. Return the bowl to microwave and heat for another 30 seconds or just until it starts to bubble. Let cool until it's comfortable to touch, then stir in the baking powder, salt, cinnamon, pumpkin pie spice and egg. When well mixed, stir in pumpkin. Add the flour, cinnamon chips and nuts or raisins and stir until mixed.
Pour into pan and bake for 40 minutes or until toothpick inserted comes out clean. Cool on a wire rack.
This makes 2 dozen 2 inch bars
This is a good sub for pumpkin pie spice, you can adjust the spices if you like = ¼ teaspoon cinnamon, ¼ teaspoon ginger, ¼ teaspoon cloves, ¼ allspice