Fuzz's friend spent the night and I'm glad she did because Fuzz needed some emotional support on the tongue guard. At first, she was fine and joked that she sounded like Myrtle from Harry Potter. But last night the realization that her speech would be different for many months hit and she started to cry and wonder if people would make fun. We told her they wouldn't and she felt better, but I'm guessing she was bummed to wake up and find it still there.
To keep her mind off the tongue guard, I've tried to keep Fuzz super busy.  One activity was making these cupcakes. They're vegan because the girls had planned to share them with some vegan friends, but the meet-up got canceled and now we have to share these with omnivores  I'm fairly certain no one will complain because these are actually moister and more delicious than some regular cupcakes. I'll post another pictures soon, but for now here's a photo of the cupcakes the girls did themselves.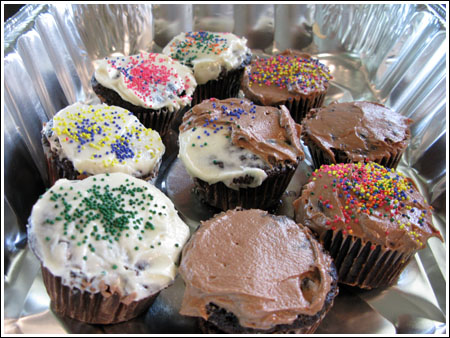 Here's a better photo.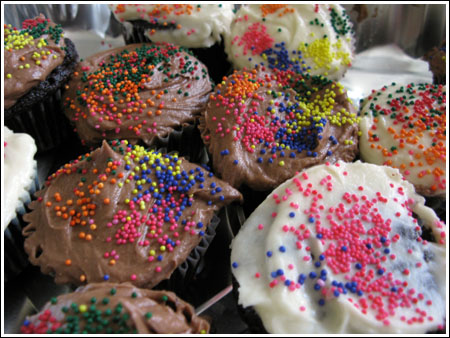 Double Batch Vegan Chocolate Cupcakes
Adapted from Vegan Cupcakes Take Over the World!
2 cups (480 ml) soy milk
2 teaspoon (10 ml) apple cider vinegar or regular vinegar
2 cups (9 oz/250 grams) all-purpose flour
2/3 cup (60 grams) unsweetened natural cocoa powder (Dutch is okay too)
1 1/2 teaspoon (7 ml) baking soda
1 teaspoon (5 ml) baking powder
1/2 teaspoon (2 ml) salt
1 1/2 cup (295 grams) granulated sugar
2/3 cup (180 ml) vegetable oil
1 teaspoon (5 ml) vanilla extract
Fluffy Frosting
1/2 cup (98 grams) Spectrum or other non-hydrogenated shortening
1/2 cup (114 grams) Earth Balance or other non-hydrogenated margarine
3 1/2 cups powdered sugar (about a pound)
1 1/2 teaspoons (7 ml) vanilla extract
1/4 cup (60 ml) soy milk
(For chocolate frosting, add about half cup of cocoa powder or to taste)
Preheat oven to 350°F (176 C). Line 24 muffin cups with paper liners.
Stir or whisk soy milk and vinegar together in a large mixing bowl. Let it sit for a few minutes to curdle.
Meanwhile, thoroughly mix together the flour, cocoa powder, baking soda, baking powder and salt; set aside.
Stir the sugar, oil and vanilla into the soy milk mixture and whisk until foamy.
Add half of the dry mixture (flour etc.) to wet mixture and stir very well until mixed – batter might be slightly lumpy, but try to remove the big lumps. Add remaining flour mixture and stir until mixed. Pour batter into muffin cups dividing evenly between all 24 cups and bake 20 minutes or until a toothpick inserted in center comes out clean.