Red Wine Cake from Sicily is a very old post! I haven't made this cake in a while, but I enjoyed re-reading it because I've learned so much since.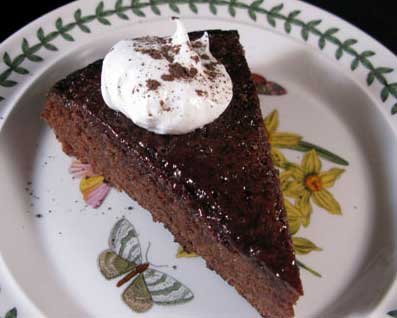 I like baking with wine and am always happy to find recipes where you can really taste it. This Red Wine Cake is a good one because along with being in the cake, the wine is part of the melted chocolate mixture that is poured across the top of the cake.
Using Metric Measurements
This was sent to me by Sonia who lives in Sicily. Sonia often bakes American recipes, and when she does, she has to find the Italian ingredient/brand equivalent and convert to metric. The tables turned this week when she sent me this recipe, because along with the usual adjusting for metric and pan sizes, I had to think twice about ingredients. For instance, why is there so much baking powder? Do Italians use large eggs or are they smaller? Does all-purpose flour from Italy have the same protein content and is the wheat softer? What's up with the missing salt? Is it in the butter?
Sonia's Recipe
So I pasted the recipe below as Sonia wrote it, but with my adjustments and questions in parenthesis. In the end, everything was fine. My cake was denser, more tight crumbed and firmer than American cake, but based on the cakes I tried in Florence, this seems to be how some Italian cakes are. And just for fun, I made a smaller version of the cake this morning with yet more adjustments. The second cake was the same as the first, but a little less stiff due the flour adjustments, so I think European all purpose and American all purpose flour might be different.
Red Wine Cake aka Sonia's Drunk Cake
300gr of white granulated sugar
70gr of dark chocolate in chunks
200gr of butter (plus ¾ tsp salt if using unsalted) — Anna
170gr of red wine
150gr of all purpose flour
15gr of baking powder (that's 1 tablespoon, didn't use as much)
4 eggs
Directions
Preheat oven at 340F. (A: Used 325 F). I use a 25cm round silicon cake mold but I guess any pan would do if it has the same dimensions. (A: Used 9 inch round 4 inch high springform)
Whisk sugar, chocolate, butter and wine. Then put in a saucepan and heat gently – it must not boil, until smooth. Save a cup of this mixture for later. (A: A cup in other countries is not always 8 oz – found out Sonia's cup is about 150 grams….reserved about 5 oz).
Beat eggs, baking powder and flour and then added the remaining mixture of butter and wine. (A: 15 grams is a whole tablespoon of baking powder. A doesn't like baking powder and  reduced it to 1 ½ teaspoons.  Crossed fingers.)
Pour the batter in the mold (springform) and bake for 35 minutes — check with the toothpick. (A: Cake was done in exactly 35 minutes).
Remove from the mold and pour the cup (5 oz) of butter/wine mixture over the still hot cake. Let it rest one hour before eating.
Small Batch Drunk Cake
And here's the small batch version of the cake which you may want to try just to see if you like it. This is super simple, but since it's a small recipe and every gram of flour counts, use a scale if you have one.
Cocoa powder for dusting pan plus shortening
100 gr of soft unsalted butter (7 tablespoon)
35 gr of unsweetened chocolate (1.25 oz)
150 gr of white granulated sugar (3/4 cups)
1/3 cup of red wine (80 grams) (I used Cabernet)
2 large eggs
3/4 teaspoon baking powder
1/4 teaspoon plus a small pinch of salt
40 grams cake flour (1/3 cup)
35 grams all purpose flour (1/3 cup)
Directions
Preheat oven at 325 F and rub an 8 inch round metal pan with shortening. Dust with cocoa powder and line bottom with a round of parchment paper.
Melt butter over medium heat in a small saucepan. Reduce heat to low and add the chocolate, sugar and wine. Cook very gently just until chocolate is melted and smooth. Remove from heat. Reserve 1/3 cup of mixture for topping.
Whisk eggs, baking powder and salt together in a medium bowl, making sure all baking powder clumps have disappeared. Whisk in the flour, then whisk in the remaining chocolate mixture; continue whisking until most of the flour lumps are gone. Pour the batter in the pan and bake on center rack for 25 minutes or until done. Test with a toothpick.
Invert from pan and set on a rack set over a bunch of paper towels or a tray. Pour the reserved 1/3 cup chocolate mixture over top. Let sit for an hour.
Related Recipes