A friend mentioned he had a doorman who taste-tested baking experiments and gave honest feedback. Well once again, I really wish I had a doorman because I love these Red Wine Brownie Bars, but need some feedback from a taster.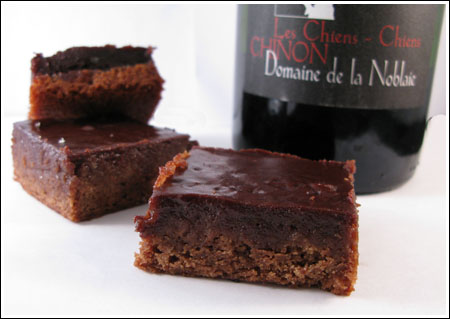 From Sonia in Sicily
These were inspired by Sonia from Sicily's red wine cake and an old brownie recipe sent over from a friend who complained her brownies were too cakey. After combining the two recipes and making a few adjustments, I ended up with a dense and firm cake that was just dry enough to soak up the topping that seeps down into it. It doesn't seem quite soft enough to be traditional American style cake and it's not quite fudgy enough to be a true brownie. Also, the base is chocolate, but it's not so chocolaty that you can't taste the wine. And why bake with wine if you can't taste it?
I really like these but need a second opinion, so if you have some leftover wine and a few ounces of chocolate, please try the recipe and let me know what you think!
Red Wine Brownie Bars
4 oz/114 grams unsalted butter (1 stick)
1 ounce (28 grams) unsweetened chocolate, broken up
1 cup granulated sugar (192 grams)
2 eggs
1 tablespoon red wine (Cabernet Franc)
½ teaspoon baking powder
½ teaspoon salt
¾ cup all-purpose flour (spoon lightly into cup to get 94 grams)
Red Wine Icing
3 ½ tablespoons unsalted butter (50 grams)
1 oz unsweetened chocolate
4 ½ tablespoons granulated sugar (60 grams)
3 tablespoons red wine (Cabernet Franc)
Directions
Preheat oven to 350 degress F. Line an 8 inch square metal pan with foil and grease bottom of pan only or spray the bottom with cooking spray. Don't spray the sides.
Melt butter in a medium saucepan set over medium heat. Reduce heat to low and add chocolate. Stir until chocolate melts, then add sugar. Continue heating for about 30 seconds to dissolve some of the sugar. Remove from heat and let cool for 5 minutes.
Whisk the eggs, wine, baking powder and salt together in a mixing bowl. Make sure you've whisked out any lumps of stray baking powder. Add a small amount of the slightly cooled chocolate mixture to the eggs and whisk until blended, then whisk in the rest of the chocolate mixture. Fold in the flour with a large spatula – the goal is to mix it, but not beat the flour too much. Pour into pan. Drop pan onto counter from about 5 inches once or twice to remove air bubbles. Bake on center rack and bake for 25-30 minutes or until a tester inserted in center comes out clean.
Meanwhile prepare icing. Melt butter over medium heat. Reduce heat to low and add chocolate, sugar and wine. Continue heating over low, stirring often, until mixture is smooth – don't let it boil. Pour hot wine mixture over fresh-out-of-the-oven brownie/cake base and let stand for an hour or so. The topping should sink down into the cake and settle on top. Let sit until topping has set. I put mine in the refrigerator to speed up the chocolate-setting. This worked well for the topping, but I think the refrigerator adds to much stiffness to the base so if you chill these, let them come back to room temp before serving.
More Desserts with Red Wine