Red Wine Chocolate Cupcakes are the result of a late afternoon cupcake craving combined with my need to efficiently make use of some two day old Valpolicella.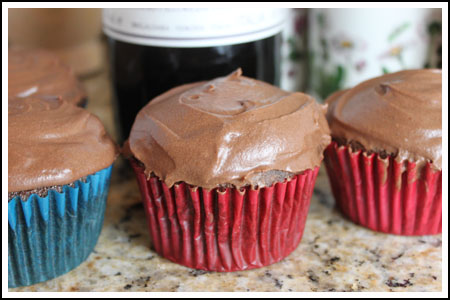 This recipe is kind of fun. It's adapted from an old Food & Wine recipe by Kristen Donnelly and can be made with any kind of wine. The Valpolicella gave the cupcakes kind of a chocolate-sour cherry flavor which was good, and the aftertaste lingered which was positive or negative depending on how you look at things. You could call it a "long finish", but I'm not sure that's what one wants in a cupcake so a fruity merlot might be more appropriate for the cake. It's fun to experiment, though.
For the icing, I was trying to come up with something that would match chocolate cherry or complement the flavor of Valpolicella somehow. I ended up using the recipe on the back of the Ghirardelli cocoa can because really, what goes better with wine than chocolate? Okay, steak. I could have made steak frosting but didn't think of that in time.
Recipe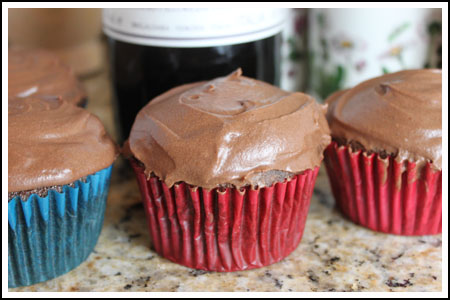 Red Wine Chocolate Cupcakes
Chocolate cupcakes made with red wine
Ingredients 
1

cup

all-purpose flour

4.5 oz

6

tablespoons

unsweetened natural cocoa powder

⅜

teaspoons

baking soda

¼

teaspoon

salt

4

oz

unsalted butter

softened

¾

cup

plus 2 tablespoons sugar

1

large egg

½

teaspoon

pure vanilla extract

½

cup

plus 2 tablespoons red wine
Icing:
3

tablespoons

butter

4

tablespoons

cocoa powder

1 ⅓

cup

powdered sugar

3

tablespoons

milk

¼

teaspoon

vanilla or a little more wine if you really like the one you're using.
Instructions 
Preheat the oven to 350 degrees F. Line 12 cupcake tins with paper liners.

Mix the flour, cocoa powder, baking soda and salt together and set aside.

Using an electric mixer, beat the butter with the sugar at medium-high speed until fluffy, 4 minutes. Beat in the egg and vanilla. Working in two batches, alternately fold in the dry ingredients and the wine, until just incorporated. Divide the batter between the cupcake cups and bake for 20 minutes or until a toothpick inserted in the center comes out clean. Let cool completely. The wine flavor mellows a bit upon standing, so I recommend eating these a few hours after you make them.

Prepare frosting. Mix together the butter, cocoa powder, and sugar. Stir in the milk. Beat until light and fluffy. Beat in vanilla. Frost the cupcakes.