This cake has come a long way. It started as a Key Lime Bundt Cake which I drizzled with a Tequila and Triple-Sec spiked Margarita icing, but I now make it as a layer cake with Key lime flavored cream cheese icing. Both versions work, it just depends on what you are in the mood for. Here's an old picture of the Bundt cake.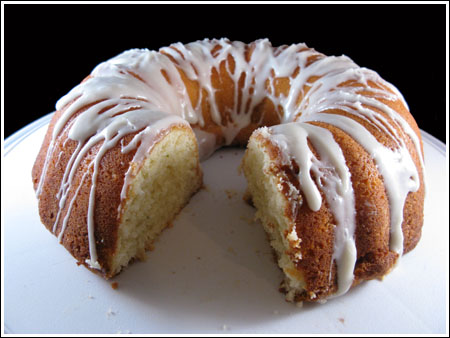 Layer Cake Version
And here's a photo of the layer cake version. The frosting for this cake is so good. Rather than do a Margarita themed frosting (which might be overkill compared to a Margarita glaze or drizzle), I just used a very tart lime flavored Key lime frosting and added a layer of homemade lemon curd which I just happened to have leftover from another baking project.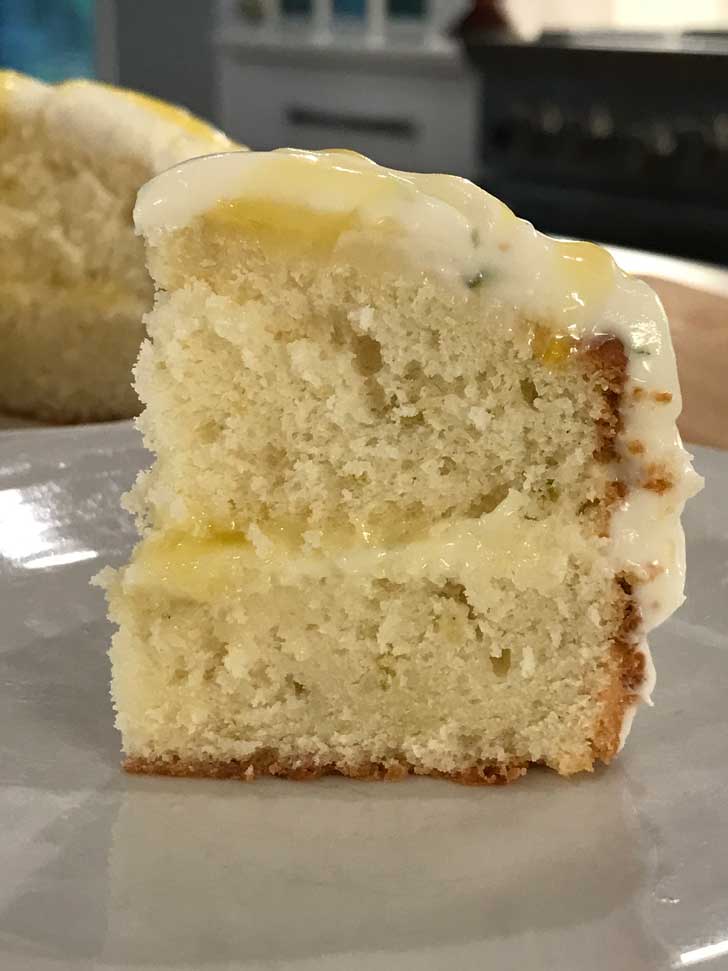 Bundt Cake or Layer Cake
So there are two different versions of this cake -- the Key Lime Bundt Cake with Margarita Icing below and the Key Lime Layer Cake with Cream Cheese Frosting which is in the recipe card.
Key Lime Bundt Cake with Margarita Icing
2 cups sifted cake flour (215 grams) -- do not use AP
¼ teaspoon each baking soda and baking powder
¼ teaspoon salt
4 large eggs
2 cups sugar (divided use) (14 oz)
⅓ cup (75 grams) unsalted butter, softened
⅓ cup (64 grams) shortening
1 ½ tablespoons lime zest
⅓ cup Key lime juice (bottled) or fresh lime juice
⅔ cup sour cream (160 ml), regular not light!
Garnish: confectioners' sugar and fresh strawberries
Margarita Icing
1 ½ oz cream cheese (42 grams)
½ oz (1 T) unsalted butter (14 grams)
¾ cup confectioners' sugar (70 grams)
½ tablespoon tequila
A little over ½ tablespoon Triple sec
½ tablespoon lime juice (more or less to taste & consistency)
Directions for Bundt Cake
Preheat oven to 325 degrees. Spray a 10-inch Bundt pan with flour-added cooking spray.
Sift together cake flour, baking soda, baking powder, and salt.
Separate the eggs. Put yolks in one bowl and put whites in another, preferably metal and big enough to use as a mixing bowl. With an electric mixer, beat the whites until soft peaks begin to form. Gradually add ½ cup of the granulated sugar and continue beating until mixture is thick and glossy. Set that mixture aside.
In a large bowl, beat butter & shortening with an electric mixer until creamy. Gradually add the remaining 1 ½ cup of sugar and beat for a good 4-5 minutes. Beat in the lime zest. Add egg yolks, one at a time, beating well after each addition.
Gradually add flour mixture to butter mixture, alternately with lime juice and sour cream, beginning and ending with flour mixture, beating well after each addition.
Fold the beaten egg whites/sugar mixture into the batter. Pour mixture into prepared pan. Bake for 1 hour or until a wooden pick inserted in center comes out clean.
Let cake cool in pan for 10 minutes. Remove cake from pan, and cool completely on a wire rack. Make frosting.
Beat together the softened cream cheese, butter and sugar. Add booze and beat until smooth. Taste and make sure it's lime-y or tequila-y enough and adjust until you get what you want.
Spoon it over the cake and let it set. You can throw it in the refrigerator to speed the setting of the icing.
Recipe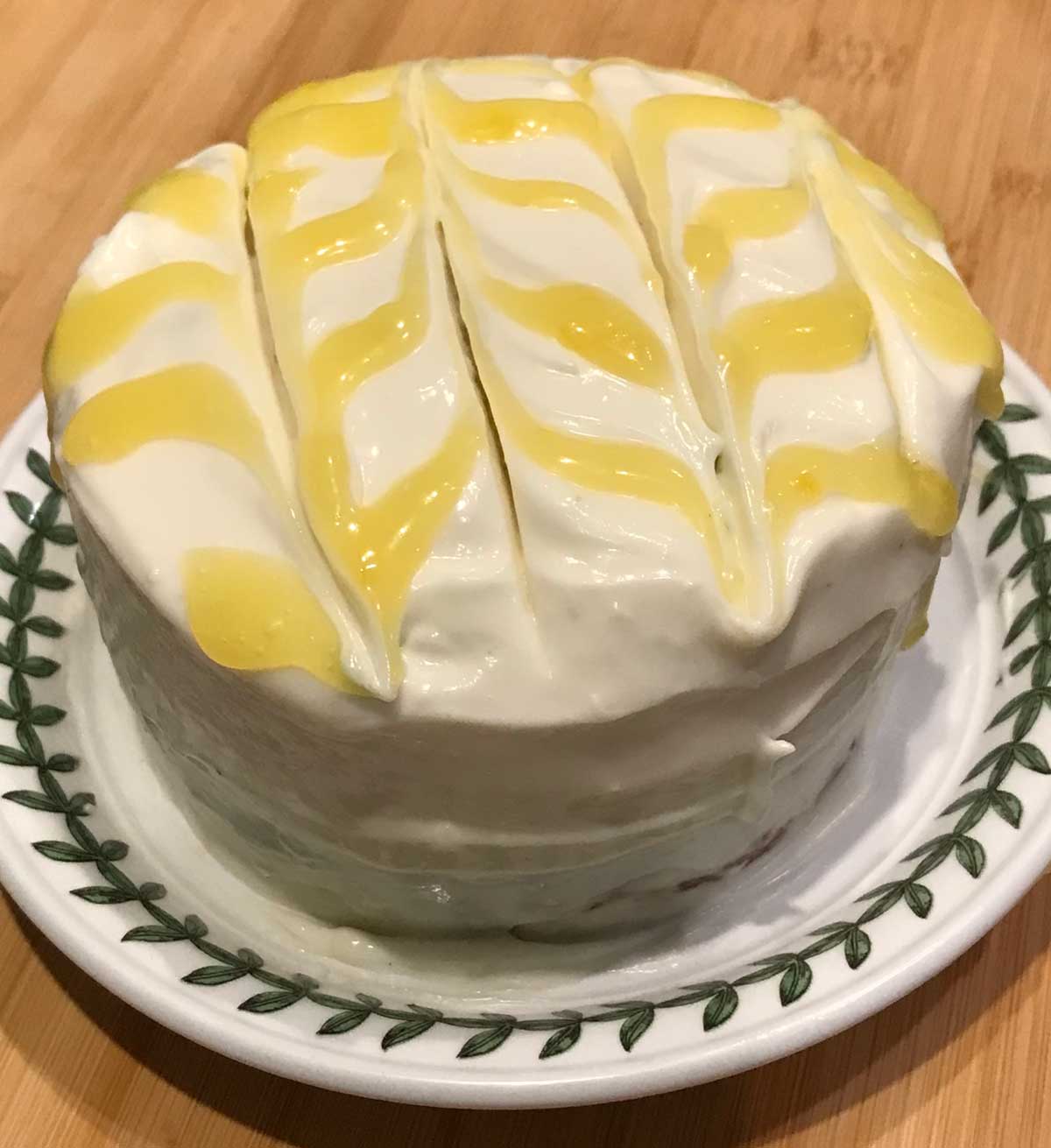 Key Lime Layer Cake
A two layer Key lime layer cake with a lime flavored cream cheese frosting.
Ingredients 
2

cups

sifted cake flour or 1 ¾ cup plus 2 T. unsifted

¼

teaspoon

baking powder (increase to ½)

¼

tsp.

baking soda

2

cups

granulated sugar

(400 grams)

½

teaspoon

salt

4

large

eggs

⅓

cup

unsalted butter

⅓

cup

shortening

⅓

cup

fresh or bottled key lime juice (Nelly & Joe's)

¾

cup

sour cream

2

tablespoons

fresh lime zest
Key Lime Cream Cheese Frosting:
8

oz

cream cheese softened

(230 grams)

8

tablespoons

unsalted butter, softened

(114 grams)**

2 ½

cups

confectioners' sugar

½

teaspoon

vanilla extract

2

teaspoons

lime zest

1

tablespoon

fresh lime juice
Garnish
1

cup

shredded sweetened coconut

toasted

Lemon Curd
Instructions 
Preheat oven to 350 degrees F. Spray 2 9-inch round baking pans with flour-added cooking spray or grease with shortening, line with parchment and dust with flour.

Sift flour, sugar, baking powder, baking soda and salt together.

In the bowl of a stand mixer, beat the egg whites until soft peaks form. Gradually beat in ½ cup of the sugar. When thick, scrape whites into another bowl.

Add butter, shortening and sugar to the stand mixer bowl. No need to clean it. Beat for about 3 to 5 minutes or until light and creamy. Gradually beat in the egg yolks, one by one. Beat in the sour cream and the key lime juice.

Add the flour and stir or beat on medium until evenly blended. By hand, fold in the beaten egg white/sugar mixture.

Pour cake batter into cake pans and bake for 25 to 35 minutes or until a tooth pick comes out clean (mine took 32 minutes).

Cool in pans for 5 minutes and then turn cakes out onto cooling racks. Cool for 1 hour.

Spread frosting over cakes, stack and ice the whole cake with frosting. Spread toasted coconut over top and down sides. If you happen to have lemon or lime curd, you can put a layer of lemon curd between the two cake layers and on top. It really enhances the citrus flavor of the cake, but is not required.
Frosting
In a mixing bowl, beat together cream cheese and butter. Add vanilla, then add 2 cups of powdered sugar.  Beat in the lime juice – beating and scraping sides of bowl all the while, then (if not sweet enough) add remaining powdered sugar ½ cup at a time until you reach desired consistency and sweetness.  Adjust with more lime juice if desired.
Notes
I like a less sweet frosting, so I start with 2 cups of sugar and add more as needed. The frosting will be a bit softer without the extra sugar.