This is a Key lime flavored version of one of my favorite pound cake recipes. To make it a little more exciting, I put Triple Sec and tequila in the icing. Also, I call it Key Lime Bundt Cake because not only is it made in a Bundt pan, but it's a little lighter than traditional pound cake.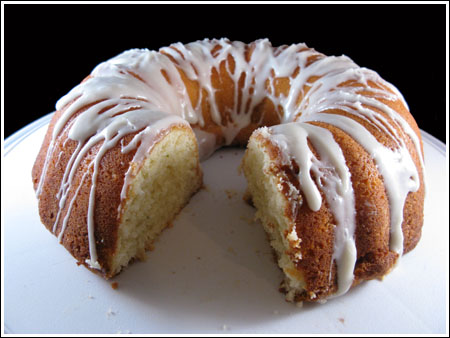 Now I'm thinking I should have put cornmeal in the cake for a corn chips & margarita theme, but I'll save that for another day.
Key Lime Bundt Cake with Margarita Icing
2 cups sifted cake flour (215 grams) — do not use AP
1/4 teaspoon baking soda
1/4 teaspoon baking powder
1/4 teaspoon salt
4 large eggs
2 cups sugar (divided use) (14 oz)
1/3 cup (75 grams) unsalted butter, softened
1/3 cup (64 grams) shortening
1 1/2 tablespoons lime zest
1/3 cup Key lime juice (bottled) or fresh lime juice
2/3 cup sour cream (160 ml), regular not light!
Garnish: confectioners' sugar and fresh strawberries
Margarita Icing
1 1/2 oz cream cheese (42 grams)
1/2 oz (1 T) unsalted butter (14 grams)
3/4 cup confectioners' sugar (70 grams)
1/2 tablespoon tequila
1/2 tablespoon Triple sec
1/2 tablespoon lime juice (more or less to taste & consistency)
Preheat oven to 325 degrees. Spray a 10-inch Bundt pan with flour-added cooking spray.
Sift together cake flour, baking soda, baking powder, and salt.
Separate the eggs. Put yolks in one bowl and put whites in another, preferably metal and big enough to use as a mixing bowl. With an electric mixer, beat the whites until soft peaks begin to form. Gradually add 1/2 cup of the granulated sugar and continue beating until mixture is thick and glossy. Set that mixture aside.
In a large bowl, beat butter & shortening with an electric mixer until creamy. Gradually add the remaining 1 1/2 cup of sugar and beat for a good 4-5 minutes. Beat in the lime zest. Add egg yolks, one at a time, beating well after each addition.
Gradually add flour mixture to butter mixture, alternately with lime juice and sour cream, beginning and ending with flour mixture, beating well after each addition.
Fold the beaten egg whites/sugar mixture into the batter. Pour mixture into prepared pan. Bake for 1 hour or until a wooden pick inserted in center comes out clean.
Let cake cool in pan for 10 minutes. Remove cake from pan, and cool completely on a wire rack. Make frosting.
Beat together the softened cream cheese, butter and sugar. Add booze and beat until smooth. Taste and make sure it's lime-y or tequila-y enough and adjust until you get what you want.
Spoon it over the cake and let it set. You can throw it in the refrigerator to speed the setting of the icing.