Jenn's Butterscotch Blondies are very good and not too sweet despite the full cup of brown sugar. Mine are a little darker than Jen's because I ran out of light brown sugar and had to use a mix of dark and light brown, but I suppose they are about the same in texture and taste. I used unsalted butter and upped the salt a bit as well. And finally, rather than unwelcome gobs of artificial butterscotch flavor, the butterscotch morsels were perfect in these.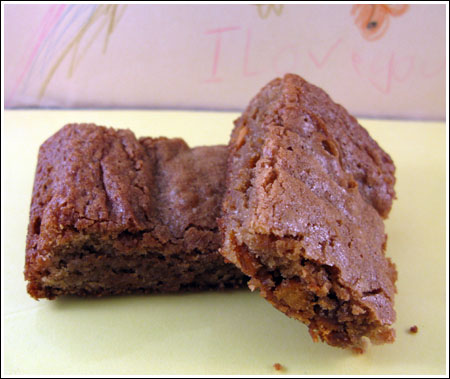 Maybe I should start ranking all the cookies 1-5 so that when it's time to come back and find a recipe for an event (like May 9), there will be a numerical rating to assist. These are a 4. I may up them to a 5, but I feel weird giving them first recipe I try a 5.
Jenn's Butterscotch Blondies
4 oz (114 grams) unsalted butter, melted
1 cup (200 grams) packed light brown sugar
1 large egg
1 large egg yolk
1 tsp (5 ml) vanilla
½ tsp (2 ml) baking powder
⅛ tsp (.5 ml) baking soda
⅜ teaspoon (1 ½ ml) salt**
1 cup (135 grams) all purpose flour
⅓ to ½ cup cup butterscotch morsels
Preheat oven to 350 degrees f (180 C). Line an 8 inch metal baking pan with foil and spray bottom only with cooking spray.
Gently mix together the melted butter, brown sugar, egg, egg yolk and vanilla.
Mix the flour, baking powder, baking soda and salt together in a separate bowl, then stir them into the sugar mixture. Stir in butterscotch morsels (aka chips).
Pour into pan, drop on counter to remove air bubbles, bake for 25-27 minutes on center rack. Cool in pan set on a wire rack.
**If using salted butter, use only ⅛ teaspoon salt