Roasted Pecans Blondies is the creative name of one of my very old recipes which was inspired by a cooking contest held by Bass Pecans. I recommend this one if you actually have pecans you need to use or if you like blondies with shiny tops.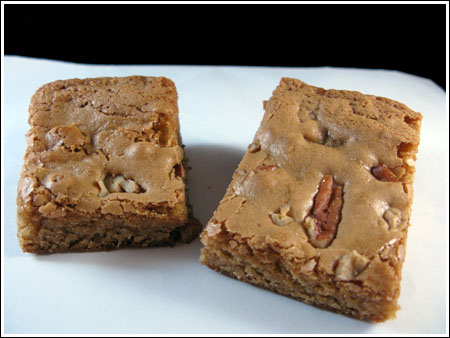 Blondies With Roasted Pecans Texture
This is a more traditional blondie than the dense and rich ones previously posted. The base is lighter and is a good contrast to the big chunks of pecans which in my opinion, are absolutely necessary. In fact, I wish I'd added butterscotch chips as well because the sweet chips would have been good with the slightly salty dough.
Let Cool Completely
And one last note, don't bother tasting these until they are completely cooled. They were terrible when I pulled them out of the oven -- light, almost cakey and slightly egg. But when they cooled, they'd settled into a more dense and non-cakey bar.
Basic Blonde Brownies with Roasted Pecans
1 cup whole pecans plus 1 T. butter
1 ½ sticks (180 grams) butter
1 pound light brown sugar (440 grams) – 2 ¼ cups
3 large eggs
2 tsp vanilla
2 ⅔ cups all-purpose flour (360 grams) – spoon and sweep
½ tsp salt
2 ½ tsp baking powder
1 cup butterscotch chips
Preheat oven to 350 degrees F. Line a 13x9 inch pan with foil and spray bottom with cooking sp ray.
Lay the pecans flat in a rimmed pan and bake at 350 for 10 minutes. Remove from oven and toss with the 1 T. butter. Let pecans cool, then chop.
Melt butter in a microwave safe bowl for about a minute. Add the brown sugar and heat for another 30 -60 seconds; stir well. Let cool for 5 minutes, then with a spoon or whisk, beat in the eggs and vanilla. Stir together flour, salt, and baking powder and add to sugar mixture, stirring until almost blended. Stir in the nuts and chips (if using) and stir until all flour has disappeared
Pour into pan and spread flat. Bake for 25 minutes or until brownies appear set. Let cool, then lift from pan and cut into squares. Makes 32.