I try to post recipes that don't require lots of equipment, but S'mores Cupcakes is is an exception. The recipe calls for a food processor, a stand mixer, a candy thermometer, and a torch. And frankly, the torch was the whole reason for making these. Ever since I bought it I've been looking for things to burn.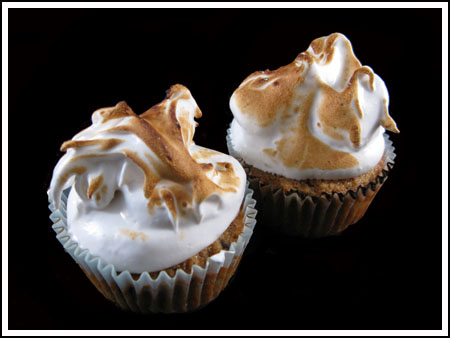 S'mores Cupcakes seemed perfect for my torching mood, but there are lots of s'mores cupcake recipes out there. Since I couldn't find one I liked, I used a couple of different recipes and built a cupcake of my own. I wanted one that had a real graham cracker flavor, plus chocolate and of course, the burnt marshmallow top. This one filled the bill, though I can't say I wouldn't be happy with others.
Also, this recipe halves well. Halving an egg yolk isn't as troublesome as it sounds because you don't have to be precise.
S'mores Cupcakes
32 graham crackers (squares)
2 tablespoons all-purpose flour
2 teaspoons baking powder
1 cup granulated sugar
½ cup butter, softened (salted butter)
5 egg yolks
2 teaspoons vanilla extract
1 cup milk
1 cup semi-sweet chocolate chips (or milk)
Meringue Frosting
1 ½ cup granulated sugar
¾ cup water
6 egg whites
1 teaspoon vanilla extract
Preheat oven to 325 degrees F (165 degrees C). Line 24 cupcake cups with paper liners.
Process graham crackers into crumbs. Add flour and baking powder to crumbs and pulse processor to mix.
Cream butter and sugar with an electric mixer until light and fluffy; beat in egg yolks and vanilla. Stir in milk, followed by graham cracker mixture and chocolate chips. Divide evenly among cupcake cake cups and bake on center rack for 22-25 minutes or until cakes test done.
Prepare Meringue Frosting Combine the sugar and water in a small saucepan and heat gently to dissolve sugar. Bring to a boil without stirring. Boil to firm ball stage (248).
Meanwhile, using a stand mixer with a whisk attachment, beat egg whites until stiff peaks form. With the mixer on low, slowly pour in the hot sugar syrup. Gradually increase the speed to high, and beat meringue for 7 minutes. Beat in the vanilla. At this point, it should be thick and spoonable – not too droopy.
Spoon big gobs of meringue on top of cupcakes and torch them gently. I kept setting the cupcake liners on fire, so be careful.