I found this cereal cookies recipe in one of my stepmother's cookbooks. It's either from "Catholic Women's Desserts" or "Sunrise Beach, We're Still Cooking!" If I'd bothered to take notes I would be able to give you the exact source, but I didn't match the recipe with the book.
Luckily, my stepmother took some notes. In fact, she took notes all over this particular cookbook, and I'm glad she did because if she hadn't scribbled her opinion next to this recipe, I probably wouldn't have paid any attention to it. This recipe is much better than it sounds and worth a try. The cookies have light and crispy edges, and the lack of brown sugar makes them a little crispier and lighter than typical chocolate chip. *But* they get extra flavor from the corn flakes.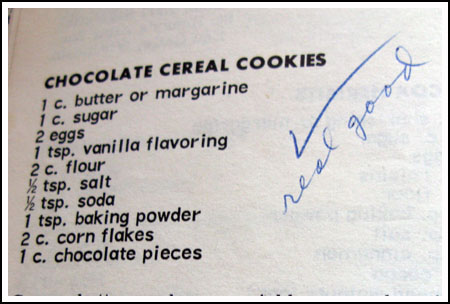 You can see the ingredients in the original recipe above, but I changed it up a bit by halving the recipe, using butterscotch chips and adding glazed candied nuts which were surprisingly good.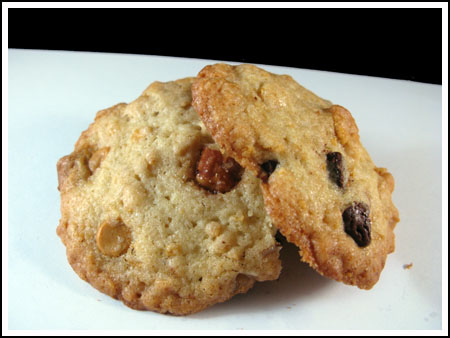 Sweet and Salty Glazed Pecan Butterscotch Cereal Cookies
1 stick (4 oz) unsalted butter, room temperature (114 grams)
½ cup granulated sugar (96 grams)
1 large egg
½ teaspoon vanilla extract
1 cup unbleached all purpose flour (135 grams)
½ teaspoon baking powder
¼ teaspoon baking soda
½ teaspoon salt
1 cup corn flakes cereal, crushed after measuring (big handful)
¾ cup butterscotch chips (or sub chocolate or Hershey's Salted Caramel Chips)
¾ cup candied pecan pieces** -- omit or use regular nuts if you like
Preheat oven to 350 degree F. Line two cookie sheets with parchment paper.
Beat the butter and sugar on high speed of an electric mixer, in a large mixing bowl, for about 2 minutes or until light and creamy. Beat in the egg and vanilla; scrape sides of bowl and beat for another 30 seconds.
Thoroughly mix the flour, baking powder, baking soda and salt together in a separate bowl. By hand or using lowest speed of mixer, gradually stir the flour mixture into the butter mixture until it is almost incorporated. Add the corn flakes, chips and glazed, roasted pecan pieces and stir until ingredients are mixed and flour is fully incorporated.
Drop dough by rouned teaspoonfuls onto cookie sheets spacing about 2 ½ inches apart. Bake for 12-14 minutes or until edges are golden brown and cookies appear set.
Remove to a wire rack and cool cookies completely before serving.
Makes about 36 cookies
**For this recipe I used "B. Lloyd's Roasted Glazed Pecans" which are sold in the salad toppings section of the grocery store. If you can't find B. Lloyd's, try using another glazed nut.