After a fairly disastrous attempt to make wheat free, dairy free, egg free, banana muffins, I decided to make something less frustrating.  I made the crust with European style butter and boy, was it good. In fact, I may never make lemon squares without fancy butter. The topping was a little stiff due to the flour (I guess),  but still tasty and pretty lemony. Plus, the stiffness of the filling makes the bars fairly portable…not that I'm taking them anywhere, but you may want to. The recipe doesn't have any baking powder or baking soda so if you are allergic to chemical leavenings, you are in luck. Is there such thing as a baking powder allergy?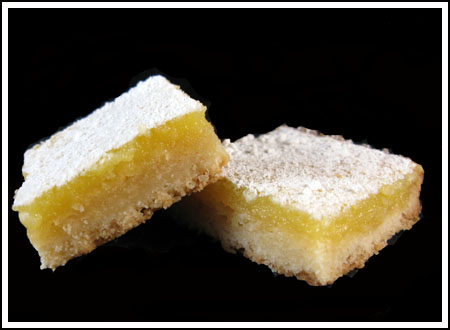 Lemon Squares with European Style Butter
Lemon squares on a crust made with European style butter
Recipe type:
Lemon Squares
Ingredients
Crust
1 stick (4 oz /114 grams) European style salted butter, room temperature
1/4 cup powdered sugar (25 grams)
1 cup (4.5 ounces/130 grams) all-purpose flour
Filling:
2 large eggs
3/4 cup plus 2 tablespoons granulated sugar 170 grams
2 teaspoons lemon zest
2 tablespoons all-purpose flour
1/4 cup plus 1/2 tablespoon fresh squeezed lemon juice
Instructions
Preheat oven to 350 degrees F (176 C). Line an 8 inch metal pan with non-stick foil or line with foil and spray foil with cooking spray.
Beat the butter and powdered sugar together until creamy. Add flour and stir until moistened – mixture won't be uniform, but rather raggedy and unattractive. Press into pan. I use damp hands to do this. Bake on center rack for 20 minutes.
Meanwhile, beat eggs with a fork or spoon until yellow. Beat in the sugar and zest, then gently stir in the flour until it disappears. Stir in the lemon juice and pour the mixture over the hot baked crust.
Return pan to oven and bake on center rack for another 20 minutes. Let cool for about 20 minutes, then dust top with powdered sugar. Lift from pan and cut into 16 squares.
Notes
If you decide to use regular unsalted butter, add about 1/4 teaspoon of salt to the crust mixture.
Related posts: