I used to call this my favorite blueberry muffin recipe, but since posting it I've tried so many other blueberry muffins I'll say it's now among my favorites.  Also known as Jordan Marsh Blueberry Muffins, it's adapted from Nick Malgieri's book How to Bake, where he attributes it to Marian Burros.  The recipe has also been published in several major newspapers, so it could very well be your mom or grandma's recipe as well. Or sort of. People change muffin recipes so much that they hardly ever come out the same.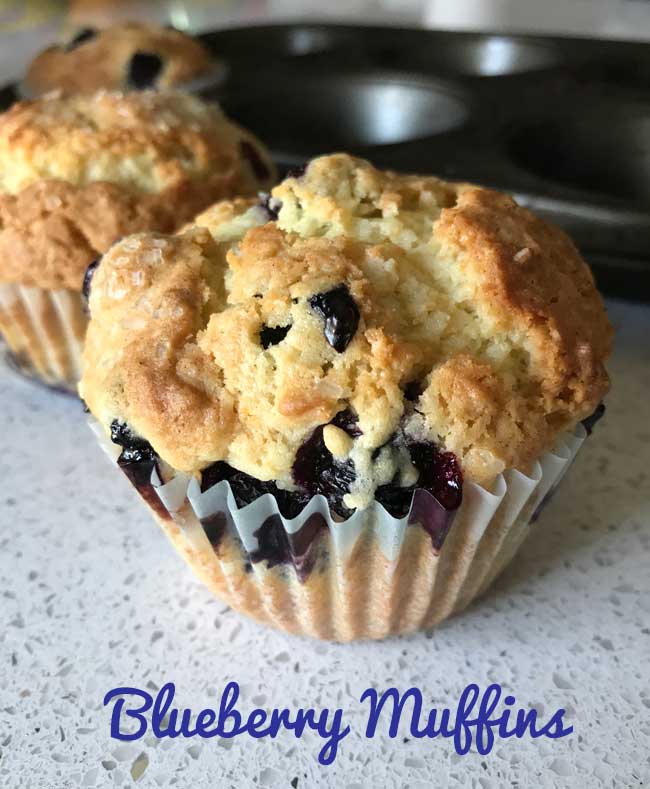 Maybe one reason people love the recipe is because it's sweet and a real kid pleaser.  When my daughter was little, this is the only muffin recipe she really liked.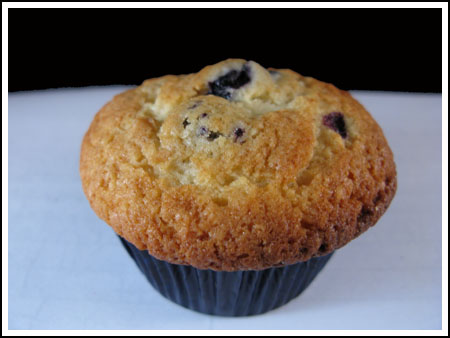 The muffins are more cupcake-like in that they are made by creaming the butter and sugar rather than adding wet ingredients to dry. Some people insist they are really cupcakes.  I think they are more like muffins because they have a heavier muffin-like texture, especially if you substitute bread flour for the all-purpose. That's another little change I like to make.
Changes to the Jordan Marsh Blueberry Muffins
And that's probably another reason why this is among my favorite blueberry muffin recipes -- it's so adaptable to changes.  The original version calls for ½ cup of milk, while the version in How to Bake uses yogurt.  Over the years I've used buttermilk, sour cream or a combination of the the two.   The amount of sugar can be reduced as well.  I haven't yet tested it with less than 1 ¼ cup of sugar, but some people use 1 cup and I've seen reviews from people who use even less.  Now that I'm getting old and finding everything too sweet, I may try cutting the sugar a bit next time.
Recipe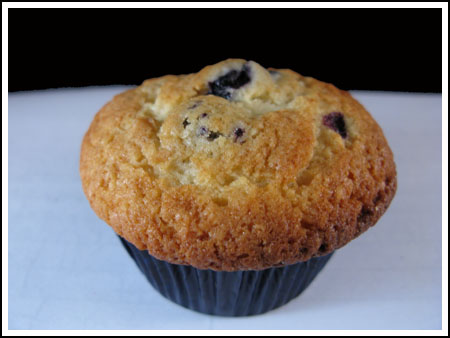 My Favorite Blueberry Muffin Recipe
An easy and good blueberry muffin recipe
Ingredients 
2

cups

all-purpose flour – 270 grams

or bread flour

2

teaspoons

baking powder – 10 ml

½

teaspoon

salt - 2 ml

8

tablespoons

unsalted butter

softened 114 grams

1 ¼

cups

granulated sugar – 240 grams

2

large eggs

1

teaspoon

vanilla extract – 5 ml

½

cup

plain yogurt – 110 grams

or use ¼ each buttermilk and sour cream

1

cup

fresh blueberries
Instructions 
Preheat oven to 375 degrees F (190 C). Line 12 muffin cups with paper liners.

Mix the flour, baking powder and salt together and set aside.

Cream the butter and sugar using high speed of an electric mixer. Beat in the eggs, one at a time, beating 30 seconds after each egg. Beat in the vanilla. Scrape sides of bowl and stir in the yogurt.

Gradually add the flour mixture, stirring just until mixed, then stir in the berries.

Bake on center rack for 27-30 minutes or until muffins are golden brown.
Notes
If you don't have yogurt you can substitute ¼ cup sour cream and ¼ cup buttermilk. Regular milk may also be substituted. If using milk or yogurt, you'll probably get better results with the full fat type of either.