Just when I thought I was done throwing pretzels into baked goods, along comes the August issue of Food & Wine to tempt me with another sweet & salty bar cookie– Chocolate Chip Pretzel Bars. There was no way I could skip this one, especially since I had leftover pretzel potato chip mixture. Sure, regular pretzels would have been great, but the buttery pretzels mixed with chips were even better. At least that's what I'm telling myself. I also added M&Ms and left out the sprinkles.
The original 13×9 inch recipe is from Food & Wine. Below is the half batch version.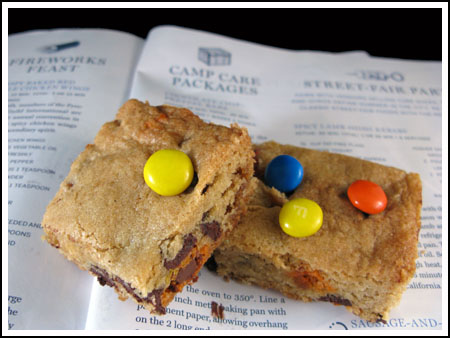 Chocolate Chip Pretzel Bars
1 cup all purpose unbleached flour (135 grams)
1/2 teaspoon baking soda (2 ml)
1/4 teaspoon salt (1 ml)
6 tablespoons unsalted butter (85 grams)
1/2 cup light brown sugar (110 grams)
1/4 cup granulated sugar (48 grams)
1 teaspoon vanilla (5 ml)
1 large egg
3/4 cups pretzels, broken or roasted pretzel/potato chip mixture from a few days ago
1 cup semi- sweet chocolate chips
1/3 cup M&Ms (plain) – more if you want
Preheat oven to 350 degrees F. Line an 8 inch metal pan with foil and spray with cooking spray (or use parchment).
Mix together the flour, soda and salt; set aside.
Beat the butter and both sugars in a mixing bowl. When light, beat in the vanilla. Add the egg and beat until it's mixed, then gradually stir in the flour mixture, followed by the pretzel pieces, chocolate and M&Ms.
Spread mixture evenly in pan and bake on center rack for about 25 minutes or until golden brown. Let cool completely. Lift from pan and cut into bars.
Makes 12