This recipe for Cookies and Cream Cupcakes is from Food and Wine. The ratio of fat/sugar/flour/chocolate is similar to that of the cupcakes I made a few days ago, but this version is much better. The cakes are a little bit softer and tighter crumbed. And best of all, this recipe was also stir and bake – no creaming required. I'm going to add a Top 5 cupcake list to my favorites page and this recipe will go on it.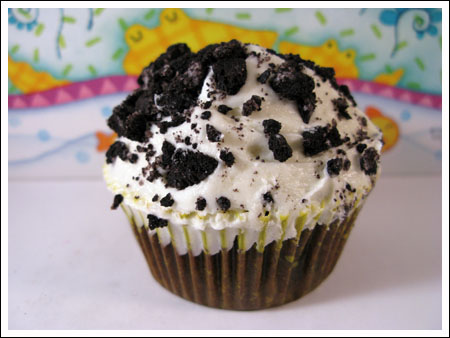 As for the icing, it was fine, but I liked the sour cream icing that went with the High Top Chocolate Sour Cream Cupcakes a little better. The Oreos were cool looking, though.
Also, I followed F&W's directions, but baked for 20 minutes at 375 and added a handful of chocolate chips.