What a long crazy trip it's been.   Seniors Forever! This is the Meringue High Class of 2009. Let's look back on all the Cookie Madness meringues of 2009. Luckily, they all occurred in the past 10 days. Time is different in meringue land.
Class Clown – Famous Dave's Meringue
This meringue was a joke. First there was the cornstarch/sugar gel. Fine, I get that part. But when you bring in the coffee grinder things get comical. You shouldn't need a coffee grinder to make meringue, but hey-why-not-try-anyway-for Pete's sake. But in the end, it still wept. It was likable, though. Tasted good.  Who doesn't love the class clown.
Best Hair — Alton Brown's Meringue (Or the one he used on this pie, at least)
I didn't bother with the filling because nothing in the recipe looked particularly interesting, but the meringue was unique in that it only had 2 tablespoons of sugar to 4 eggs. End result was a meringue that piled high, but tasted eggy and didn't have much going for it other than an nicely browned top. And even in the looks department, it wasn't spectacular because it was on the foamy side – stiff, but not glossy and high peaked. Alton Brown walks on water, but we have different ideas about meringue. Then again, he probably has 700 other meringue recipes.
Miss Congeniality – Betty Crocker's Luscious Lemon Meringue
Betty Crocker's meringue was, at least for a while, my favorite. It was practical, easy and tasted great. It wept a little, but even Miss Congeniality has her issues.
Biggest Egghead – CI Dessert Bible Meringue
Sue and I loved the lemon meringue pie from the Cooks Illustrated Dessert Bible, but the poor meringue still wept. Or at least mine did. Or maybe I baked it 4 minutes too long and it was my fault completely, but I probably wouldn't make this one again because despite the logic behind it, it was too much work for the amount of taste and it still wept. Oh, and it needed that extra 4 minutes to look brown enough.  All that plus, it didn't form beautiful soft and shiny peaks like Betty's. But it tasted good and with CI's filling, I'd say it was part of the cool crowd.
Most Likely to Succeed!
Shirley Corriher's Meringue! Or as Shirley calls it in Bakewise, Carol Moore's Meringue. This meringue has a secret ingredient – marshmallow cream. I started in on it with healthy skepticism and in the end was rewarded with the shiniest, perfectly peeked, weep-free, no-candy-thermomenter required, meringue. I used it on a chocolate pie and will post that recipe in its entirety later, but here's the meringue. I'd be happy to use this one on just about any meringue pie. The vanilla was my addition. The original didn't have any.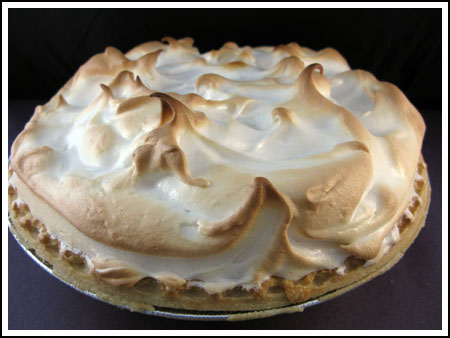 Favorite Meringue So Far — From Bakewise
1/3 cup cool water
1 tablespoon cornstarch
4 large egg whites
1/2 teaspoon cream of tartar
7 oz jar of marshmallow crème
1/2 teaspoon vanilla extract
Preheat oven to 375 degrees F.
Have your crust ready and begin prep for your filling. Make this meringue first so you'll have it ready to put on a hot filling.
Whisk the cold water and cornstarch together in a small saucepan. Heat over medium, stirring constantly, until mixture forms a thick gel; remove from heat. In bowl of stand mixer, starting at a low speed and gradually increasing (this should help break up the cream of tartar lumps), beat the egg whites and cream of tartar until soft peaks form. When soft peaks form, beat in the marshmallow cream in 3 parts. Mixture should look smooth and start forming stiff peaks. Beat in 3 tablespoons of gel (for me, that was about all of it) and then beat in the vanilla. At this point you should have still peaks. Set it aside for a few minutes while you make the filling.
Spread the meringue over your hot filled pie and bake at 375 for 12-15 minutes. Cool at room temperature then chill for 4 hours or until pie is cold and set.