I was craving ginger but needed a little chocolate fix. We didn't have a lot of ingredients on hand, so I decided to make a quick batch of gingersnaps with a twist -- chocolate chips. It's not a groundbreaking twist, to be sure, Chocolate Chip Gingersnaps do indeed solve two cravings at once.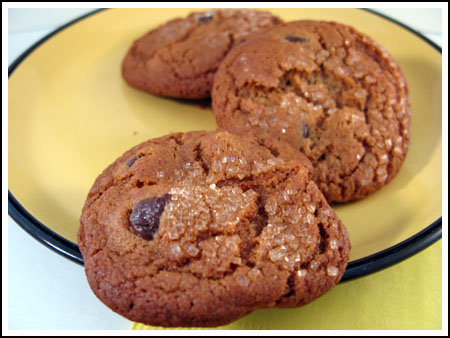 To start, I used a recipe with shortening so that I could get the full crispy/crunchines one would expect from a gingersnap. Gingersnaps have so much flavor, I never miss the butter. As for the chocolate chips, I played around with the amount and found that the cookies with fewer chocolate chips were better. When too many chocolate chips were crammed into one ginger cookie, they sort of cancelled each other out.
These were a hit with the ginger lovers in this family, which is pretty much all of us. We ate a bunch, but I still have a quite a few left and am anxious to see what their shelf life is. I also think they'd be good with a little candied ginger.
Chocolate Chip Gingersnaps
2 cups all purpose or white whole grain flour (9 oz)
2 teaspoons baking soda
1 teaspoon cinnamon
1 teaspoon ground ginger
¼ teaspoon salt
¾ cup shortening (144 grams)
1 cup granulated sugar (192 grams)
½ teaspoon vanilla
¼ cup mild molasses
1 large egg
½ cup chocolate chips
Preheat oven to 375 degrees F.
Mix together the flour, baking soda, cinnamon, ginger and salt; set aside.
Beat the shortening and sugar together with an electric mixer. When creamy, beat in the vanilla, molasses and egg, scraping sides of bowl well.
By hand, stir in the flour mixture, followed by the chocolate chips. Shape dough into balls about ¾ inch and dip tops in sparkly sugar.
Set cookies on an ungreased, preferably uninsulated cookie sheet and bake for 10-12 minutes. Mine were perfect at 11 minutes. Let cookie sit on sheet for not more than a minute, then remove to rack to cool and crisp.
Makes about 2 ½ dozen