Did I ever mention that I loved M&Ms? Yes? Multiple times you say? Well, I'll say it again. I get especially excited about M&Ms around Halloween, so expect to see a few more recipes in the next couple of weeks.  It's going to take  a while to make all of them, but I started an M&M recipe round-up based on things you recommended.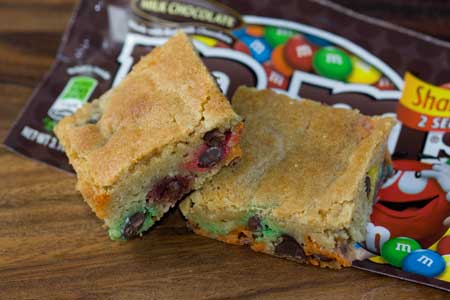 M&M Recipe Round-Up
First up, the Chocolate M&M Cookie recipe from Michelle. You can't go wrong with these, and using yellow and orange M&Ms would give you a Halloween themed cookie.
These scanned recipes are from Sue. She loved the Choco-dot Cookies, but didn't care for the Chocolate Chipper Champs. I made the Chocolate Chip Champs last year and agree.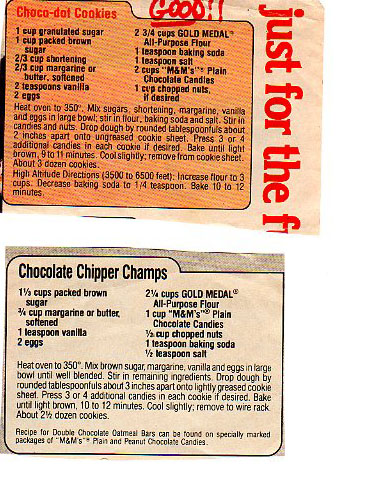 Katrina sent a link to Kara's site, where Kara makes a fat little M&M cookie with peanut butter and oatmeal. Yum, these would be good with Reese's Pieces too.
Sandie from Inn Cuisine made a bar cookie with Wheat Chex, Pretzels and M&Ms
And over at Joy of Baking, there's a basic M&M cookie that might be better than the one I posted. I need to try it.
Another one high on my list is from Taste of Home – M&M Oat Bars. Those look really good.
And here's an M&M bar I need to re-do. I used the old version of the recipe to make the bars in the picture, but the one on the M&M website is slightly different.  I think M&Ms might have updated it.
Old version (pictured)
Updated Version (MM)