A few years ago, a friend turned me on to the idea of adding broken packaged cookies to homemade baked goods. For a while, we were putting broken Oreos in everything – brownies, candy and now these Oreo Chunk Chocolate Chip Cookies!  This particular cookie dough has proportionally less fat in it and bakes up into a sturdy, crispy edged, tender-on-the-inside, cookie perfect for filling with chunks of Oreos, chocolate.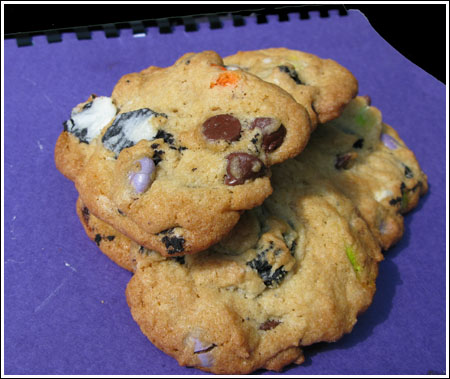 Thinking this dough would also be good with M&M's, I came up with a spooky Halloween version using Halloween colored M&M's
Update:  I make these all the time but usually leave out the M&Ms.  Here's a more recent photo.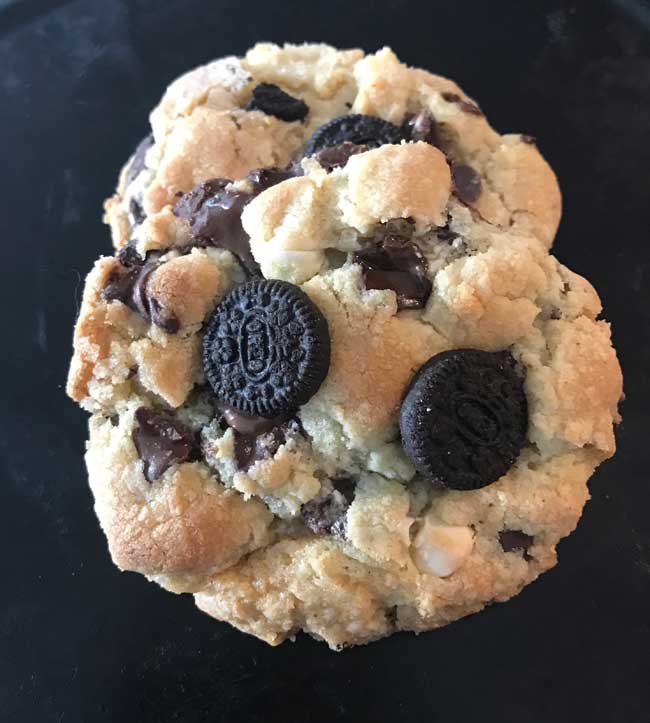 Recipe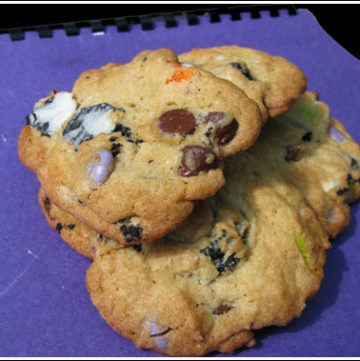 M&M Oreo Chunk Chocolate Chip Cookies
M&M Oreo Chunk Chocolate Chip Cookies are large, chewy chocolate chip cookies with M&Ms and broken (or mini) Oreos.
Ingredients 
2

cups

all-purpose flour

250 grams

1

teaspoon

baking soda

¾

teaspoon

plus a pinch of salt

½

teaspoon

baking powder

½

teaspoon

cream of tartar

6

oz.

unsalted butter

1 ½ sticks, softened (170 grams)

½

cup

plus 2 tablespoons granulated sugar

125 grams

½

cup

plus 2 tablespoons brown sugar

125 grams

½

tablespoon

vanilla extract

1

egg

1

cup

semisweet chocolate chips or a mix of chocolate chip and M&Ms

Broken Oreos

or Oreo MInis
Instructions 
Weigh out the flour in a large bowl. Add the baking soda, salt, baking powder and cream of tartar. Stir for at least 60 seconds to make sure all dry ingredients are evenly mixed.

In the bowl of a stand mixer with the paddle attached, beat the cold butter until soft. Add both sugars and continue to beat for 4 minutes, scraping sides of bowl, until fluffy and light. Beat in the vanilla extract.

Stir in the egg using lowest speed (or by hand) and then increase speed and beat for 30 seconds. Scrape bowl and then gradually add flour mixture, stirring either by hand or using quick pulses of the stand mixer (I use a combination of both in order not to overbeat the dough). Add the chocolate chips and stir until blended. Dough will be very dry. I recommend dumping it out onto a pastry mat (or clean surface) and kneading gently to ensure it is thoroughly mixed.

Shape into one big mound, then divide into 12 equal size balls (they'll weigh a little under 3 oz each). Put the dough balls in a freezer bag and chill until ready to bake, or bake immediately.

Bake in a preheated 375 degree oven for about 15 minutes. If your cookies are browning too quickly (and they shouldn't) you can use 350 degrees, but since the cream of tartar impedes browning a little bit they should be fine baked at 375.