Prize Winning Apple Pie is Definitely Worthy
Every once in awhile, and for me almost never, a recipe comes along that's so good you can close the book, put it some place safe, and never worry about finding a better version. It happened yesterday with this prize winning apple pie.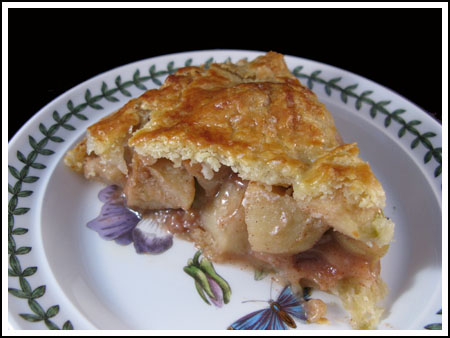 I got the recipe from AJ at The Disney Food Blog, where she had the opportunity to interview the 2009 Crisco National Pie champ, Dawn Viola. If you're a pie maker, you'll love this. If you're not, this pie might change that. The crust will make you a star.
At first glance, Dawn's recipe appears rather complicated for an apple pie. It's not. It's just packed with helpful details. As for ingredients, Dawn was going for the gold with her use of vanilla bean, vanilla powder and organic dry ingredients, but being that I've been home with a sick kid and unable to go anywhere, I used "normal" stuff (vanilla extract, non-organic dry ingredients) and still ended up with a great pie. One thing I didn't change was the European style butter. According to Dawn, that plus the vinegar (acid) were key ingredients in the crust which is definitely the best I've ever made in my life.
As for the filling, broiling the apples for 5 minutes (not cooking them through– just caramelizing the edges) gave the filling a nice depth of flavor. I loved this pie, and I tend to prefer lighter apple fillings with less-cooked apples and lemony. This one wasn't light in any sense, but it was delicious.
I'm not going to re-post the recipe because Dawn's steps are so carefully written, but I do have a few notes based on my experience making the pie.
-- Substituting a teaspoon of vanilla for the vanilla powder in the crust worked fine
-- Substituting a teaspoon of vanilla for the vanilla bean seeds in the filling worked fine
-- Substituting apple juice for the apple cider worked fine, I used a juice box! Seriously, ack. But worked.
-- 12 apples turned out to be a 3 pound bag
-- If you have one, an apple peeler comes in handy.
-- there's a step missing the original recipe. AJ is probably going to correct it soon, but the recipe doesn't say what to do with the 4 tablespoons of butter in the fililng. What you do is slice the butter and arrange it over the top of the filling.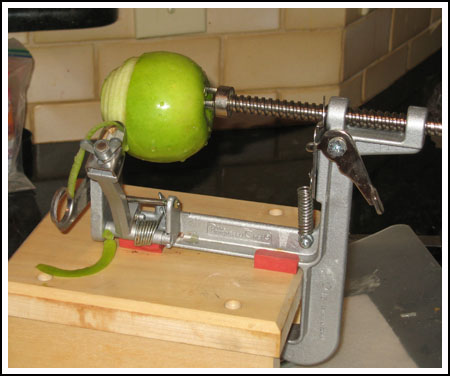 -- Broiling the cut apples wasn't as big a pain as it seems. You just throw them in a roasting pan. No need to worry about a broiler pan. Mine took about 6 minutes. I mixed the dry ingredients in a bowl while the apples were broiling
-- Makes sure you set the pie on a rimmed cookie sheet lined with foil. Mine leaked like crazy. You might not have that problem, but it's good to be safe. Plus, you won't have to use my super dangerous method of cleaning hot, smoking molten caramel out of the bottom of the oven.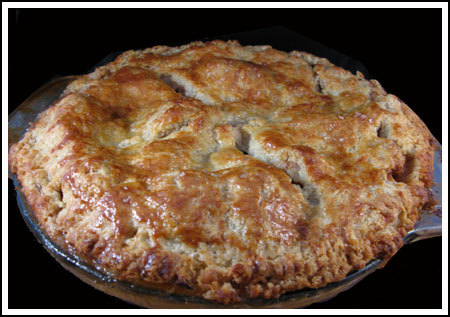 If you try the pie, let me know! In the meantime, I'm going to try the crust with some different fillings.