Some sources say French Silk Pie was was invented by a restaurant in California, but others believe it to be from the South. If you're lucky you can find French Silk Pie on the menu at diners and pie shops, but you can also make it at home. With its deceptively light mousse-like texture, it's impressive, yet so simple it can be made as an afterthought — a pie for the chocolate lovers in the crowd. Perfect for Thanksgiving.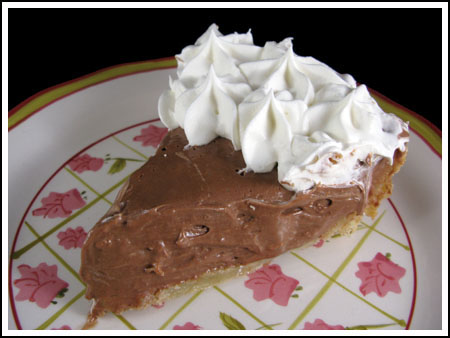 I've made three French Silk Pies in the past few months. A pie from Cooks Country, which was more complicated than most recipes and which required a candy thermometer; a pie from Martha Stewart, closer to the traditional recipe and requiring only eggs, butter, chocolate, sugar, and vanilla; and this pie.
French Silk Pie Recipe Origin
This recipe came from Amanda who got it from a cook named Jamie who got it from her financial advisor. I also recognized the recipe as one Baking Bites had posted and credited to The Pillsbury Bake-Off 1951. But you won't find that version on Pillsbury's website, because they've updated it over the years to the point where it's not even the same pie. Here's a photo of the original version from an old Bake-off book. The person who owned this book before I did thought the pie was too rich. Maybe other people did too, because the pie from Jamie's financial advisor and the one Nicole posted has half the chocolate as the original.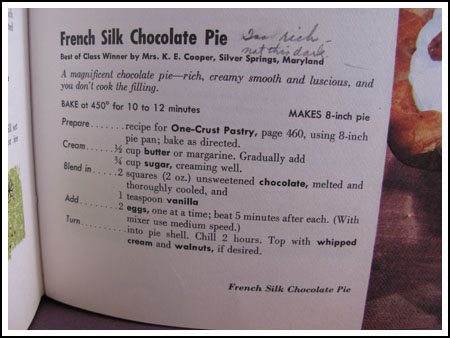 With rave reviews from Amanda, Nicole, and Jamie, I wasn't too worried. And the pie turned out well, though it was a little on the sweet side. Todd loved it, though I could have done a better job on the crust.
One final note about the raw eggs. If you are worried about using raw eggs, use pasteurized eggs. They're pretty easy to find these days.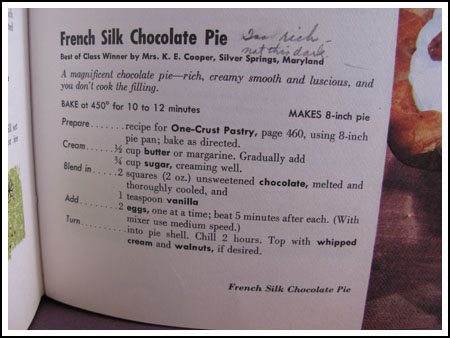 Amanda's French Silk Pie
Amanda's French Silk Pie
Ingredients 
1 fully baked pie crust

2

sticks regular salted butter

8 oz

1 1/2

cups

granulated sugar

2

ounces

unsweetened chocolate

melted and cooled

2

tsp

vanilla

4

large eggs

room temperature (pasteurized eggs are an option)

Whipped cream or whipped topping
Instructions 
Have ready a fully baked pie crust.

Beat sugar and butter for 10 to 15 minutes using the whisk attachment of a stand mixer. The goal is to make it less grainy. Even after 15 minutes, mine was still slightly grainy, but it smoothed out after adding the eggs.

Beat in the chocolate and vanilla, then add two of the eggs and beat for another 5 minutes. Add two more eggs and beat for 5 minutes. Pour into cooled pie crust. Chill 2 hours or until firm. Before serving, top with whipped cream and a little grated chocolate.