Dream Pie is an old recipe from the 1960 Pillsbury Bake-Off.  Not to be confused with the Dream Pie from the Dream Whip box, this pie calls for freshly whipped cream, milk, sugar, chocolate chips, egg yolks and cream cheese. It is an excellent pie. It reminds me of a French Silk Pie, but maybe a little lighter in some ways. It's hard to say since French Silk has so many variations.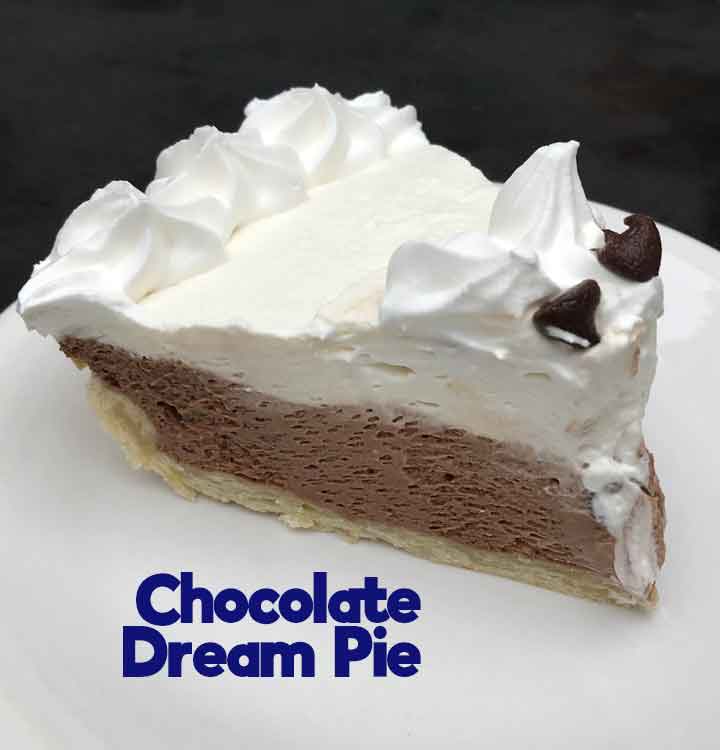 Since this is a Bake-Off pie, the original recipe calls for a Pillsbury pie crust.  You can use that, or go with your favorite  baked pie crust recipe. The crust gets lost under all the filling and whipped cream here, so if you are not in the mood to make pastry, you won't be missing anything using store-bought.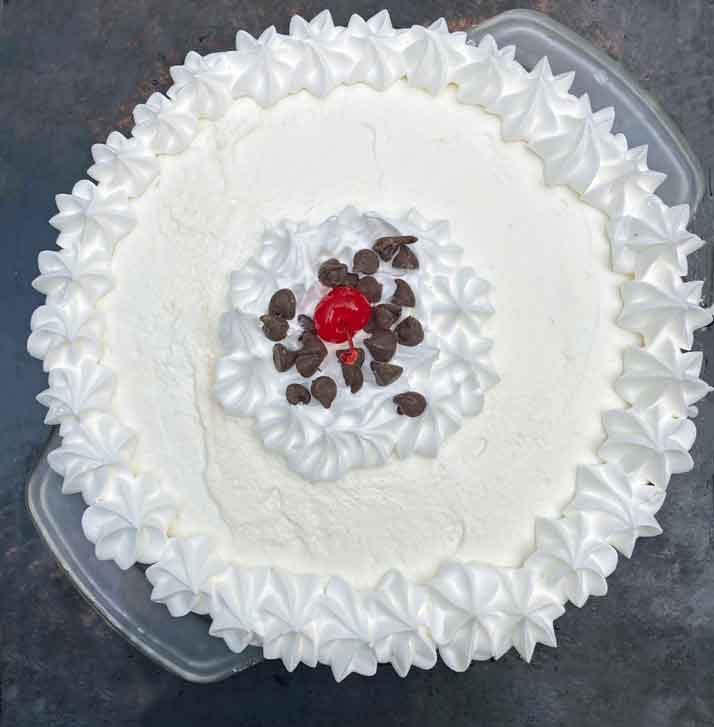 Homemade Dream Pie Filling
The filling for Dream Pie is very simple. You just mix the ingredients together, including the chocolate chips, off-heat. Once mixed, you set over medium heat, melt the chocolate and stir until thick and bubbly. Definitely wear safety goggles because the chocolate can bubble up and land in your eye. Just kidding about the goggles, but I did get hit in the eye by bubbling chocolate mixture so be careful. That was a first for me, and it wasn't fun.
Getting the Whipped Cream Right
The original recipe calls for 1 1 /2 cups whipping cream.  1 1/2 cups heavy whipping is a little over 3 cups whipped.  In this Dream Pie 1 cup of unsweetened whipped cream is reserved for the topping and the remaining 2 cups is folded into the filling.  If you want more whipped cream on top, whip a total of 2 cups of heavy cream.  You'll  get 2 cups of whipped cream for the filling plus a little over 2 cups for the topping.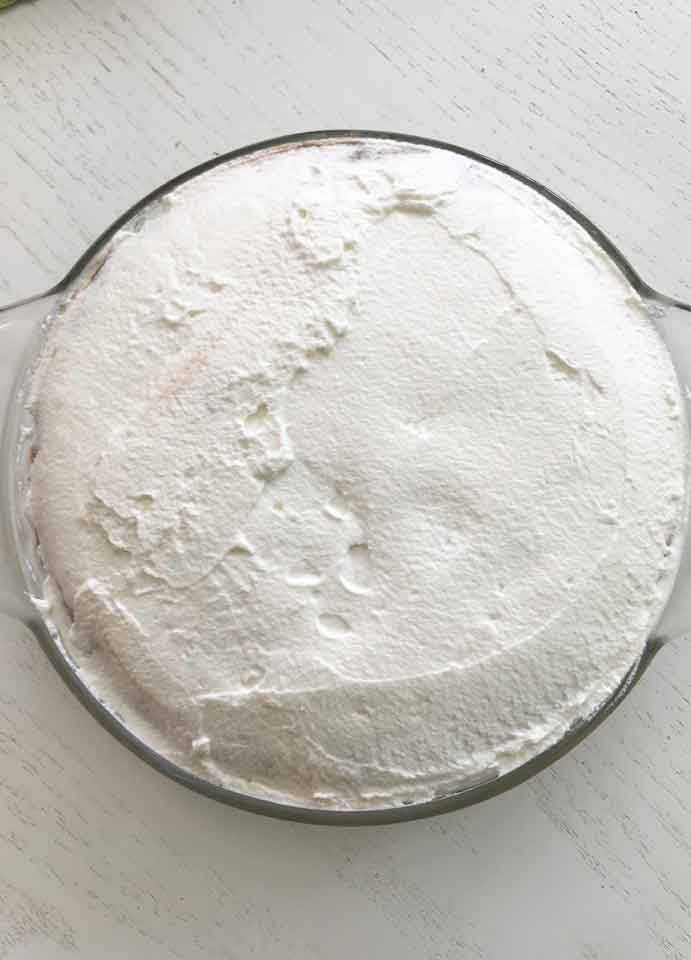 I also recommend sweetening the top layer.  The goal of the original recipe was probably to pair the sweet filling with a thin layer of unsweetened cream.  If you like unsweetened cream that's great, otherwise add about a tablespoon of powdered sugar to the top layer.
Can You Substitute Cool Whip?
There's no avoiding whipping cream for this pie because the cream that is folded into the filling needs to be unsweetened. However, if you like Cool Whip and want to cut down on the heavy cream you can. Instead of whipping 1 1/2 cups of heavy cream, you could whip 1 cup of heavy cream and fold all of it into the filling, then top the whole thing with Cool Whip. That would save you from having to sweeten the top layer yourself. Or you could make the pie as directed and just use Cool Whip to pipe around the edges.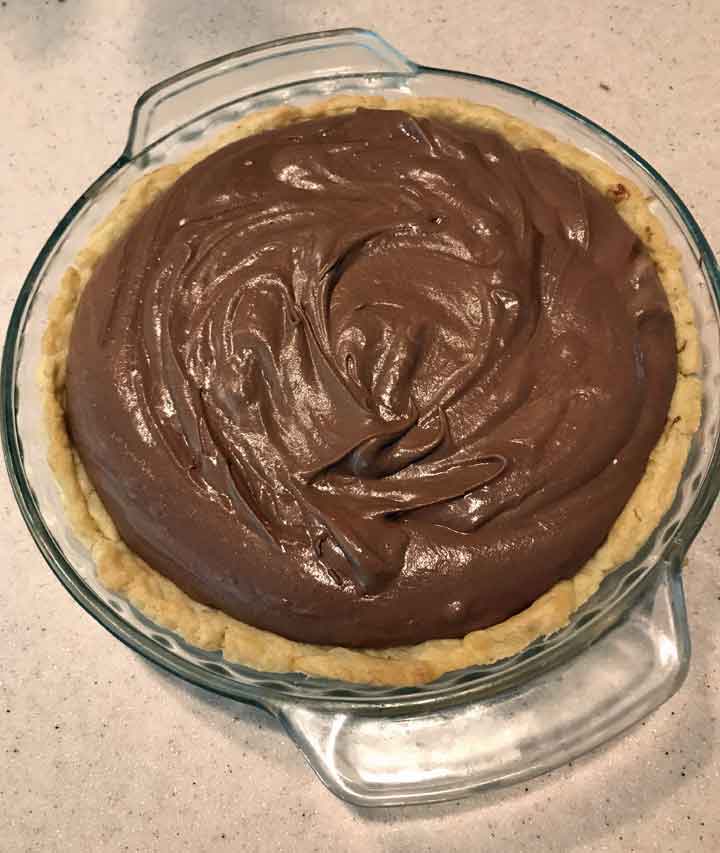 Update: My memory really is going because it turns out I DID make this pie about 2 years ago! I'm consolidating the posts here. In the old post I mentioned using this Flaky Baked Pie Crust and Stella Parks' trick of using sugar as pie weights for toasted sugar.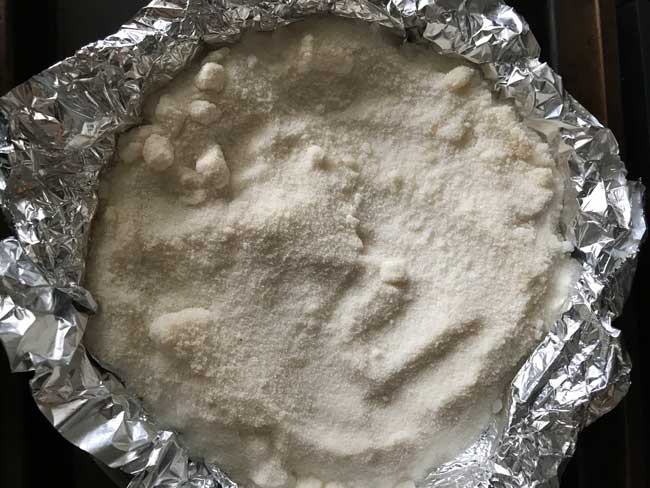 Recipe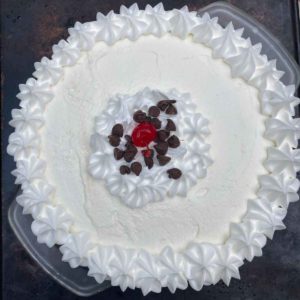 Chocolate Dream Pie
Chocolate Dream Pie from the 1960 Pillsbury Bake-Off
Ingredients 
1

9 inch

baked pie shell

1/2

cup

sugar

1/4

cup

cornstarch

1/8

teaspoon

salt

1

cup

milk

1

cup

chocolate chips

2

egg yolks

slightly beaten

3

oz

cream cheese

cubed and softened

1 1/2

cups

heavy whipping cream

1

teaspoon

vanilla

1

tablespoon

powdered sugar

optional
Instructions 
Bake a 9 inch pie crust using directions on the box or your usual method for baking a scratch pie crust.

In a 3 quart saucepan, combine the sugar, cornstarch and salt. Gradually add the milk, then add the chocolate chips and egg yolks.

Put the saucepan over medium heat and cook, stirring constantly, until chips melt and mixture is smooth. Continue stirring for another minute or two or until big bubbles break the surface and mixture is about as thick as pudding.

Remove from heat and stir in cream cheese until fully melted. Transfer mixture to a clean bowl and cover with a sheet of plastic wrap. Let cool slightly, then refrigerate until just barely cool. Check every hour.

In a large bowl, beat 1 1/2 cups of whipping cream until soft peaks form. Beat in the vanilla. Reserve 1 heaping cup of the whipped cream for topping, then fold the rest (which should be about 2 cups) into the chocolate mixture.

Sweeten the reserved whipping cream with a little powdered sugar if desired, then spread or pipe over the pie. Chill the pie for at least 5 hours. Garnish top with sprinkles or chocolate shavings.