Perfect Chocolate Cream Pie is adapted from an outstanding cookbook — Perfect Pies: The Best Sweet and Savory Recipes from America's Pie-Baking Champion. The "pie baking champion" being Michele Stuart, National Pie Festival champ, Bobby Flay's Throw-Down contestant, and owner of Michele's Pies in Norwalk, CT.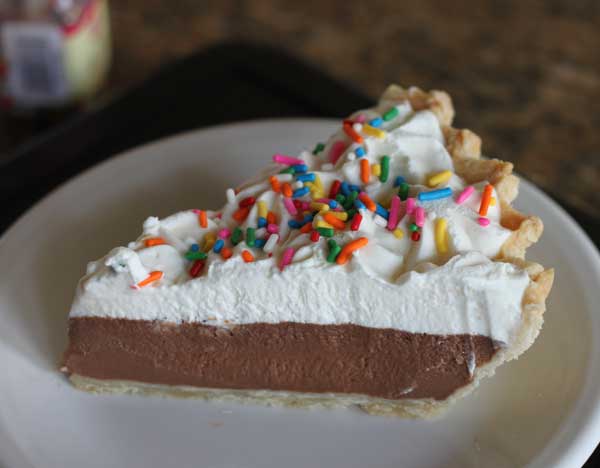 Favorite Chocolate Pie From The Book
One of these days I'll try the Chocolate-Pecan-Bourbon Pie, the Maple Walnut Pie, Coconut Custard Pie, Lemon Chiffon Pie and maybe the Candyland Pie; but naturally, the first one on the docket was Michele's Chocolate Cream.  This may be my favorite chocolate cream pie yet.
Michele took a basic chocolate pie filling and perfected the amount of egg yolks, cornstarch and chocolate for a harmonious balance of smoothness, sturdiness and chocolate flavor. I did add a little chocolate extract since I have a bottle and am experimenting with it, but it's really not necessary for a perfect chocolate cream pie.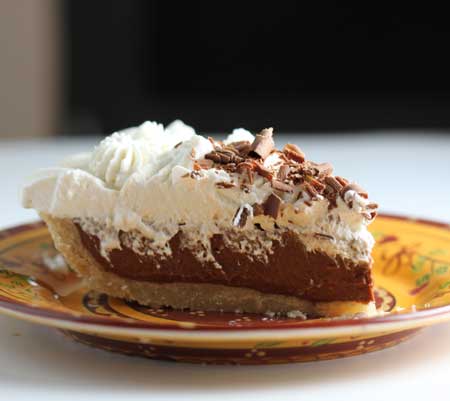 Also, the pie slices beautifully.  This is important when you're trying to make a great presentation at Thanksgiving or any event where you need to impress people.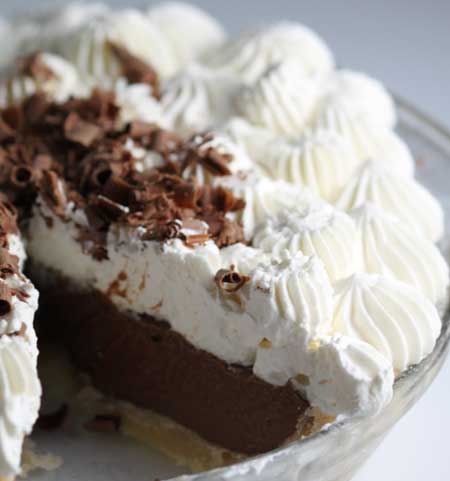 Here's my adapted version of the recipe, but do yourself a favor and buy the book!
Also, if you are looking for a good crust recipe, here's a link to Baked All Butter Pie Crust.  This one's reliable and doesn't call for shortening.
The Crisco Single Baked Pie Crust is always good if you are okay with shortening.
The recipe makes enough filling for a deep dish pie. If you are using a shallower pie dish you can get by with using the following measurements: 1/2 cup sugar, 2 tablespoons (generous) cornstarch, pinch of salt, 2 cups (16 oz) whole milk, 3 egg yolks, 1 1/2 tablespoons of butter, 1 1/2 teaspoons vanilla, 2 oz unsweetened chocolate. These measurements are in the notes.
Perfect Chocolate Cream Pie
An easy and delicious chocolate cream pie based on a recipe from Michelle's Pies in Norwalk, CT. Cook time listed actually represents chill time.
Ingredients 
Crust
1

prebaked 9-inch pie shell
Filling
3/4

cup

granulated sugar

(150 grams)

3 1/2

tablespoons

cornstarch

1/8

teaspoon

salt

2 1/2

cups

whole milk

560 ml

4

large egg yolks

2

tablespoons

unsalted butter at room temperature

28 grams

2

teaspoons

pure vanilla extract

10 ml

3/4

teaspoon

chocolate extract

optional, but good!

3

oz

unsweetened chocolate

chopped (84 grams)
Topping
2

cups

heavy whipping cream

Can use 1 cup for less topping

4

tablespoons

powdered sugar

Can use 2 T.

Chocolate chips or chocolate shavings for garnish
Instructions 
Off heat, whisk the sugar, cornstarch, and salt together in a medium size saucepan.

Whisk in the milk and egg yolks. Place the mixture over medium heat, constantly whisking and scraping the sides of the pan until the mixture begins to bubble and thicken.

Add the butter 1 tablespoon at a time. When all of the butter is mixed in, add the vanilla and chocolate extract (if using). Add the chocolate a little at a time, giving each addition of chocolate the chance to melt into the filling before adding more. Keep the mixture over the heat until the chocolate is smoothly melted and the cream thickens.

Pour the chocolate filling into the pie shell. Cover the pie with plastic wrap and place in the refrigerator to cool and chill (Note: I like to let it cool at room temperature for about 40 minutes, first). When ready to serve, remove the pie from the refrigerator and remove the plastic wrap.

Whip the cream and sweeten it with the powdered sugar. Stir in some vanilla. Spread or pipe whipped cream over the top.
Notes
Crust Normally I'd make chocolate cream pie with graham or chocolate crumbs, but in this case a basic pastry crust worked perfectly because it made the pie easy to slice and was a nice savory relief from the filling.
Filling The change I made to the filling was to add about 3/4 teaspoon of chocolate extract. You could definitely taste it in the pie, so make sure to use a good chocolate extract. The only one I've tried is Nielsen Massey's and I'd say it's good. 
Topping If you want less whipped cream, use only 1 cup cream and 2 tablespoons sugar. I like more cream so I whipped 2 cups of heavy cream and added 1/4 cup powdered sugar and 1 teaspoon of vanilla then piped it on with a large French star tip. 
Smaller Pie Measurements: 1/2 cup sugar, 2 tablespoons (generous) cornstarch, pinch of salt, 2 cups (16 oz) whole milk, 3 egg yolks, 1 1/2 tablespoons of butter, 1 1/2 teaspoons vanilla, 2 oz unsweetened chocolate. Use a slightly smaller saucepan.