Last week I was feeling nostalgic and made a Dream Pie using the recipe on the Dream Whip box. It's the same recipe from when I was 10, but as I tore open envelopes and dumped powder into the bowl I could smell disappointment. And my nose was right, because the pie didn't taste nearly as good as when I was a kid. It just didn't live up to my idealized version, so I decided to make up for it with a French Silk Pie.
Jump to Recipe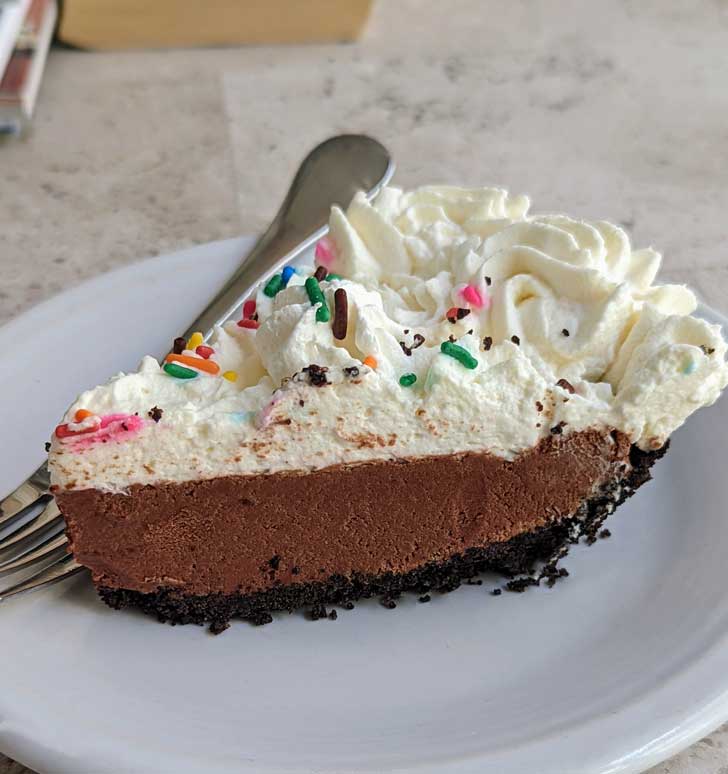 Origin of French Silk Pie
It feels obligatory to say that French Silk Pie is not French. It's an American invention most often credited to Betty Cooper, who won $1,000 for it in the 1951 Pillsbury Bake-Off. Her version was an 8-inch pie, which was a popular dish size back then. The pie is described as "magnificent, rich, creamy and smooth" and the big selling point is that you don't have to cook the butter, chocolate and raw egg filling. Yay! Or yay? Raw eggs.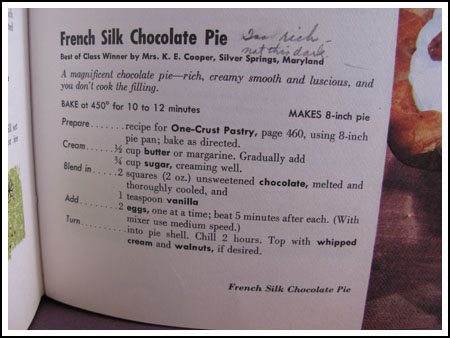 French Silk Pie No-Cook Filling
It's always interesting to see how French Silk Pie recipes deal with raw egg safety. Cooking the filling is one method, while some suggest using pasteurized eggs or egg substitute. I almost went with a cooked version, but my grocery store was completely out of eggs (truck issue) and only had a giant carton of Egg Beaters. So I went with the Egg Beaters French Silk Pie.
Egg Beaters in French Silk
I like Egg Beaters. They're full of protein, low in calories, and pasteurized for safety. Their flavor has improved over the years, and they're a little more convenient than before. They used to be sold frozen and you'd have to thaw each little carton before using, but now you can buy a carton of them, thawed and ready to go. So I used two Egg Beaters in place of eggs in this pie and they worked just fine.
2 oz Unsweetened Chocolate
Some French Silk recipes call for semisweet chocolate, but since the original version used unsweetened, I used 2 oz of Ghirardelli unsweetened. Actually, I used slightly over 2 oz. The recipe calls for 2 oz of unsweetened chocolate, but I melted it in my big double boiler and didn't want to have to obsessively scrape every millimeter of its surface to get all the chocolate, so I used about 2 ¼ oz. I should have just used the microwave.
Grainy Sugar and Butter
While you don't have to cook the filling, you do have to use a high speed mixer for at least 5 minutes to whip the sugar and butter. I started with cold butter so that I could beat it for a little longer and give the sugar more time to dissolve. After 5 minutes, the mixture still felt a little grainy, but after everything else was added and the pie sat, the graininess smoothed out. Cooking it would have been easier.
9 or 8 Inch Gluten-Free Oreos Crust
Fact: They did not have Gluten-Free Oreos in 1951. The original crust was made with refrigerated pie dough, so a lot of modern versions call for that or a homemade pastry crust. I needed a gluten-free crust, so I used 21 Gluten-Free Oreos, 4 tablespoons of butter and a pinch of salt. This was enough for a shallow 9 inch crust, but also would be perfect for an 8 inch size pie, should you be lucky enough to have an 8 inch dish. You can find them here and there, but you may just want to do what I did, which was to use a 9 inch dish and make a shallower pie piled high with whipped cream.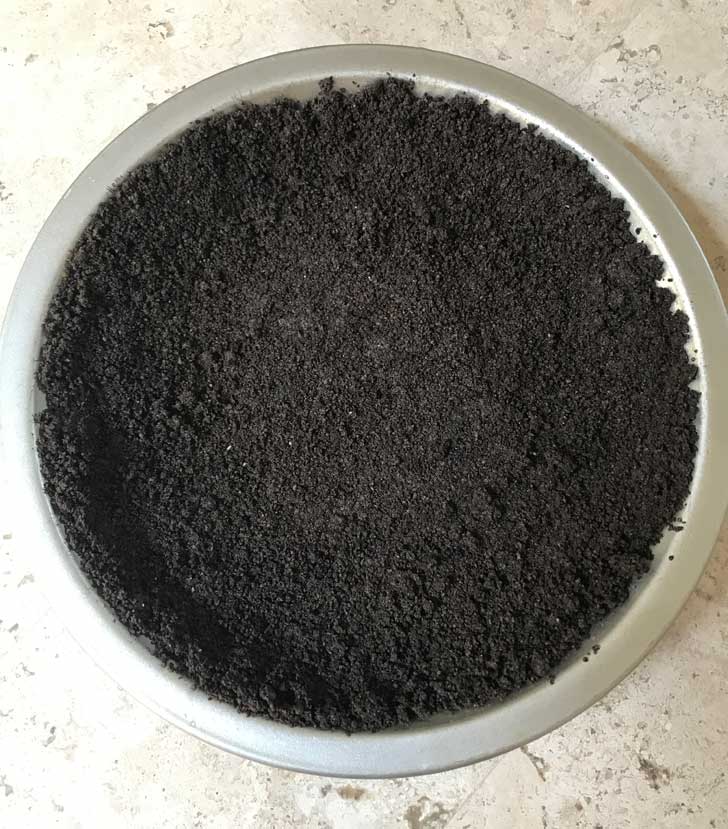 Other Favorite Chocolate Pies
As much as I enjoyed making this pie and trying out the Egg Beaters, I have to agree with the person who marked up the old recipe in my book. French Silk Pie is just too rich. But that suits some palates, so it's still a great pie. My personal favorites are Diner Style Chocolate Pie, Michele's Perfect and the much less rich but still delicious Earl's. I also completely forgot that I had an actual homemade version of Dream Pie. What I loved most about this most recent French Silk recipe was the Gluten-Free Oreos crust. It's my new go-to crumb crust.
Recipe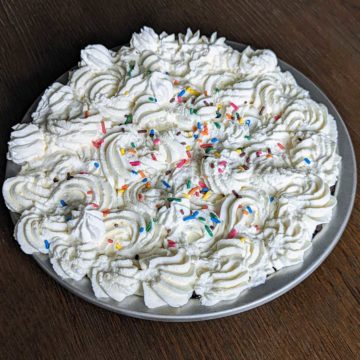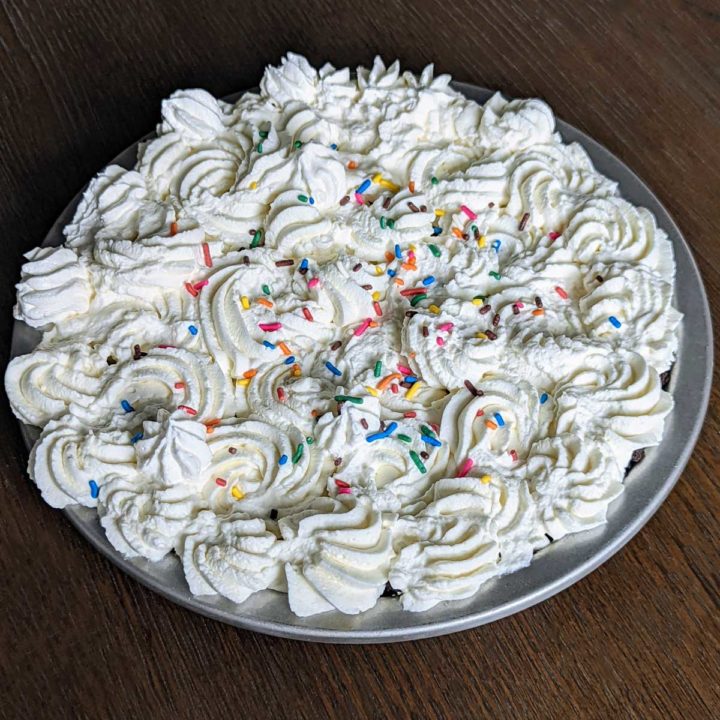 Smaller French Silk Pie
A slightly smaller French Silk Pie with an Oreo cookie crust.
Ingredients 
French Silk Pie Filling
2

ounces

unsweetened chocolate, chopped

(170 grams) -- Use a little more if needed

¾

cup

sugar

(150 grams)

1

stick

unsalted (can use salted and omit salt)

(114 grams)

⅛

teaspoon

salt

½

teaspoon

vanilla extract

½

cup

Egg Beaters or 2 pasteurized eggs

(100 grams)
Sweetened Whipped Cream -- Increase by 50% if Piping
1

cup

heavy cream

(230 grams)

3

tablespoons

powdered sugar or more to taste

(25 grams)

½

teaspoon

vanilla extract
Instructions 
Oreo Crust
In a food processor, process Oreos into fine crumbs. Add the melted butter (and salt if using) and pulse until mixed. Dump into an 8 or 9 inch pie plate and pack it down as neatly as you can.

Set on a baking sheet and bake your Oreo crust at 350 for 10 minutes. Let cool completely.
Filling
Melt the chocolate in the top of a double boiler or in the microwave. Let cool to just slightly warm room temperature. If using a double boiler, you might want to melt 2 ¼ oz of chocolate or a little bit over 2 oz so that you won't have to obsessively scrape the pan to get the full 2 oz into the pie filling.

Meanwhile, cut the cold butter into chunks and put it in the bowl of a stand mixer with the salt and sugar. Using the whisk attachment, begin beating on low until the butter softens and is smushed in with the sugar. It will still be a little cold at this point.

Increase the mixer speed to high and continue beating for 5 minutes, stopping a couple of times to scrape the sides of the bowl. The goal is to dissolve the sugar and beat air into the butter, but even after 5 minutes the mixture will still be a little grainy.

After you've beaten the sugar and butter together for about 5 to 7 minutes, check to see that the mixture is not too cold. If the butter is very cold and the chocolate is cool, it could cause the chocolate to lump, so it's better ot have luke warm chocolate and a just slightly cool sugar/egg mixture.

Stir in melted chocolate and vanilla, scraping the sides of the bowl. Put the mixer back on the stand and begin beating on low.

Add the Egg Beaters (or eggs) gradually. When all of the egg has been added, increase speed to high and whip for 1 ½ minutes, scraping side of the bowl often.

Scrape mixture into pie shell and smooth top with a spatula. Cover with plastic wrap and chill for at least 6 hours but preferably more. This pie improves with an overnight chill.
Sweetened Whipped Cream
Prepare whipped cream topping the day of serving.

Whip cream until soft peaks begin to form. Gradually add sugar and continue beating just until peaks are stiff. Beat in vanilla. Spread or pipe over top of pie.
Notes
If you plan on piping the cream over the pie or you are using a 9 inch crust, make 1 ½ times the whipped cream, so 1 ½ cups cream, 4 ½ to 5 T. powdered sugar and ¾ teaspoon of vanilla.