Spicy Aztec Brownies are from my friend Camilla Saulsbury's book, Brownie Mix Bliss.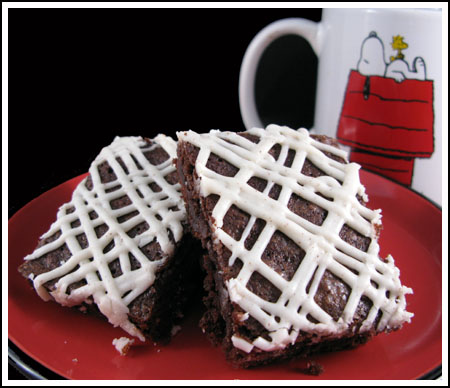 Spicy Aztec Brownies
1½ tablespoons instant espresso or instant coffee powder**
1 tablespoon vanilla extract
1/4 cup water
1 (19.5- to 19.8-ounce) package brownie mix
½ cup (1 stick) unsalted butter, melted
2 large eggs
¼ teaspoon cayenne pepper
3 (1-ounce) squares bittersweet chocolate, finely chopped
1 recipe Cinnamon Glaze (see below)
Preheat oven to 350°F (325°F for dark-coated metal pan). Position a rack in the lower third of the oven. Spray the bottom only of an 8-inch-square baking pan with nonstick cooking spray (or foil-line pan).
Dissolve the espresso powder in the vanilla in a small cup. Combine the brownie mix, melted butter, water, vanilla-espresso mixture, eggs, and cayenne pepper in a medium mixing bowl with a wooden spoon until just blended and all dry ingredients are moistened; stir in chopped chocolate. Spread batter into prepared pan.
Bake for 40–44 minutes or until toothpick inserted 2 inches from side of pan comes out clean or almost clean (do not overbake). Transfer to a wire rack.
Prepare Cinnamon Glaze; spread over warm brownies. Cool completely. Cut into squares.
Makes 9 large or 16 small brownies.
Cinnamon Glaze
1 1/2 cups powdered sugar, sifted
3/4 teaspoon ground cinnamon
1½ tablespoons unsalted butter, melted
2–3 teaspoons milk
Whisk the powdered sugar, cinnamon, and melted butter in a small bowl until smooth. Add just enough milk, a teaspoon at a time, to make glaze a thin spreading consistency.
**For the coffee powder, I used instant espresso. However, I did not use a full 1 1/2 tablespoons since instant espresso always seems a little stronger. I used 1 teaspoon. You may also use up to 1 1/2 tablespoons instant coffee crystals — Anna