A big "Thanks!" to everyone who has entered a tip in the The Ultimate Shortcut Cookie Book comment thread. I'm really enjoying reading the tips and wish we could give every single one of you a free book. So good luck! I will draw and announce the winners on Monday.
If you don't happen to win a copy, I heartily recommend buying The Ultimate Shortcut Cookie Book

for your collection. As I mentioned earlier, the book has more recipes than any of Camilla's other books….more that what you'd find in most books, frankly. And while the recipes are the convenience type, Camilla has seen to it that they are all perfect.
The first recipe from the book I tested was Aztec Brownies — a good example of Camilla's creativity. While chocolate and cayenne has become quite a popular combo, Camilla created pepper spiked brownies with a cinnamony-butter glaze that tames the heat. So just when you're starting to enjoy the slow burn from the cayenne, the sweet glaze kicks in and cools everything off. It's an easy recipe to make, but a lot of thought went into its development. As much as I love scratch baking, I can't wait to try a few more of Camilla's creations.
I did make one small adjustment of which I think Camilla would approve. I put the glaze on as a lattice. To do this, just put the glaze in a freezer type zipper bag, snip off the bottom corner (tiny!) and squeeze it out to make a lattice. The glaze will firm up shortly after you drizzle it.
And here's my tip to you. When making frostings and glazes, use the recipe as a guide, but always add the liquid and sugar in small parts and stop when you feel the glaze has the perfect consistency and taste. Don't rely too much on the proportions given in any glaze, just use your own judgment.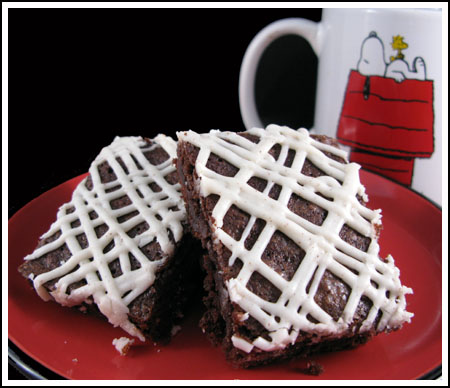 Spicy Aztec Brownies
1½ tablespoons instant espresso or instant coffee powder**
1 tablespoon vanilla extract
1/4 cup water
1 (19.5- to 19.8-ounce) package brownie mix
½ cup (1 stick) unsalted butter, melted
2 large eggs
¼ teaspoon cayenne pepper
3 (1-ounce) squares bittersweet chocolate, finely chopped
1 recipe Cinnamon Glaze (see below)
Preheat oven to 350°F (325°F for dark-coated metal pan). Position a rack in the lower third of the oven. Spray the bottom only of an 8-inch-square baking pan with nonstick cooking spray (or foil-line pan).
Dissolve the espresso powder in the vanilla in a small cup. Combine the brownie mix, melted butter, water, vanilla-espresso mixture, eggs, and cayenne pepper in a medium mixing bowl with a wooden spoon until just blended and all dry ingredients are moistened; stir in chopped chocolate. Spread batter into prepared pan.
Bake for 40–44 minutes or until toothpick inserted 2 inches from side of pan comes out clean or almost clean (do not overbake). Transfer to a wire rack.
Prepare Cinnamon Glaze; spread over warm brownies. Cool completely. Cut into squares.
Makes 9 large or 16 small brownies.
Cinnamon Glaze
1 1/2 cups powdered sugar, sifted
3/4 teaspoon ground cinnamon
1½ tablespoons unsalted butter, melted
2–3 teaspoons milk
Whisk the powdered sugar, cinnamon, and melted butter in a small bowl until smooth. Add just enough milk, a teaspoon at a time, to make glaze a thin spreading consistency.
**For the coffee powder, I used instant espresso. However, I did not use a full 1 1/2 tablespoons since instant espresso always seems a little stronger. I used 1 teaspoon. You may also use up to 1 1/2 tablespoons instant coffee crystals — Anna