A few weeks ago I posted my favorite thin and crispy M&M cookie — the kind with lots of crinkles and folds and very little chewiness. These "Jumbo M&M Chip Cookies" are adapted from a Land o' Lakes recipe, and they are the opposite.  They are thick, sturdy, and hold a lot of candy.
One thing I noticed was that the dough was pretty dry. It wasn't dry in a bad way, it just had a high proportion of flour to other ingredients and I'm a spoon lightly and sweep flour measurer. So be careful adding the flour.
What I liked about these cookies was how sturdy they were and how good they looked wrapped individually. If I had a "Bake Sale" category, I would file it there….but I think I deleted by "Bake Sale" category.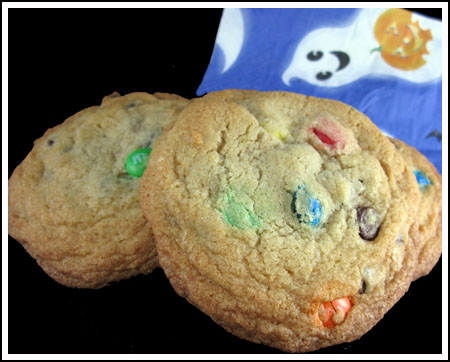 Jumbo M&M Chip Cookies
4 1/4 cups all-purpose flour (19 oz/532 grams)
1 teaspoon baking powder
1 teaspoon baking soda
1 1/2 teaspoons salt
3 sticks cool unsalted butter, cut up (12 oz/336 grams)
1 1/4 cups granulated sugar (240 grams)
1 1/4 cups firmly packed brown sugar (250 grams)
2 large eggs
1 tablespoon vanilla
2 cups semi-sweet chocolate chips
1 cup M&Ms
Preheat oven to 375 degrees F.
Combine flour, baking powder, baking soda and salt; set aside.
Cream butter in a mixing bowl using an electric mixer. Beat in the sugar and brown sugar until creamy, then beat in the eggs and vanilla. Continue beating, scraping bowl, until well mixed. By hand or using lowest speed of mixer, gradually adding flour mixture. Stir in chocolate chips and M&Ms.
Drop dough by 1/4 cupfuls, 2 inches apart, onto ungreased cookie sheets. Bake for 12 to 14 minutes or until light golden brown. Let stand 1 to 2 minutes. Remove from cookie sheets.
Makes about 26 cookies