Hosting a cookie exchange is fun because rather than make super-impressive cookies, your job as host is to make sure others have fun (and provide extra containers). It's the guests who have to worry about whether their cookies taste good and are as pretty as the others. I get so nervous going to cookie exchanges that I usually just don't, but this year I accepted an invitation and am already feeling anxious.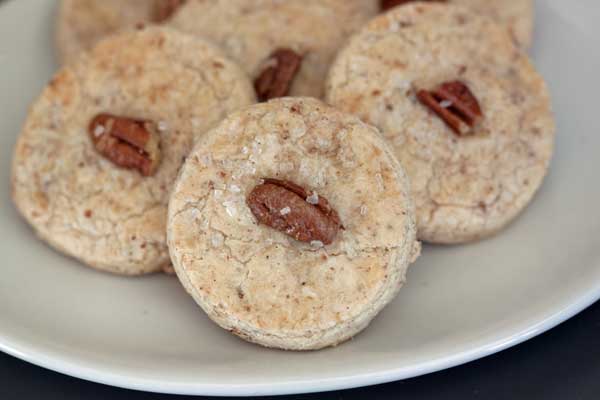 Just to be safe, I made a list of cookies that are guaranteed to be good at any cookie exchange. I may use it, and maybe you can too.
Sparkle Cookies – This recipe was adapted from a Los Angeles Times article about a Canadian cookie called the Sparkle Cookie. I don't have the article anymore, but I remember they said it might be the best cookie in the world….or something like that. You might agree when you taste one.
Apricot Orange Shortbread Bars – Just ignore the photo I took because it's not very flattering to the cookie. If you put more care into cutting them and arranging them on a tray, they'd look better…pretty, actually. They're messier than some of the other cookies listed, but not outrageously so. Most importantly, they taste good and are unique.
Pineapple Cheesecake Squares – I'm pushing the envelope a little here in terms of messiness and transportability, but even though they're primarily cheesecake and taste a little better cold, these would go over well at a cookie exchange. At least I think so. I like getting cheesecake type cookies in my cookie exchange stash. I just re-chill them when I get home.
Chai Spiced Almond Cookies from Bon Appetit -- This is such a great cookie. It's a traditional snowball/Mexican Wedding cookie, but you bite into it and get all the flavors of the season….or India, depending on your perspective. Great recipe.
Scratch Version of the Million Dollar Peanut Butter Cookie. These aren't very festive, but people will forgive their appearance when they bite in and get the creamy peanut butter center. If you are creative, you can come up with a way to make them look more holiday-ish.
Peanut Butter Blossoms – It wouldn't be a cookie exchange without peanut butter blossoms. The problem is, there might be too many of them at the party. I think at one point they were so ubiquitous people stopped making them. Or maybe that's my imagination. I just feel like I haven't seen them at parties lately. Oh wait, I haven't been to any parties lately.
Pecan Sables/Sandies -- And old one from Gourmet, this recipe puts the commercial sandies to shame, especially if you use European style butter. Only make these if you're going to a cookie exchange where the other guests appreciate the finer things in life…or at least the finer cookies
If you're going to a more casual cookie exchange where the focus is on drinking and you think 90% of the people will bring store-bought cookies and the homemade cookies will be made from refrigerated dough and you know that if you bake from scratch people will mock you and call you "Betty Crocker" or say "Boy, I'm just too busy to bake from scratch…good thing YOU have the time." Then you can make these Fiesta Fudge Cookies.
They're cute and they look like they took some effort. Plus, you can tell your busy friends "Don't worry. The recipe starts with a mix. Even you could make it." This recipe was invented by Priscilla Yee.
Another alternative for this type of exchange? Cake Balls.+
There's always that one person who brings candy to a cookie exchange. If you want to be her/him, you could take Orange Creamsicle Fudge. It's pretty good and there's always someone in the crowd who is really grateful because they just looooooooooove orange cream flavor.
Oatmeal Cookie Guy's Cranberry Crunch Cookies – People go crazy over these and they fit the holiday theme.
Chocolate Biscotti – Biscotti is good because you can make it a few days ahead of time and not worry about whether it tastes fresh. This is one of my favorite recipes.
Baklava Bars – This is another one that start with a mix. Frankly, you'd spend about the same amount of time making regular baklava, but the thing about this recipe is the cookie mix base makes the cookies more approachable (somehow? Is that the right word?) than plain old baklava. For instance, if I eat a piece of baklava I feel like I'm missing out on eating a cookie. This recipe rolls it all up into one.
Four Seasons Chocolate Ginger Cookie – Another chocolate cookie with flavors of the season.
S'mores Cookies – No one will complain if you bring these.
Frosty Fruit Bars – This is an old Mystic Seaport cookbook recipe. I haven't made it in a while because the last time I did I ate so many I got sick. Please ignore the goofy comment thread below it where we all kept saying "rock" and using exclamation points and all caps. I think it was all the Jack Daniels.
Roxanne's White Chocolate Peppermint Pistachio Bars – Seasonal and easy to transport. These also stay fresh for a while.
Well, that's all I can think of for now. I'll add more ideas as they come.