Today's recipe was the grand prize winner at the Statesman Cookie Swap contest -- Chocolate Dulce de Leche Bars with Caramel and Sea Salt. The bars won because they tasted great and were an interesting choice, but the recipe is not entirely new. It's based on a highly rated but not-so-well-known recipe from Epicurious, which has neither cayenne pepper nor caramel sauce.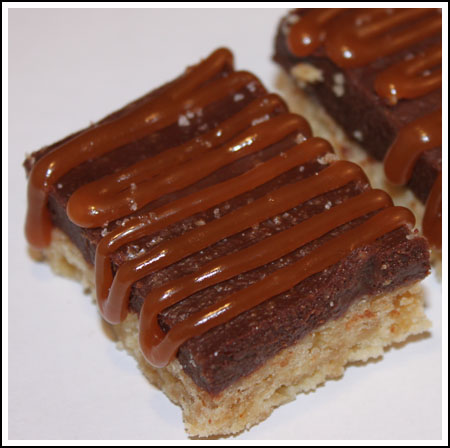 I looked at both recipes today and made the version from the Statesman. While I liked the bars a lot, I think they might be better without the cayenne. I love chocolate with pepper in it, but I thought it clashed a little bit with all the other flavors, especially the salted caramel, which was brilliant addition and which I would not do without.
So you can make the original version from Epicurious or go all out with the Statesman version, either way, this is a cookie people will notice and I'm so glad Anne-Charlotte Patterson introduced it at the contest.
I put a few recipe notes after the picture.
Dulce de Leche Bars Notes
-- For the crust, I attempted to make a cold butter shortbread and it wasn't worth the effort. It was okay, but didn't taste any better than the original version with the softened butter.
-- For the dulce de leche, I used the homemade cooked condensed milk type. It was okay, but had the signature chalkiness of the condensed milk. Next time I might try a smoother pre-made type like La Lechera or use a different homemade version such as Alton Brown's or the dulce de leche sauce from Epicurious.
-- The caramel sauce was excellent. Mine got very stiff as it cooled, but this worked out well because I was able to spoon it inter a zipper bag and pipe it over the top.
--I don't think these travel well. They're good cold at cool room temperature, but I think they might get kind of mushy if left out for a long time.