Last week at the Austin food blogger cookie swap, Cecilia Nasti -- an avid gardener and producer of KUT's Growing Concerns radio show, introduced me to "Biscotti di Vino Italiano" aka Italian Wine Cookies. As a lover of all things Italian, I was more than happy to make the acquaintance and pleased to see the recipe called for a full cup of red wine. What better way to use a leftover bottle? The recipe also calls for a cup of olive oil, so it's the best of Italy all rolled into an "S" or "O" shaped cookie.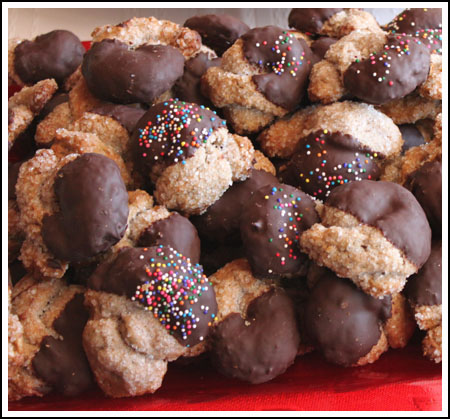 The cookies in the photo are Cecilia's, and I'm almost scared to make them myself since hers are picture perfect. But now I have her special recipe and there's no reason not to try. One thing for sure is I won't skip the quick dip of chocolate and sprinkles. The recipe also calls for paraffin, but unless you really like the shiny look melted wax gives chocolate, feel free to leave it out.
Italian Wine Cookies or Biscotti di Vino
1 cup red wine, any kind (may also use white wine)
1 cup olive oil or vegetable oil (Cecilia uses a full-bodied olive oil)
1 cup granulated white sugar
4 teaspoons baking powder
4 ½ cups flour (updated)**
1 teaspoon cinnamon (or any "warm" spice)
A pinch of salt
A dash of black pepper
8 oz (more or less) white sanding sugar
1 lb (more or less) bittersweet chocolate, melted
1.5 ounces Paraffin (optional)
Colored candy sprinkles (optional)
Instructions
Work the first eight ingredients together, until you obtain dough that's firm but fairly soft, rather like pizza dough. Roll it into snakes, and then dredge the cookies in sanding sugar.
Form the sugar coated snakes into circles or S shapes, or into balls that you can flatten slightly with the palm of your hand, then put them on a lightly greased cookie sheet, and bake them in a 360 F oven for 20 minutes—more or less depending on how your oven works. Cool them on a rack.
While the cookies are cooling, melt chocolate in double boiler. Some people add paraffin to their chocolate to make a harder, shinier coating. If you use paraffin, melt the chocolate and paraffin separately, and then blend together when both are molten liquids. (Cecilia's note: It's like being in chemistry class all over again, but without the smell of sulfur and burned hair). If you choose not to use the paraffin, the chocolate will set, but it will take a little longer, and it will not be a hard, shiny candy shell, but still delicious.
While the chocolate is still tacky, shake some of the colored candy sprinkles onto some or all of the cookies.
How many cookies the recipe makes depends on you, but I get anywhere from 4 to 6 dozen from this recipe.
When done, store in an airtight container with parchment between layers.
**Recipe said 4 ¼, changed to 4 ½. Temp was listed at 360, but you can use 350 F and just adjust the cook time slightly. All ovens heat differently so you might not have to adjust the cook-time at all.