Christmas was the perfect day for making Eggnog Cheesecake, and this recipe was excellent. Originally from something I found on Kraft's site (My Food and Family),I liked it because instead of just calling for a cup or so of eggnog, it was actually made with ingredients you find in eggnog such as egg yolks, rum, vanilla and fresh nutmeg.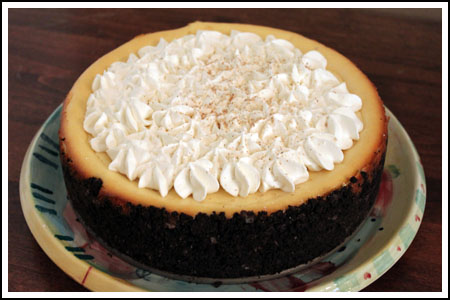 After making this, I'd be reluctant to try a different version, though I'd love to play around with the crust. For this recipe, I used a crust of Oreos and melted butter. It was delicious and I liked the eggnog/chocolate combo so much I might try it with a brownie crust. I'll let you know how that goes, but for now here's a great recipe for Oreo-Crusted Eggnog Cheesecake.
Eggnog Cheesecake with an Oreo Crust
40 Oreos, crushed or ground in food processor
6 tablespoons melted butter
4 (8 ounce) packages cream cheese (Philadelphia)
1 cup granulated sugar
½ teaspoon ground nutmeg
3 tablespoons all-purpose flour
4 tablespoons rum
1 teaspoon vanilla extract
2 large eggs
1 cup whipping cream
4 large egg yolks
Mix Oreo crumbs and butter; press onto bottom and a little over halfway up the sides of a 9-inch springform pan. Set pan on a cookie sheet and bake at 325 degrees F for 10 minutes.
Beat cream cheese, nutmeg, sugar, flour, rum and vanilla until smooth. Add eggs, 1 at a time, scraping sides of bowl after each egg. Add the whipped cream and egg yolks and stir until smooth – don't overbeat. Pour into crust.
Bake at 325 degrees (300 F if using a black springform) F for 1 hour and 10 minutes to 1 hour and 15 minutes or until center is almost set. Run knife or metal spatula around rim of pan to loosen cake; cool before removing rim of pan. Refrigerate 4 hours or overnight.
Before serving, garnish with fresh whipped cream (or whipped topping) and freshly grated nutmeg.
More Baked Goods with Eggnog