This is a recipe from yesterday. I was craving eggnog even though I don't really like it. Maybe I was craving nutmeg or maybe it was bourbon, but it felt like an eggnog craving so I decided to put eggnog flavors into cookies and made White Chocolate Eggnog Cookies.
Using the same dough-base as the blissful cranberry cookies, I came up with this. I think the booze made the cookies darker and they definitely spread more; but despite being unattractive, they are very tasty and have a great crispy texture. That is, if you don't burn them. I almost didn't post them because they were so unattractive and I burned quite a few, but I couldn't stop eating the good ones so that must mean something.
These are buttery, crispy (thanks to the shortening) and if you don't bake them to long they should have a lovely golden hue. Check at 10 minutes. Mine were done in 12 minutes.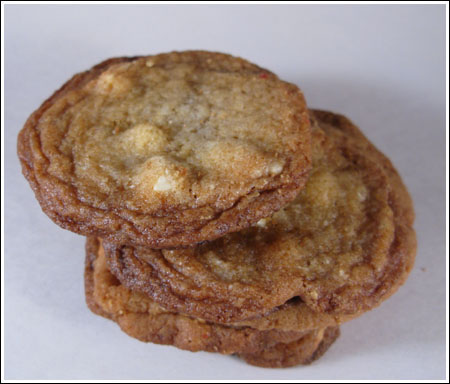 White Chocolate Eggnog Cookies
4 oz unsalted butter, softened
½ cup regular vegetable shortening
¾ cup granulated sugar
½ cup light brown sugar
1 large egg
1 teaspoon vanilla
1 teaspoon rum extract
2 teaspoons bourbon whiskey
¼ teaspoon fresh nutmeg
¾ scant teaspoon salt
1 teaspoon baking soda
1 ¾ cup all purpose flour (7.8 oz)
7 oz white chocolate, chopped into very small chunks (I used Lindt)
Preheat oven to 350 degrees F. Line two cookie sheets with parchment paper. Insulated cookie sheets work best. If you don't have an insulted sheet, try stacking one cookie sheet on another.
Beat butter, shortening and both sugars with an electric mixer until creamy. Add egg, both extracts and whiskey; beat for about 30 seconds. Scrape sides of bowl and beat in salt and baking soda. Add flour and stir until it is almost mixed in, then stir in white chocolate.
Drop dough about 3 inches apart by slightly rounded tablespoonfuls onto cookie sheets. Bake for 10-12 minute or until edges are golden brown. Cool on cookie sheets for about 5 minutes, then transfer to wire racks.
Makes about 30 cookies