Yesterday's meringue cookies left me with a lot of yolks. Given that I also had eggnog left over from Mrs. Waldbaum's cake, this old Mrs. Fields recipe for Iced Eggnog Cookies was the natural choice.
You can find the original recipe in Mrs. Fields Cookie Book
. And in case you want to read reviews before proceeding, the recipe has been on Recipezaar for a while too.
About the butter. Mrs. Fields specifies salted butter. If you only buy unsalted butter, you should add about ¼ teaspoon of salt to the flour mixture to get proper results.
These are good little cookies.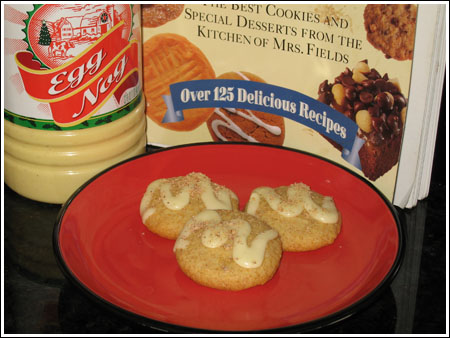 Mrs. Fields Eggnog Cookies
2 ¼ cups flour
1 teaspoon baking powder
½ teaspoon cinnamon
½ teaspoon nutmeg
1 ¼ cups sugar
¾ cup SALTED butter, room temp (Mrs. Fields calls for this)
½ cup eggnog
1 teaspoon vanilla
2 egg yolks
1 tablespoon nutmeg (optional)
Preheat oven to 300F.
In a medium bowl combine flour, baking powder, cinnamon and nutmeg; mix well with a wire whisk and set aside.
In a large bowl, cream sugar and butter with an electric mixer. Add eggnog, vanilla and egg yolks and beat at medium speed until smooth. Add the dry ingredients and beat at low speed just until combined.
Drop by rounded teaspoons onto ungreased baking sheets, 1" apart. Sprinkle lightly with nutmeg or skip this step and sprinkle on the nutmeg after you ice the cookies. Bake for 23-25 minutes or until bottoms turn light brown.
Transfer to cool, flat surface immediately with spatula.
Eggnog Icing
3 C. confectioners' sugar
¼ C. softened butter or margarine
⅓ C. commercial eggnog (use as much as you need)
In small mixer bowl, beat confectioners' sugar and butter or margarine until well blended. Gradually beat in eggnog until icing is smooth. Makes about 1 ½ cups.