An old recipe for spaghetti sauce that doesn't really fit into Cookie Madness but which I still use.
-------
I rarely make spaghetti sauce the same way twice, but today's batch was such a hit with Fuzz and her friend that I wrote down the recipe and am posting it here for safe keeping. If you're like me, you'll end up making changes and adjusting it even more, but this batch turned out particularly well -- not too spicy, a little sweet (you can omit the sugar, but I like how it brings out the flavor of the other ingredients) and fairly healthy. I used very lean ground beef and turkey sausage, so there wasn't much fat to drain off at all.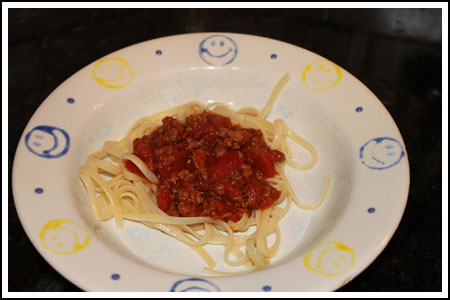 Spaghetti Sauce
1 pound lean ground beef
2 links turkey sausage, removed from casings
⅔ cup chopped onions
2 finely chopped cloves garlic
¼ teaspoon salt – may need a little more later
1 (28 ounce) can undrained diced tomatoes
3 oz tomato paste
1 (15 ounce) can tomato sauce
¼ cup red wine
2 teaspoons dried basil
2 teaspoons dried oregano
1 tablespoon brown sugar
¼ teaspoon crushed red pepper flakes
Spray a Dutch oven (I use a big Le Creuset lidded French oven) with cooking spray or rub it with olive oil. Brown the ground beef and sausage. If there's any extra fat floating around, spoon it out. While the meat is browning, add the onions and cook them along with the meat. When the meat is almost completely browned, add the garlic and some of the salt – you can wait and add the salt at the end, but I like to salt the meat a bit. Stir well. When meat is browned, stir in the tomatoes, tomato paste, tomato sauce, wine, herbs and brown sugar. Continue stirring over medium heat. Add about ½ cup of water and cook partially covered for an hour. Sauce will go from somewhat runny to thick as the water evaporates.
When the sauce is thick, stir and taste. Adjust seasonings as necessary (more salt, sugar, herbs…however you like it).
Serve over spaghetti.