Pasta with Tomatoes and Basil is a really basic but good pasta recipe from Muir Glen. It's supposed to be made with Angel Hair, but we use whatever spaghetti is around, including whole grain. You can use fresh tomatoes or good quality canned diced tomatoes. The fire roasted kind are especially good. For the olive oil, we use Greek olive oil, the best parmesan cheese we can find and fresh basil. The fresh basil is key.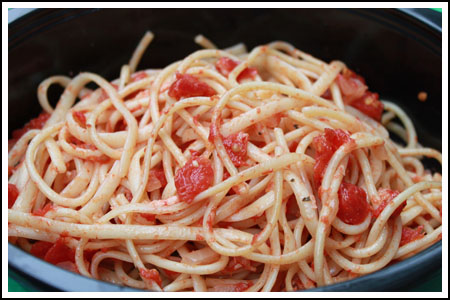 Pasta with Tomatoes and Basil
8 oz angel hair pasta or regular or whole grain spaghetti
2 tablespoons good olive oil plus 1 tablespoon for tossing with pasta
⅔ cup diced onions
¼ teaspoon red pepper flakes
1-2 cloves minced garlic
1 (14 oz) can diced tomatoes (Muir Glen fire roasted)
¼ teaspoon Kosher or sea salt (or pinch of table salt)
¼ cup fresh cut basil
⅓ cup shredded parmesan cheese
Cook the pasta as package directs, drain and toss with 1 tablespoon of the olive oil.
While pasta cooks, heat 2 tablespoons of olive oil in a large sauté pan. I use a 12 inch lidded All-Clad sauté pan.
Add the onions to the oil and cook for about 5 minutes, then add garlic, tomatoes and salt to taste – consider the amount listed above a suggestion.
Pour the tomato mixture over the drained pasta and toss in the basil and parmesan cheese.
Serves 6