It's probably too soon to tell, but Fuzz is turning out to be more of a cooker than a baker.
Then again, is there such thing as an eight year old who finds comfort and relaxation in measuring precisely, scooping out uniform size balls of dough and mixing at just the speed directed in the recipe? Well, probably. But it's not my daughter. She'd rather throw everything together in a skillet and watch the meal come together instantly.
Given all this, I've been collecting easy dishes Fuzz can help with and that the family will eat. This is one Fuzz really enjoys, and I think it's helping her ease into liking fiery flavors, because she still cleans her plate even when we go overboard with the red pepper.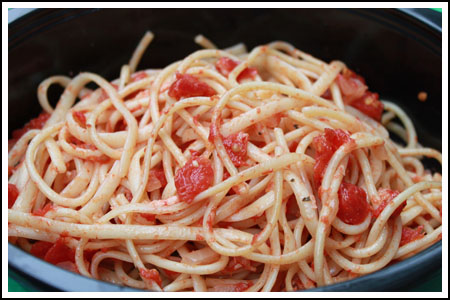 Pasta with Tomatoes and Basil
8 oz angel hair pasta or regular or whole grain spaghetti
2 tablespoons good olive oil plus 1 tablespoon for tossing with pasta
2/3 cup diced onions
1/4 teaspoon red pepper flakes
1-2 cloves minced garlic
1 (14 oz) can diced tomatoes (Muir Glen fire roasted)
1/4 teaspoon Kosher or sea salt (or pinch of table salt)
1/4 cup fresh cut basil
1/3 cup shredded parmesan cheese
Cook the pasta as package directs, drain and toss with 1 tablespoon of the olive oil.
While pasta cooks, heat 2 tablespoons of olive oil in a large sauté pan. I use a 12 inch lidded All-Clad sauté pan.
Add the onions to the oil and cook for about 5 minutes, then add garlic, tomatoes and salt to taste – consider the amount listed above a suggestion.
Pour the tomato mixture over the drained pasta and toss in the basil and parmesan cheese.
Serves 6
Notes: Adapted from Muir Glen. It's supposed to be made with Angel Hair, but we use whatever spaghetti is around which is usually Barilla or Ronzoni whole grain spaghetti. f I could get my act together and peel fresh tomatoes ahead of time before the dinner rush, we'd use those. But we're pretty happy with good quality diced tomatoes – especially fire roasted if I happen to have some on hand. For the olive oil, we use Greek olive oil, the best parmesan cheese we can find and (usually) fresh basil, although I ran out the other night and had to make this without. It was good even without the basil, but I missed the basil.