This is probably my favorite recipe for soft homemade pretzels. Originally from Alton Brown, the recipe works perfectly -- especially if you use weights rather than volume. It's a smaller batch size recipe so you get 6 decent size pretzels instead of 12, but if you need practice making pretzels or are new to it, it is probably best to start with a small batch recipe anyway. Shaping takes practice, as you can see from this photo. The one below was from an early batch. At the time, that was my prettiest one! So don't be discouraged if your first batch or two aren't perfect. I will say that using the right kind of flour (as mentioned below) helps a ton.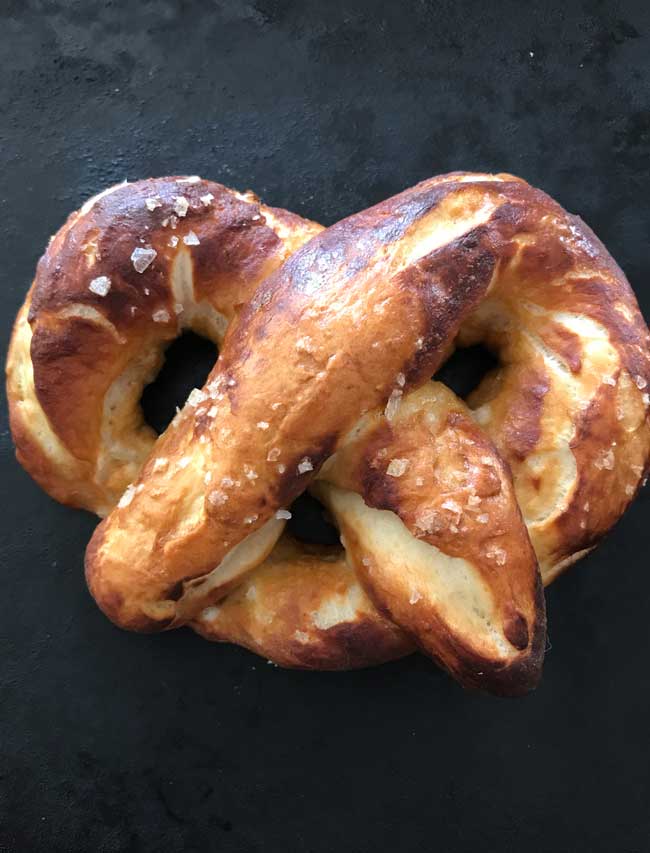 Great for Beginners
In my opinion this recipe is great for beginners because the dough is so easy to work with.  That, plus these homemade soft pretzels taste infinitely better than store-bought.  They're giant with chewy brown skins and soft fluffy centers.  If you aren't into trying different types of mustard, you will be after making these because they are even better with a side of spicy mustard.
Small Batch Pretzels
Here's a picture of one from my latest batch. Rather than buy special salt, we usually just save the salt packet from store-bought frozen pretzels, which we buy when we don't have time of feel like making from scratch. If we don't have the very coarse, white salt, we use Maldon salt or Everything Bagel seasoning.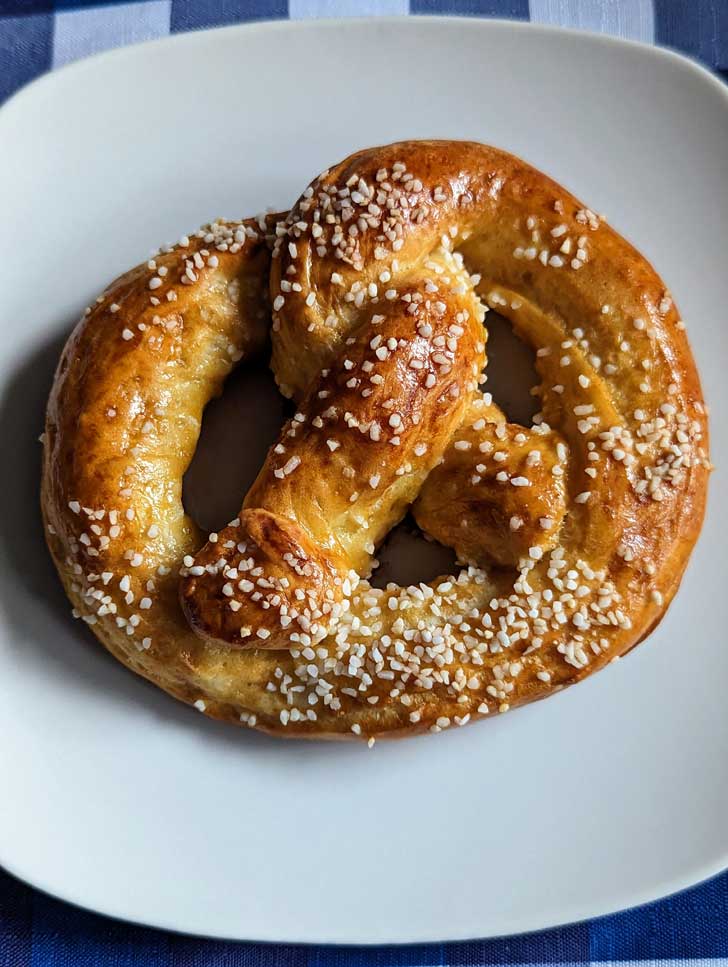 Some notes on ingredients.  When I first started making these I used Platinum yeast, a special instant yeast with dough conditioners.  Lately I haven't been able to find Platinum, so I use regular instant (quick rising) yeast.  For the flour, I've used all-purpose, bread flour and even a special high gluten Artisan bread flour from Bob's Red Mill.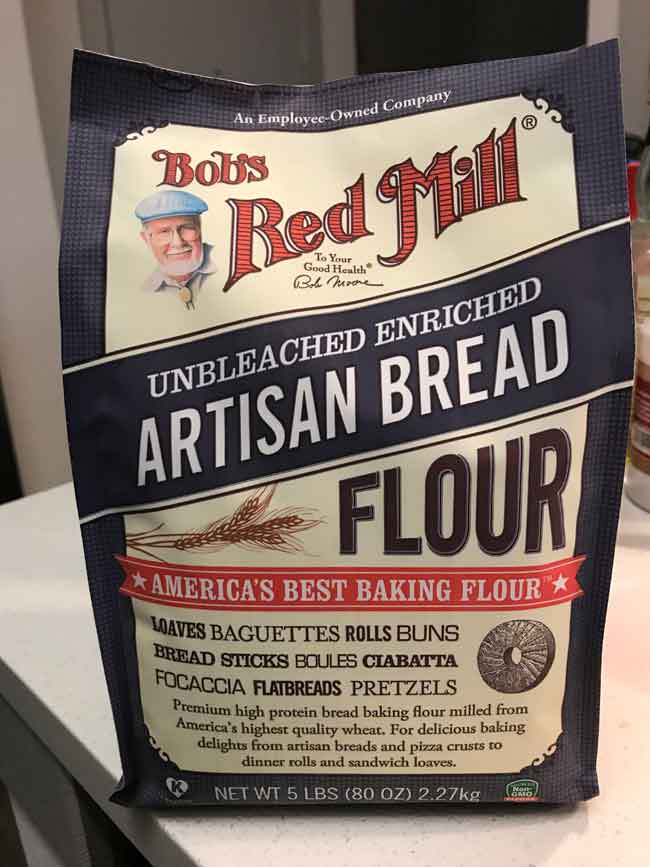 Bob's Artisan Flour & Butter
The artisan bread flour makes the dough stronger and less likely to break when rolling out your ropes. That, plus the baked pretzels seem fluffier. So if you can find it, I recommend the artisan flour.  I've also noticed they're fluffier when I use half butter and half oil rather than just butter.  If you'd prefer a chewier and less fluffy pretzel, stick with the butter.
Recipe
The Best Homemade Pretzels
Small Batch Homemade Pretzels adapted from Alton Brown's recipe. These freeze well.
Ingredients 
308

grams

all-purpose flour or Artisan bread flour

2 ¼ cups plus more if needed

1 ⅛

teaspoon

instant yeast

½

tablespoon

sugar

1

teaspoon

kosher salt

2

tablespoons

melted unsalted butter

(or use 1 T. butter and 1 T. olive oil)

¾

cup

very warm water (120 degrees F)**

A little warmer than usual to activate the instant yeast. If using active dry, water should be only around 105 to 110F.
Boiling Solution
5

cups

water

⅓

cup

baking soda

1

beaten egg mixed with a little water

Pretzel salt or Maldon sea salt
Instructions 
Weigh your flour and combine the flour, yeast, sugar and salt in the bowl of a stand mixer. Add the melted butter (or butter and oil), then stir in the water to make a soft dough. You can use the paddle attachment or just stir with a heavy-duty scraper or spoon.

Attach dough hook and knead until dough is smooth and pulls away from the side of the bowl, approximately 4 to 5 minutes. **Cover the bowl with plastic wrap and let sit in warm spot in the kitchen until doubled (45 minutes to an hour).

Preheat the oven to 450 degrees F. Line a half-sheet pan with parchment paper and lightly brush with the vegetable oil. Set aside.

Bring the water and the baking soda to a rolling boil in a large pot.

Meanwhile, turn the dough out onto a slightly oiled work surface (this helps keep the ropes from breaking as easily) and divide into 4 equal pieces. Roll out each piece of dough into a 24-inch rope. Make a U-shape with the rope, holding the ends of the rope, cross them over each other and press onto the bottom of the U in order to form the shape of a pretzel. Place onto the parchment-lined half sheet pan.

Place the pretzels into the boiling water, one at a time, and boil each for 30 seconds. Remove them from the water using a large flat spatula. Return to the half sheet pan, brush the top of each pretzel with the beaten egg mixture and sprinkle with your choice of salt. Bake until dark golden brown in color, approximately 12 to 14 minutes. Transfer to a cooling rack for at least 5 minutes before serving.
Notes
I used to clean out the mixing bowl and oil it a bit before adding back the dough to rise.  These days I just leave the kneaded dough in the bowl and cover it.