Maybe it's my imagination, but it seems like pretzel toffee, Saltine cracker candy and matzo toffee have become more popular than ever. No complaints here! As a fan of all things sweet and salty, my favorite is this version made with pretzels.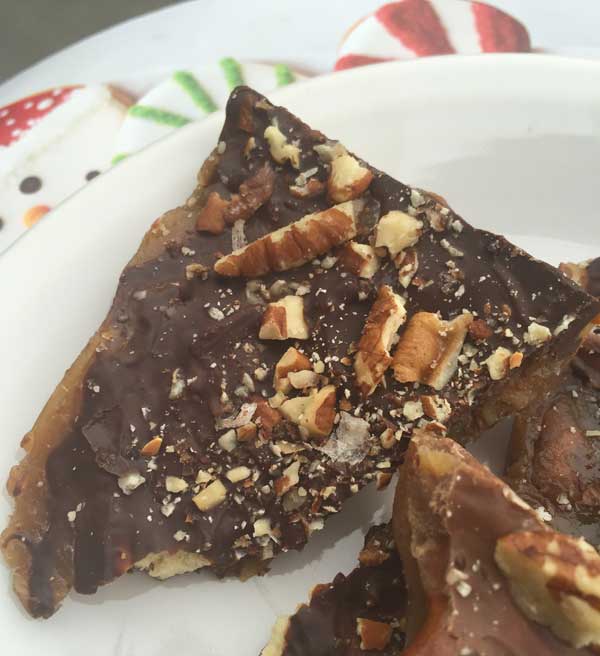 Pretzel Toffee Making Tips
The original pretzel toffee recipe is originally from Land o' Lakes, but I changed it a bit. I used Snyder's "Sourdough Special" pretzels which are puffier and lighter than regular pretzels. Instead of chocolate chips, I topped the toffee with dark and milk chocolate (half on each side) and sprinkled the top with toasted pecans.  The toffee is perfect and I'm already thinking about making a second batch with peanut butter cups.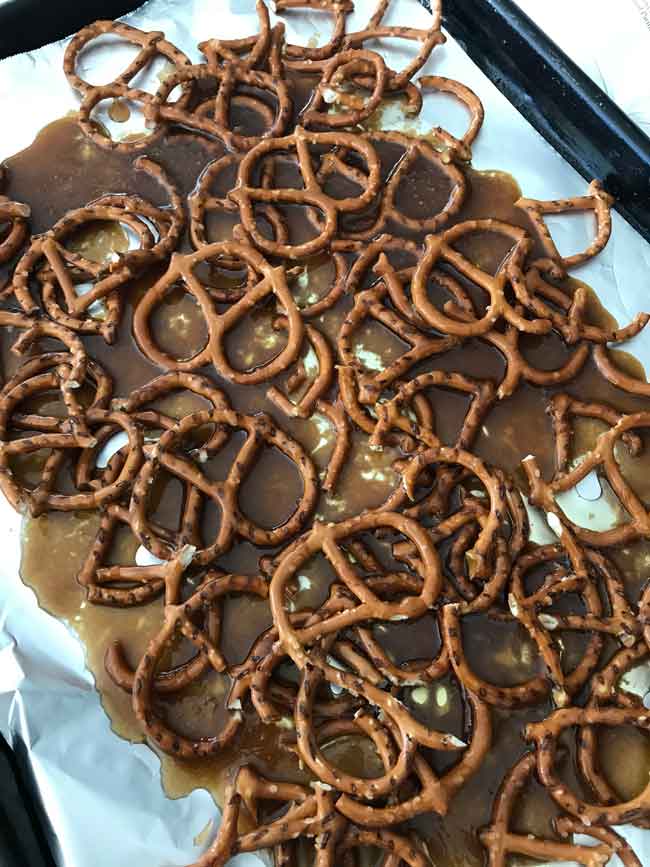 UPDATE:  I still make this candy all the time, especially when I'm craving sweet & salty. The fun part is choosing different kinds of chocolate to melt on the top. For instance, Pretzel Toffee with melted Cadbury Dairy Milk will give it a completely different flavor than toffee topped with Lindt or Guittard wafers. You can make it as upscale as you want.
Recipe
Chocolate Pretzel Toffee
Chocolate Pretzel Toffee
Ingredients 
4

cups

broken pretzels**

1 ¼

cup

firmly packed light brown sugar

2 ½

sticks

10 oz unsalted butter, cut into chunks

¾

teaspoon

salt

omit if using salted butter

12

oz

chopped milk or dark chocolate or 6 oz of each

¾

cup

toasted pecans or other nuts
Instructions 
Preheat oven to 400 degrees F. Line a 10x15 inch pan with nonstick foil or parchment paper.

Spread broken pretzels evenly in the pan.

Combine brown sugar and butter in a heavy duty saucepan and cook over medium heat until mixture comes to a full boil. Let boil without stirring for 2 minutes.

Pour sugar mixture over pretzels, then bake on center rack for 10 minutes (check at 8 if using thin pretzels).

Remove from oven and sprinkle the foamy, bubbly mixture evenly with chocolate chips or chopped chocolate (I like to put milk chocolate on one half and dark chocolate on the other).

Return to oven 1 minute to soften chocolate. Remove from oven and let stand for about 10 minutes, then gently spread chocolate over candy. Sprinkle with pecans.

Let cool for a couple of hours at room temperature, then chill just long enough to set the chocolate. Break into chunks.
Notes
Pretzels are different thicknesses and sizes, so the volume amount may vary. You'll want to use just enough to cover the bottom of the pan without leaving too many big holes. I used Snyder's of Hanover "Sourdough Specials" which are slightly puffier. If you use thinner pretzels, you might need up to 5 cups. For a smaller batch, use 2 ½ cups pretzels, ½ cup brown sugar and ½ cup butter. Use a 9x13 inch pan to spread the pretzels in and bake for only about 5 minutes at 400.