I wanted to make more chocolate muffins yesterday, but I'd run out of eggs. It was Baking Bites to the rescue, where I found this simple recipe for a vegan double chocolate muffin which Nicole had found in a cookbook on the clearance rack of a local bookstore. With a few changes of my own, including chocolate chips instead of nuts and using regular milk in place of soy milk, I made the muffins and was very impressed. They were moist, had a pleasant wheat flour taste, and the perfect level of sweetness coming from the 1/2 cup maple syrup. And no, they did not taste maple-y at all.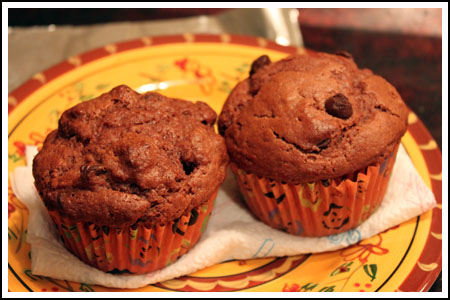 Since I was so happy with the muffins, I did some snooping around on Amazon to find more info on Sweet and Natural Baking, the book where Nicole found the original recipe. It seems Sweet and Natural Baking is out of print, but the author's Los Angeles bakery is alive and well and they even have a blog with recipes.
I may have to try these double chocolate chip cookies next or maybe re-make these muffins with an actual fruit reduction instead of maple syrup.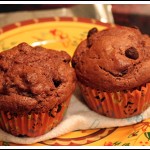 Print Recipe
Vegan Double Chocolate Muffins
Vegan Double Chocolate Muffins are very easy to make and don't call for any hard-to-find ingredients.
Ingredients
1 1/4

cups

whole wheat flour

6 oz

1/4

cup

unsweetened natural cocoa powder

Don't use Dutch process

1/2

tsp

baking soda

1/2

tsp

baking powder

1/2

tsp

salt

1/2

cup

maple syrup

3/4

cup

soymilk

or regular milk

1/2

teaspoon

vanilla extract

2

very generous tbsp light olive oil or vegetable oil

1/2

cup

extra dark chocolate chips or vegan chocolate chips
Instructions
Preheat oven to 350 degrees F. Line 8 muffin cups or line with paper liners.

Whisk the flour, cocoa, baking soda, baking powder and salt together in a bowl.

Whisk the maple syrup, milk, vanilla and oil together in a second bowl.

Pour wet ingredients into dry ingredients and stir until mixed. Stir in the chocolate chips. Divide evenly among muffin cups and bake on center rack for 18-20 minutes.

Cool completely on a wire rack.