Back when I was trying to clone Luna Bars, a commenter hinted that I should try using roasted soybeans and perhaps, date sugar. I finally got around to making a version of soy protein bars with roasted soybeans and think these are the best of the no-bake, easy, high protein bunch.
I pasted the nutrition information which I got from a program called "Mastercook" at the bottom. The 7 grams of protein per bar seems pretty good to me, though I'd like to whittle down the fat content a bit. Reduced fat peanut butter would fix that little problem, but for this version, I used full fat peanut butter. With a bit of chocolate drizzled over them these would be rich enough for dessert. As they are, they are a good breakfast treat or snack. They hold together very well after being chilled.
Here are the ingredients I used. They should be pretty easy to find at a Whole Foods or a store with a good bulk section.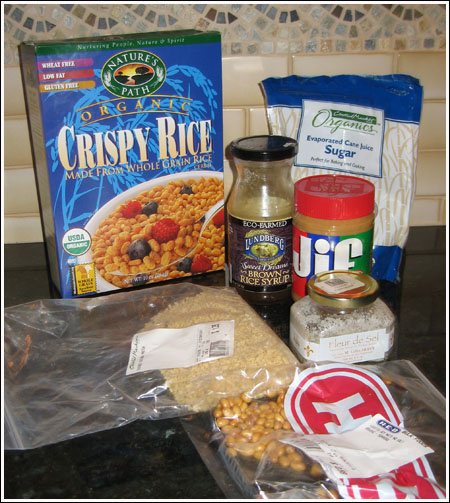 And here's what the bars looked like straight from the pan. I was having trouble with my camera and couldn't get any nice pictures of them cut, so imagine this square cut into 8 bars.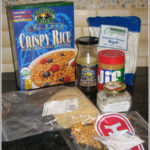 Print Recipe
Quick and Easy Peanut Butter Soy Protein Bars
Quick and Easy Peanut Butter Soy Protein Bars
Ingredients
1/2

cup

roasted soybeans

bulk bin

1

cup

brown rice crisp cereal

1

cup

textured vegetable protein

Bob's Red Mill or bulk bin

1

tiny pinch

about 1/8 teaspoon salt

1/3

cup

peanut butter

1/3

cup

brown rice syrup

2

tablespoons

sugar or evaporated cane juice sugar

bulk bin or date sugar
Instructions
Line an 8 inch square pan with foil or parchment paper and spray with cooking spray.

Place soybeans in a food processor and pulse to chop. Alternatively, you may leave them whole or crush them slightly in a bag.

Combine soy beans, brown rice crisp cereal and TVP. Toss with salt.

In a microwave-safe mixing bowl, combine peanut butter, brown rice syrup and evaporated cane juice (or sugar). Heat on high in microwave for 1 minute, stopping to stir halfway through.

Dump crunchy soy mixture into peanut butter mixture and stir until well coated. Press mixture tightly into pan.

Chill for at least 2 hours or until firm. Score into 8 bars.
Notes
Per Serving (excluding unknown items): 182 Calories; 8g Fat (38.6% calories from fat); 7g Protein; 23g Carbohydrate; 3g Dietary Fiber; 0mg Cholesterol; 140mg Sodium. Exchanges: 1/2 Grain(Starch); 1 Lean Meat; 1 Fat; 0 Other Carbohydrates.