Soy Protein Bars are from back when Luna Bars were popular. It's 2021 and it seems like soy beans are a little bit harder to find. At least for me. I know of one health food store in town that sells them, but I haven't seen them at Whole Foods or Sprouts. TVP is still pretty easy to find, though (Bob's makes it). Anyhow, this is a no-bake recipe where the main ingredients are soybeans, TVP, rice cereal, peanut butter and brown rice syrup.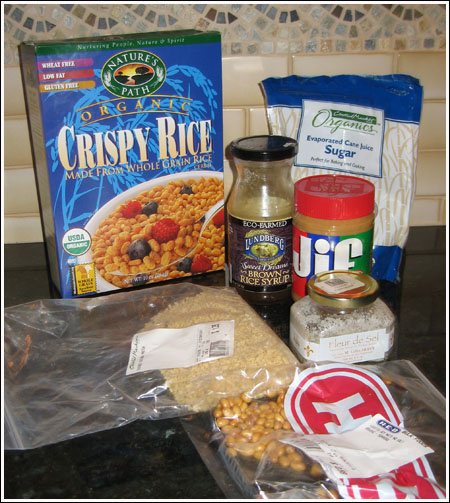 Old Notes: I pasted the nutrition information which I got from a program called "Mastercook" at the bottom. The 7 grams of protein per bar seems pretty good to me, though I'd like to whittle down the fat content a bit. Reduced fat peanut butter would fix that little problem, but for this version, I used full fat peanut butter. With a bit of chocolate drizzled over them these would be rich enough for dessert. As they are, they are a good breakfast treat or snack. They hold together very well after being chilled.
At some point I'd like to make these again and post better photos, but it will probably be a while before I round up soybeans and TVP. If you make the homemade soy protein bars, please let me know!
Recipe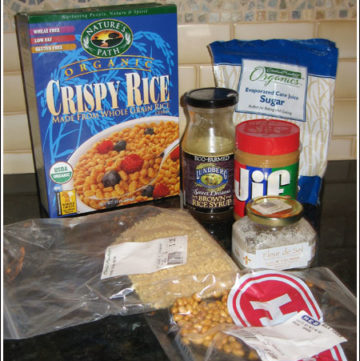 Quick and Easy Peanut Butter Soy Protein Bars
Quick and Easy Peanut Butter Soy Protein Bars
Ingredients 
½

cup

roasted soybeans

bulk bin

1

cup

brown rice crisp cereal

1

cup

textured vegetable protein

Bob's Red Mill or bulk bin

1

tiny pinch

about ⅛ teaspoon salt

⅓

cup

peanut butter

⅓

cup

brown rice syrup

2

tablespoons

sugar or evaporated cane juice sugar

bulk bin or date sugar
Instructions 
Line an 8 inch square pan with foil or parchment paper and spray with cooking spray.

Place soybeans in a food processor and pulse to chop. Alternatively, you may leave them whole or crush them slightly in a bag.

Combine soy beans, brown rice crisp cereal and TVP. Toss with salt.

In a microwave-safe mixing bowl, combine peanut butter, brown rice syrup and evaporated cane juice (or sugar). Heat on high in microwave for 1 minute, stopping to stir halfway through.

Dump crunchy soy mixture into peanut butter mixture and stir until well coated. Press mixture tightly into pan.

Chill for at least 2 hours or until firm. Score into 8 bars.
Notes
Per Serving (excluding unknown items): 182 Calories; 8g Fat (38.6% calories from fat); 7g Protein; 23g Carbohydrate; 3g Dietary Fiber; 0mg Cholesterol; 140mg Sodium. Exchanges: ½ Grain(Starch); 1 Lean Meat; 1 Fat; 0 Other Carbohydrates.