This is a very popular recipe! On Allrecipes.com it's called Best Big Fat Chewy Chocolate Chip Cookies. The cookies call for melted butter along with 1 egg and 1 yolk, which makes them chewy. There's a similar recipe in the January 1996 issue of Cook's Illustrated, so my guess is the Allrecipes.com is adapted from Cook's Illustrated.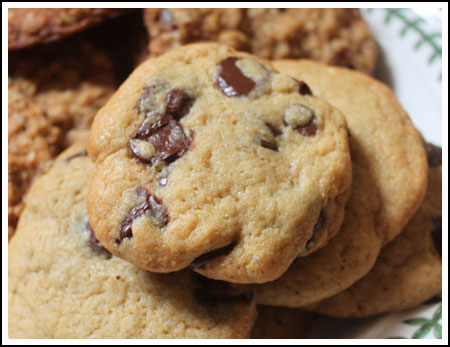 Here's the link to Best Big Fat Chewy Chocolate Chip Cookies from Allrecipes. They're good and pretty easy. You don't have to use two different flours as you do in the famous New York Times Chocolate Chip Cookies recipe. Also, the cookies are slightly smaller.
Half Batch Best Big Chewy Chocolate Chip
Have you ever wanted to make a half batch of Best Big Fat Chewy Chocolate Chip or some other recipe that calls for 1 egg and 1 egg yolk? Rather than crack 1 egg and 1 yolk in a bowl and weigh out half, you can save an egg by doing this: Crack one egg into a bowl. It should weigh around 54 grams. An egg yolk weighs 18 grams and the egg white weighs 36 grams. Discard 18 grams (half) of the white only so that you have about 36 grams of egg total.